This might seem like an odd question to the youngest souls out there who don't remember life before the Internet or that the Internet was just too slow to handle music... but for the rest of us, this was not only possible... but frequent.
Let me tell you about that time when I spent 4 or 5 years listening to a song without knowing its title nor the band playing it.
It happens to be one of the first Metal songs I've ever listened and the one that got me completely hooked on the genre. From that day, I become addicted to Metal. Even though I also listen to other musical styles, Metal is the only genre which has always accompanied me and the one style I never stopped listening to.
Looking back, I understand now that my life would have taken a whole different path, had I not listened to that radio show, on that particular day.
We were in the year of 1992 when Pantera released their album "Vulgar Display of Power"... but I had no clue about it. The only Pantera I knew was the big cat from Asia and Africa which you probably know as Panthera or Black Panther.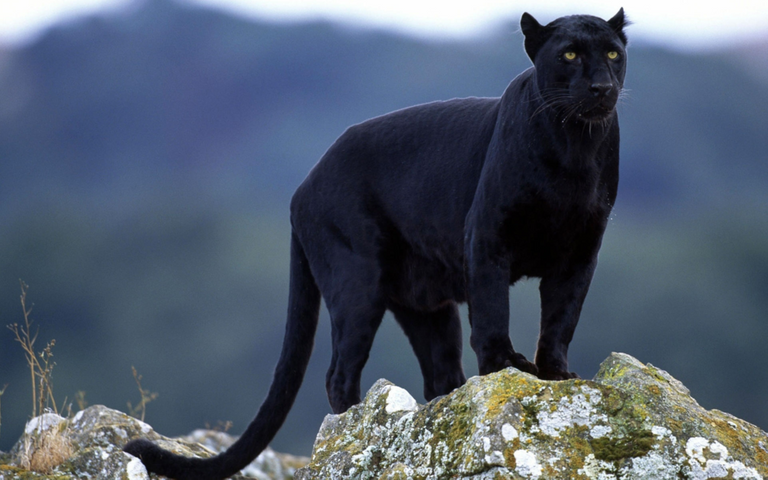 Image Source: Pinterest
I was far away from even knowing I loved a band with the same name and that this theme - Fucking Hostile - was included in that album:
On those days and times, Internet was a very uncommon animal - really uncommon - and it wasn't easy to search and it was even less easier to find what you were looking for. There were lots of results completely unrelated to our searches. MP3 songs? That didn't exist back then, so downloading and streaming music was totally out of question.
How did we discovered new music and bands? (I hear the youngest ones asking...)
Well, above all it was through word-of-mouth and on the radio. The physical exchange of pirate tapes was part of our daily routine. I remember that every night, before I went to sleep, I used to religiously listen to a show hosted by António Freitas on the Antena 3 radio, called "Alta Tensão" (High Tension).
One night I wasn't home so I programmed my stereo to record the show on tape and the last song of that edition was precisely "Fucking Hostile" from Pantera. Unfortunately, the tape ran out of space right after the end of the song and just before the host was about to announce its title and artist, so I was left in the dark for years to come...
I've spent a few years listening to this song without knowing to whom it belonged and it was only in 1996 or 1997 that I found out which song it was, when a friend in University lent me the following 4 CDs from Pantera:
Cowboys from Hell (1990)
Vulgar Display of Power (1992)
Far Beyond Driven (1994)
The Great Southern Trendkill (1996)
---
This song talks about the authority forces and they lack of ability or apathy to solve serious crimes, focusing mostly on harassing and pursuing youngsters for smoking Marijuana or riding a skateboard, instead of chasing the most violent criminals.
Here are part of its lyrics, for those who don't know the track:
"The truth in right and wrong
The boundaries of the law
You seem to miss the point
Arresting for a joint?
You seem to wonder why
Hundreds of people die
You're writing tickets, man!
My mom got jumped -- they ran!
Now I'll play a public servant
To serve and protect
By the law and the state
I'd bust the punks
That rape steal and murder
And leave you be
If you crossed me
I'd shake your hand like a man
Not a god"
---
Ah, good old times. I still remember when we used to gather in front of a CD and Vinyl Shop in the Downtown of Porto to exchange CDs and Pirate tapes with each other.
---
I hope you enjoyed this little trip back my memory lane.
---
This post uses the #cc tag from @commentcoin and, if you're lucky, you'll get 1 CC when you leave a good comment. Enjoy!