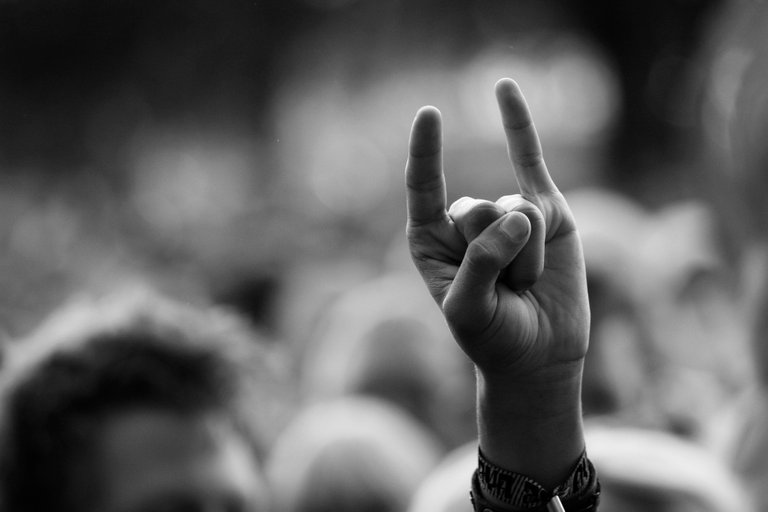 (by Erik F. Brandsborg on flickr).
If you're a metalhead parent like me, you might one day find your kid enjoying the same kind of music you do. But if you mostly happen to listen to bands singing about despair, violence, death, burning churches, etc, you start thinking - yeah, the riffs are f*ing amazing but do I really want my child to embrace these kinds of lyrics at this age? Definitely not.
So, I did a little research one day. At first I was looking for metal covers of children's songs, and I happened to stumble across a YouTube channel that features metal covers of pretty much everything! It's called Frog Leap Studios and it's led by Norwegian metalhead Leo Moracchioli and his family and friends. Not only do they upload metal covers of stuff on YouTube, they perform their stuff live and go on tours from time to time. Click here to check out their official website, and here to land on their YouTube channel.
While they do have a whole album dedicated to childrens songs (including ''Baby Shark'', ''Let It Go'', ''The Wheels On The Bus'', etc) , if you're raising a toddler with an attention span as short as a squirrel's, it's just not enough. So my search for family friendly metal continued.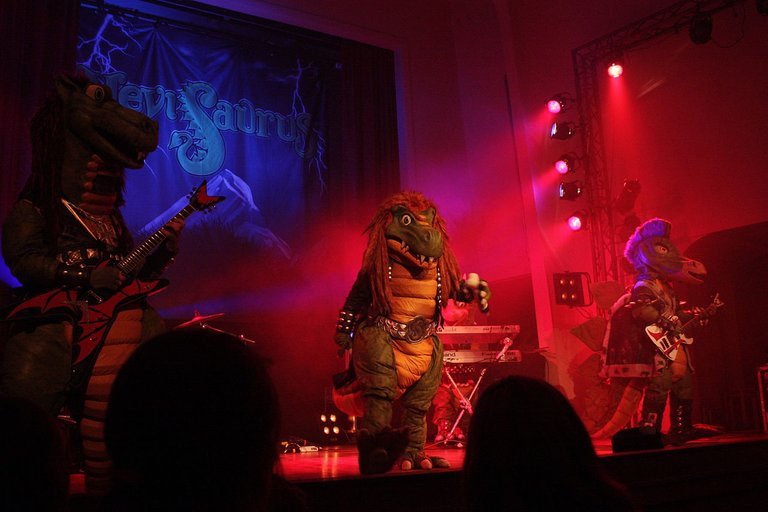 (By J. Albval - Own work, CC BY-SA 3.0, https://commons.wikimedia.org/w/index.php?curid=12279626).
... and then I found Hevisaurus.
Hevisaurus are a Finnish heavy metal band that formed in 2009 with music aimed at children. The band members are known for performing in dinosaur costumes.
(Wikipedia).
Heavy metal AND dinosaurs? Feels like I hit jackpot! (or ''kaks kärbest ühe hoobiga'', as we'd say in Estonian (''two flies with one hit'')).
To this date Hevisaurus have released seven albums, having sold over 170,000 copies alone in Finland. They also have a full lenght movie of their own and a mobile game app for both Android and iOS devices.
In 2013 Hevisaurus together with The Dudesons (who are known as Jackass of Finland) opened up an indoor amusement park in Oulu's Super Park.
Last but not least they have their photo on the walls of Hard Rock Café.
At the time of writing this post, their newest song is ''100''. It's literally the 100th song they've released, and one of my great favorites. The song and its music video feature A LOT of known metal artist from bands like Swallow the Sun, Children of Bodom, Insomnium, even Megadeth!
Just the thought of how these great artists decided to vouch in on the project and create metal music for children together brings out tears of happiness. Moreover, I get goosebumps whenever I listen to ''100''!
(All rights belong to the band Hevisaurus and their label Sony Music).
Other songs I really enjoy include ''Räyh!'', ''Avaruuden autokorjaamo'', the lullaby ''Viimeinen mammutti'', and ''Ugala Bugala''. Nevertheless, I can't limit my favorites to them, as I haven't listened to all 100 songs they've released (yet?) and will definitely do some more exploring later on.
While most if not all songs by Hevisaurus are in Finnish, thanks to their official label Sony Music, they have localised versions of their albums in Spanish, Hungarian, Swedish and German, and live acts / branched bands in Argentina (Heavysaurios) and Germany (Heavysaurus).
If you understand Finnish, check out Hevisaurus's official website for information about the band, upcoming gigs, merch, and more. If you just want to listen to more of their stuff, follow this link to their YouTube channel.
I'm hoping to see them live with my son one day. Even if I won't, I'm planning to buy him some Hevisaurus merch soon. Maybe a shirt, a hat, throw in a CD... You know the drill.
Anyway if you're a metalhead parent, I recommend you to give Hevisaurus a listen, maybe you'll like them... maybe your kid(s) will. Never know before you try 'em out, you know. ;)
---
This post is originally published in the Heavy Metal Community founded by (shoutout incoming!) @crimsonclad in November, 2019. If you're a metalhead, want to read, watch, listen to, write or create more metal content, this is the community for you!
(''How did YOU find that community?'' you ask? I went to the Communities tab on SteemPeak (my favorite Steem front-end) and a litte Search bar appeared on the bottom right. I typed it ''metal'' and there it was! If you're looking to find a niche community, that's the way to go, my friend!)
---
If you know any more family friendly metal bands or creators, please DO let me know!
Thanks for stopping by & Stay brutal! \m/