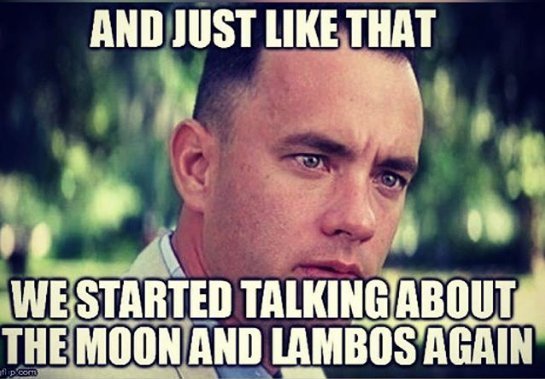 ....everytime. "When is it going to moon?" "Can't wait for my lambo!" "It's going to be blue!"
Shut up and hodl.
Help boost @bitpolls by trying out these dapps. We thank you in advance.
Play Drug Wars and earn free FUTURE tokens every day. A quick and easy passive income addition. Play even more and earn bonus tokens for defeating enemies and adding to the daily heist. If you sign up using our link @bitpolls earns a 15% bonus.

Download and use Partiko to earn bonus Partiko points for every post, upvote, and comment you make on Steem. Why not earn extra for what you are already doing?

Earn free Bitcoin at http://bit.ly/bitpollsfreebtc and earn 4% annually if you hodl at least 0.0003 BTC in your account. Another great passive income source. I've used this service since 2015 and they have always been trustworthy and secure. I've been paying my property tax off every year with the interest.