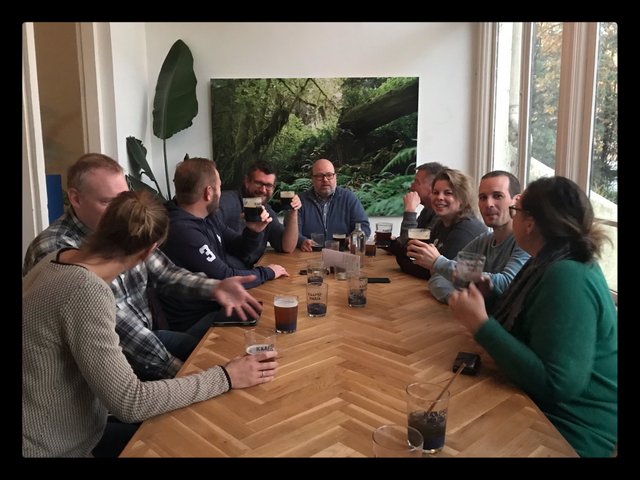 Pic from the first meet-up, taken by the amazing @brittandjosie!
---
TL;DR: We're meeting this Saturday from 15:00/3PM at Bokaal Rotterdam. The location is near Train Station Blaak which you can also reach by tram, metro or even bus. From there you can walk towards a little square that seems hidden but just follow the Google Maps route and you'll be fine. If you want you can reach me on Telegram (@soyrosa) or ask my mobile number on Discord (soyrosa#1544) if you want to be sure you can call me in case of need :D Cheers!
---
HF21 has been rolled out and with only a few hours of downtime we can be proud of a chain that stops when something doesn't work as intended, and with Witnesses and Steemit, Inc employees ready to patch it up quickly so we don't have to miss our Steem activities too much.
HF21 marks the start of NewSteem and for now I see a lot of people using their downvote power, even people who didn't do so before, plus a few unusual suspects have started curating... We'll have to see if this lasts, of course, but:
I believe it's time for a toast!!!
---
A bit last-minute, sort of pushed by the fact that @bubke is in Belgium all the way from India and coming weekend is hist last weekend 'here' I decided to see if we could get a few people together for some beers (or just a glass of juice of course!) for those who want to celebrate the start of a new Era on Steem.
...Or just meet up with some cool people and chat :-)
What's the plan?
---
Very simple: @bubke and I will be drinking a beer in Rotterdam from 15:00 onward, and everyone who wants to join us is welcome!
The location will be Bokaal Rotterdam (check up in the comments below this post if we have moved the location last-minute! Sometimes unexpected things happen like last time when the chosen venue was suddenly closed) which lists a huge beer list and has a nice terrace near Train Station Blaak. Saturday seems to be a nice sunny day, so why not spend it with some Steem friends in the sun?
Come for an hour, come for a lot of hours: all is fine!
Note that this is a very low-key meet-up, no topics are scheduled, no presentations are arranged, but everyone can start any conversation they want :-) The first two meet-ups were a lot of fun and I'm sure we can make it as gezellig again :D
Cheers and I hope to see you there!
---
Dutchies! Living in The Netherlands
---
@brittandjosie, @exyle, @s3rg3, @bennierex, @eqko, @verhp11, @hans001, @missmau, @amritadeva, @ashleykalila, @goldrooster, @heyitshaas, @ijmmai, @seveaux, @poeticsnake, @guchtere, @roelandp, @rubencress, @scipio, @rival, @edb, @marcovanhassel, @hetty-rowan, @minersean, @sanderjansenart, @erikklok, @dboontje, @dikkie, @valderrama, @thetimminator, @tonyz, @raypelsteeltje, @jacktheflipper, @bart2305, @crypto-econom1st, @bringolo, @oaldamster, @samiirasam, @rathanna, @goldrooster, @mids106, @rolf.bakker, @zyx066, @jolanda, @lion200, @michelmake, @futurefood, @wakeupkitty, @pacolimited
We speak about the same language! Living in Belgium
---
@fullcoverbetting, @woodzi, @daan, @bjornb, @brothermic, @simplymike, @jackjohanneshemp, @feelx, @d0zer, @costanza, @zoef, @kemo16, @simplymike, @arcange, @foreveraverage
Expats in The Netherlands
---
@artakush, @bengy, @bkdbkd, @pundito, @smasssh, @emrebeyler
Dutchies or 'speaking Dutch' all over the globe
---
@anouk.nox, @karinxxl, @felander, @cryptotem, @sv1rby, @misslasvegas, @bubke, @smalltall, @r00sj3
Do you know of more Dutch (speaking) Steemians?
---
Let me know in the comments! It would be fun to see how big we can get this to grow. The first responses after Meet-Up #1 can be summarized as: This was fun! It felt like we'd known each other for ages! Let's do it again! It's pretty spectacular to meet fellow Steemians and to have a few 'sort of local' meet-up opportunities is very worthwhile. Hope to see a few of you join :-)
---
Hope to see you this Saturday in Rotterdam!