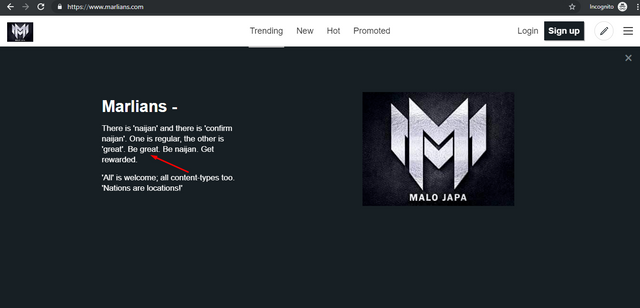 In the coming days, we will have more updates related to our progress and development. We are focusing the early days of marlians on UI-development so that our vi-mission is made more clear to visitors of 'marlians.com'. Coupled with the 'completion of some automation-tools', we will be able to move thereafter more proficiently.
In the near term, we also want to restore life to our discord server, with 'talk shows' that can help us grow. We need your help in this regard. You can contact me, if you will like to host a talk-show on our discord server. There are more than 5000 steemians on the discord yet 'very scanty activities'.
Then, we will begin to unite without other communities too. 
After some of these things are set, we can begin to allocate more responsibilities in the hands of 'certified' users and attain more autonomous growth.
We will have subsequent updates as we add more features to marlians.com. In the early stages we are keeping things simple.
One small and recent addition to marlians.com is the 'certified' feed. See image: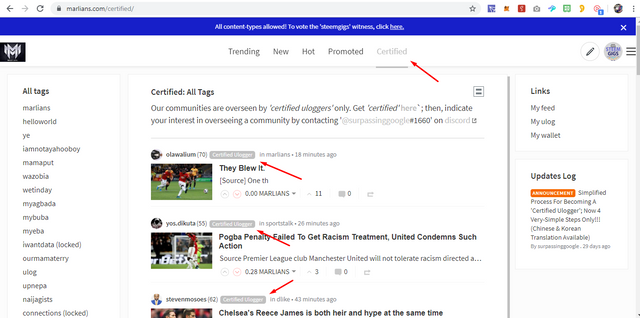 This is an entire feed dedicated to promoting 'certified' users. Besides 'promoting certified users', this feed will enable us and everyone to easily curate posts from 'certified' users. Certified users are at the core of our ecosystem and they will need our incessant support.
While everyone on marlians.com gets curated, it is nice to have a special feed that highlights our 'certified' users. Our aim is to emanate 'owners' and generation-fixers and we want an area on our site, whereupon we can use the art of curation to inculcate in 'certified' users 'our curriculum', getting them abreast with all aspects our ecosystem as we pay attention keenly to their 'growth' and by "growth" we refer to "real human growth".
Your boy Terry
Get Certified (This is optional)
First 1000 certified uloggers will get 50 MARLIANS. This aside other ongoing drops.
Steps 1: Send '5 STEEM' to '@marlians' with this memo; '1 month certification'. 
Step 2: Do a 'ulog' via 'marlians.com' discussing the process of 'how you became a certified ulogger'. Make sure to use '#ulog'. 
Step 3: Subscribe to 'UloggersTV YouTube'. 
Step 4: Fill up this google form. 
If you desire, you can DM '@surpassinggoogle#1660' on discord when you are done with the steps, to hasten the process.
Note: Where you get certified now, your payment ("one month certification") hasn't started counting yet but you will already be 'certified'. This is a bonus. We will notify you when "the one month" starts counting (after we have setup our automation-tools). See our list of 'certified uloggers' on 'https://ulogs.org/discover' 
To Get Some 'MARLIANS'
Here are the steps: 
Visit 'https://steem-engine.com/?p=market&t=MARLIANS' and login using the keychain extension or directly using your private posting key.
Click on the 'DEPOSIT' button to deposit STEEM. Note that you can also deposit BTC, ETH, LTC, EOS etc with steem-engine.
Go on to buy some MARLIANS.
Kindly subscribe to UloggersTV on YouTube
Kindly vote on the 'steemgigs' witness
If you can translate this post into other languages, feel free to do so. You can also show me on discord, so that i can resteem it.
---
Posted via Marlians.com