This is my entry for #marketfriday created by the lovely and generous @dswigle. Last week I went for a walk at the old part of Bangkok where Chinese immigrants settled down and gave rise to Chinatown in a nearby area. Further down the road, another old community of Indian immigrants have been established for over two hundred years. So, within this three square miles, you could find one of the oldest Chinese shrines, famous Thai temples and an old Hindu temple. I was looking for ground turmeric in big bags as I have started to put turmeric in all my food! I could not find big bag of turmeric in any supermarket so I had to visit the Indian market where most Indians went for their daily shopping.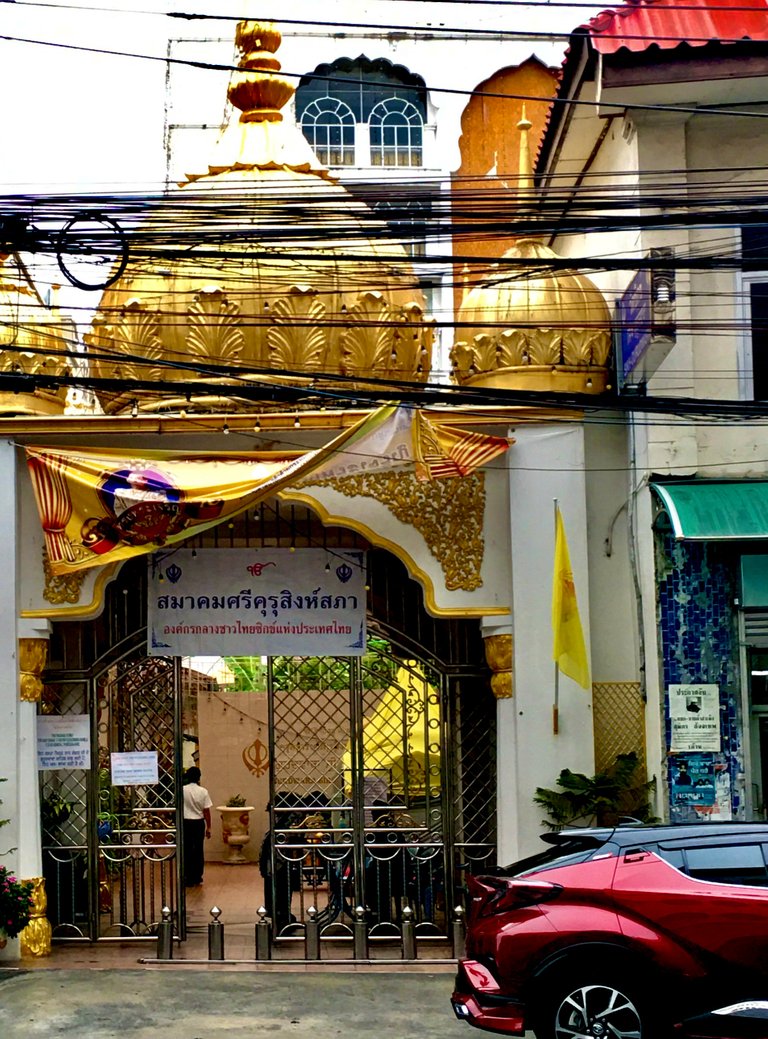 I decided to get off the bus around the Sampeng market which was the original shopping mall in Bangkok, this market was established since the reign of King Rama V who initiated the construction of hundreds of shop-houses for Chinese immigrants, working class Thais and Indian immigrants. Consequently, you could find three communities living close to each other in a small area of Bangkok. I got off the bus a bit too early so I had to ask a local to tell me a short cut to the Indian market. Now I know quite a few short cuts in this area.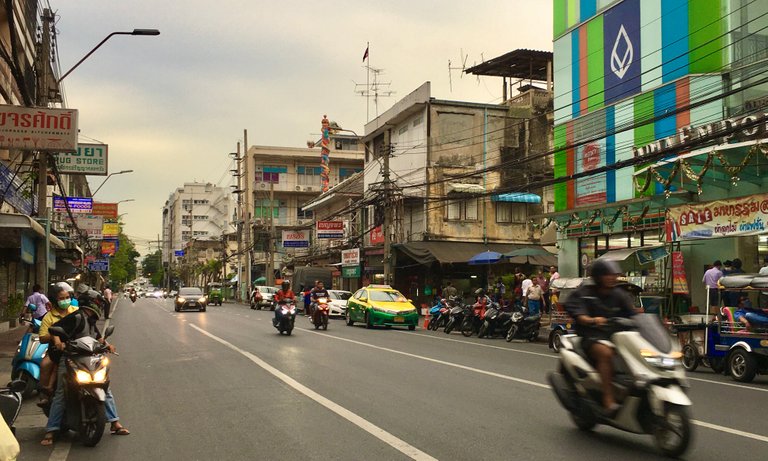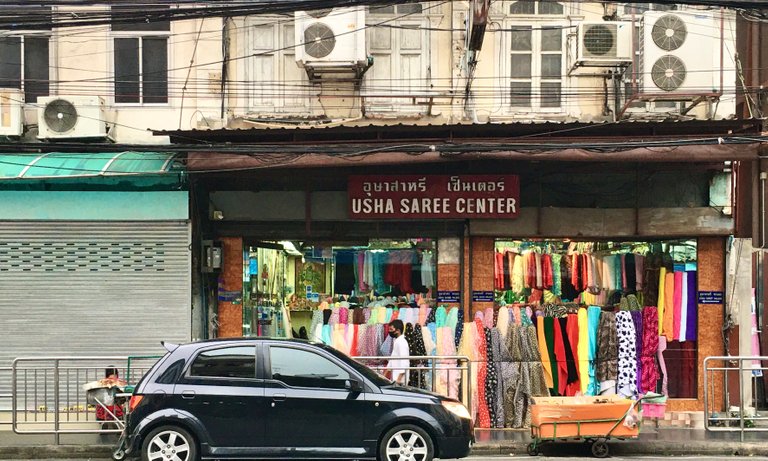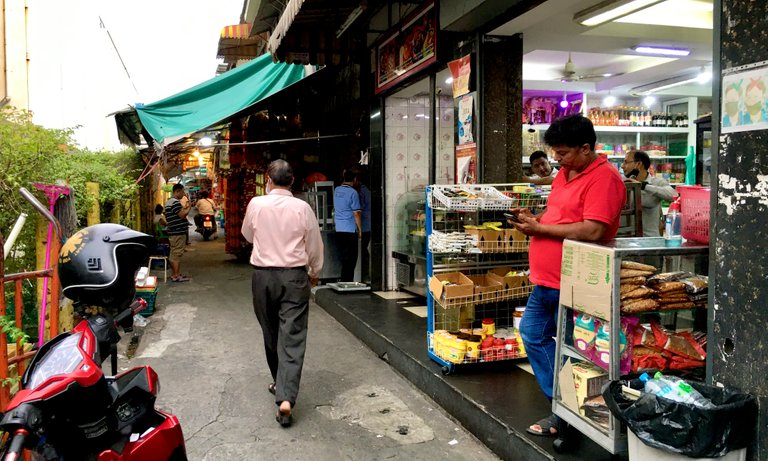 The important landmark is the Hindu temple which is next to the Indian shopping mall. A narrow lane besides this Indian mall is where all the grocery stores of Indian goods and spices could be found. I went there in the evening but luckily several shops including the old Indian restaurant were still open. I had been to this place once before when things were still normal without any lockdown.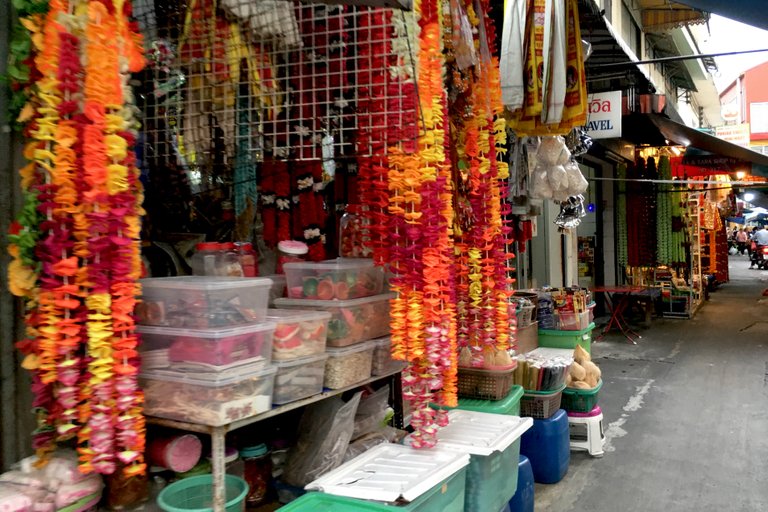 Things seemed much more quiet and the market was not as crowded as it could be. I went into a few shops to enquire about the price of ground turmeric and bought two small bags from each shop. These were much cheaper than the one I bought from a Chinese drug store in my area. I used to get my supply of turmeric at a local flea market at a very cheap price. But thus market has been cancelled since the lockdown last year. I did wonder where all these poor vendors could sell their goods and produce during these past few months.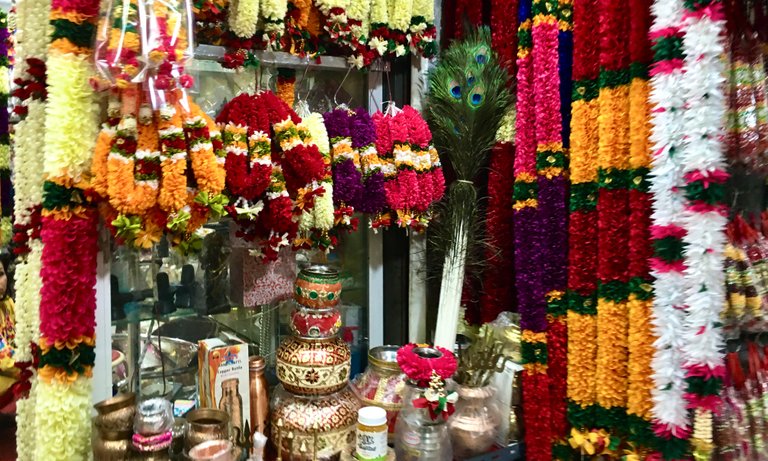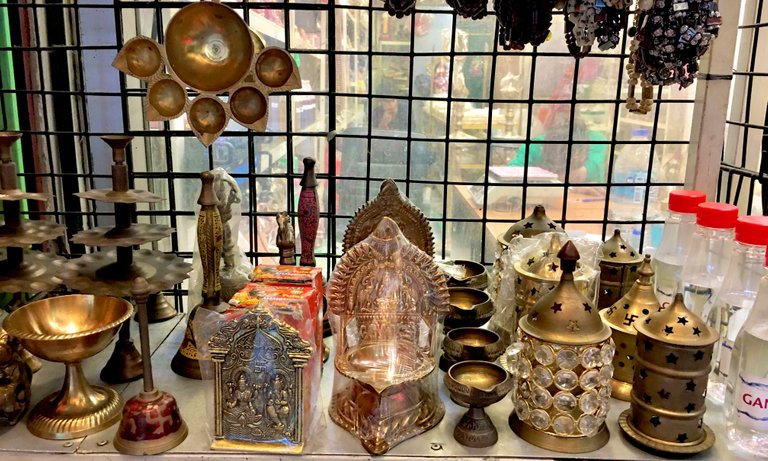 Since the old Indian restaurant had empty seats, I decided to try their typical Indian tea with 'lady' which was one of Ganesha's favourite sweets. The Indian tea took at least five minutes to be ready as the cook has to add spices in the boiling tea. The owner of the restaurant told me that Indian people would drink this tea to counterbalance the very sweet and rich Indian sweets. It was like drinking boiled tea with Italian herbal seasoning with added ginger.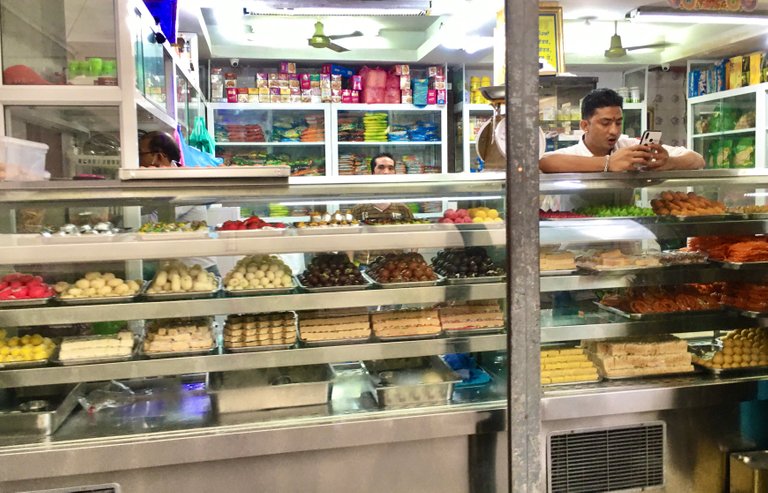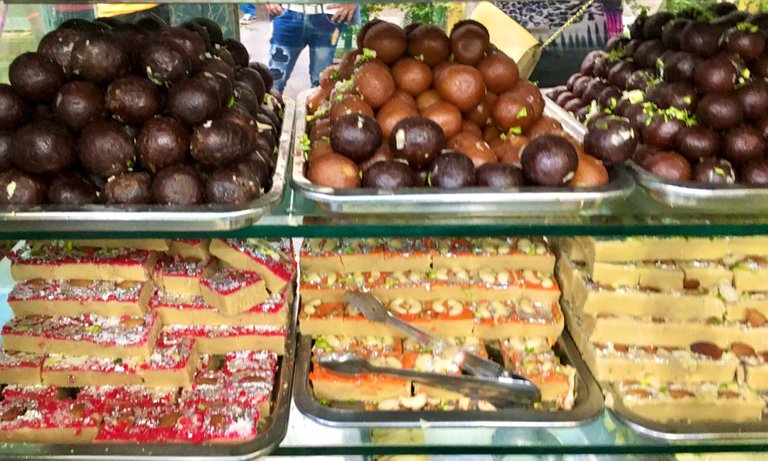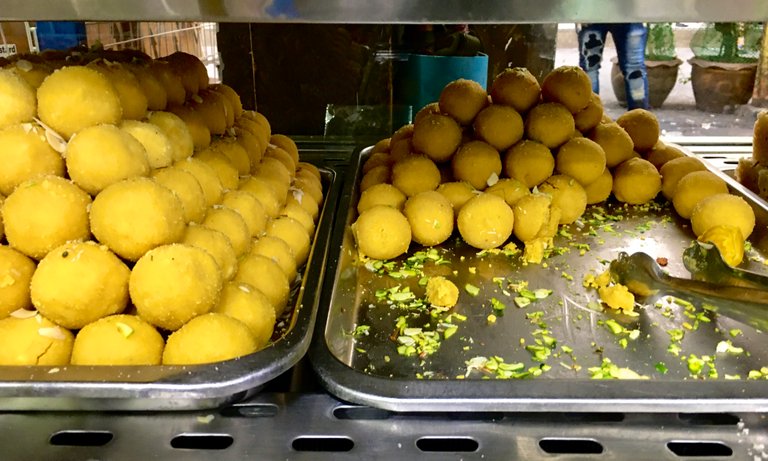 This restaurant is called Panjab Sweets which has been established as a small tea room by the family's grandparents almost ninety years ago. I bought two more bags of ground turmeric and took photos of the shop. They had quite a varieties of imported Indian tea. This shop has been the sole supplier of Indian sweets to all official Indian embassy'a functions and Indian parties at luxurious hotels. But I still found these snacks were too sweet and rich in butter for my daily consumption.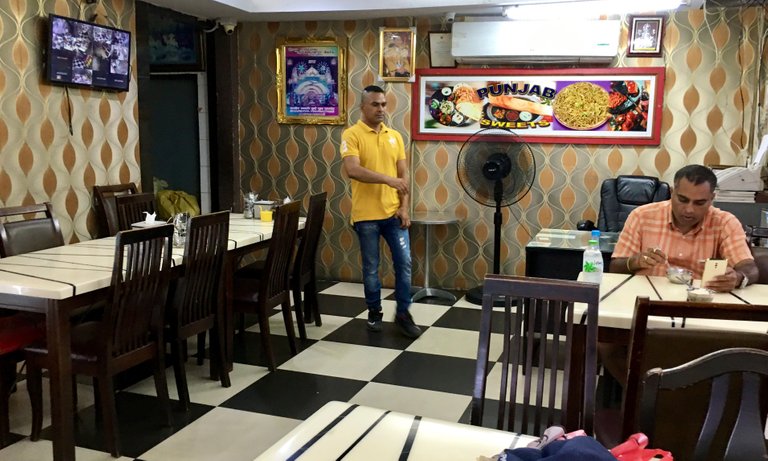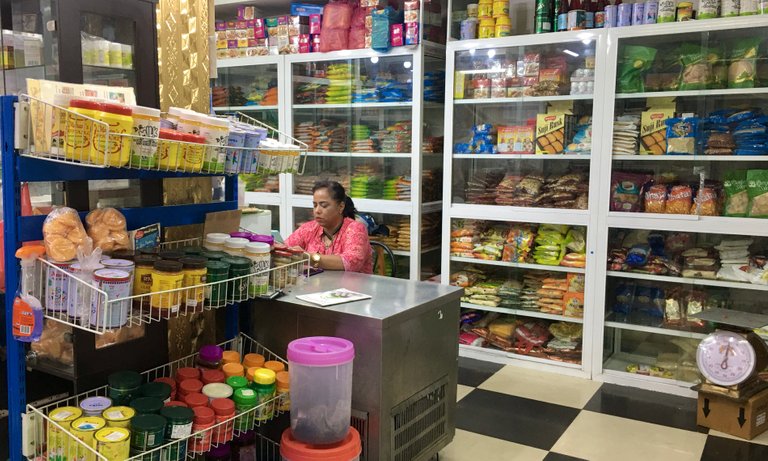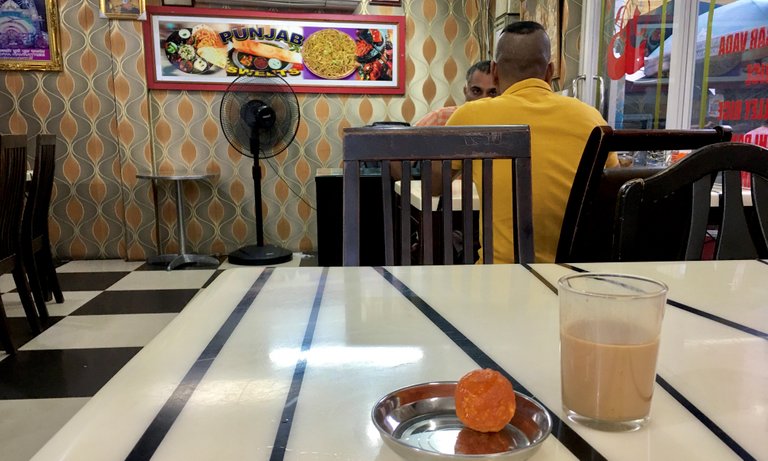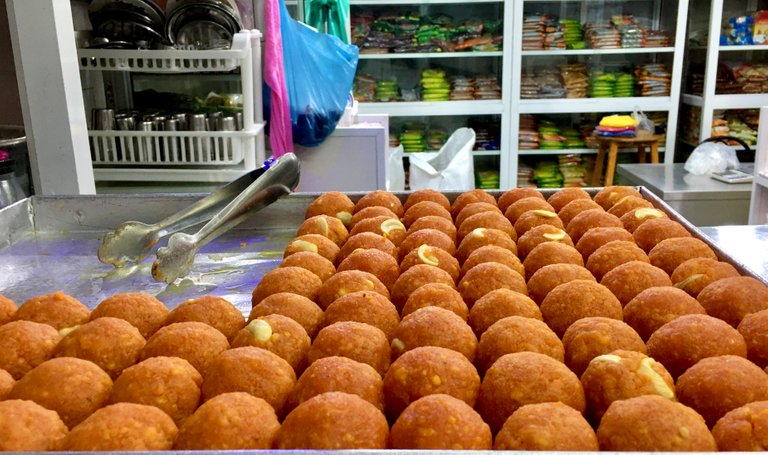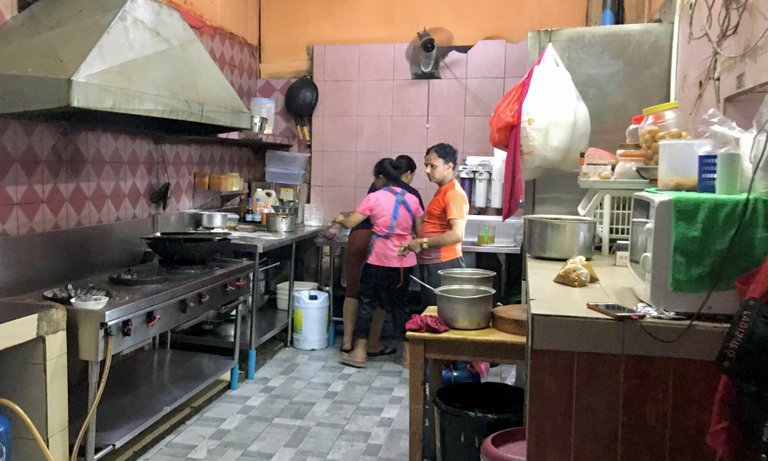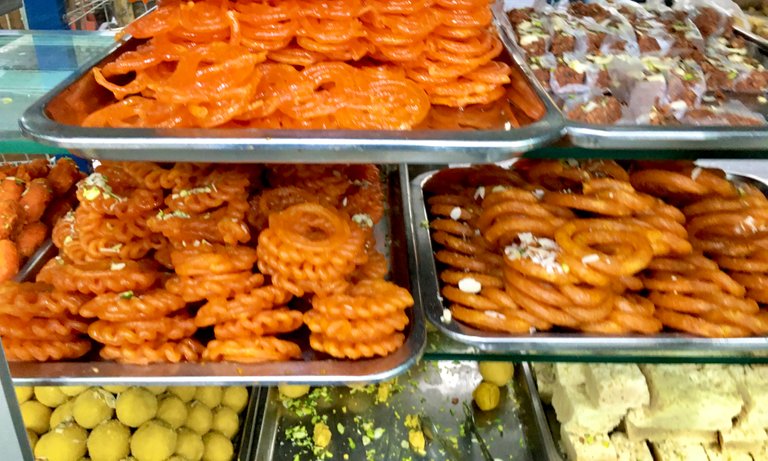 I visited a few shops selling gadgets and things for used in decorating Indian shrine room; I got a big bag of To my delight, I found a shop that sold so many kinds of beans at reasonable prices. So, I bought some chic peas for my bean curry recipe. The ground turmeric would last me several months. By the time I got all my shopping, the sky became dark and I had to walk through darken shortcuts to get back to the bright light of the Chinese community area to get the bus back home.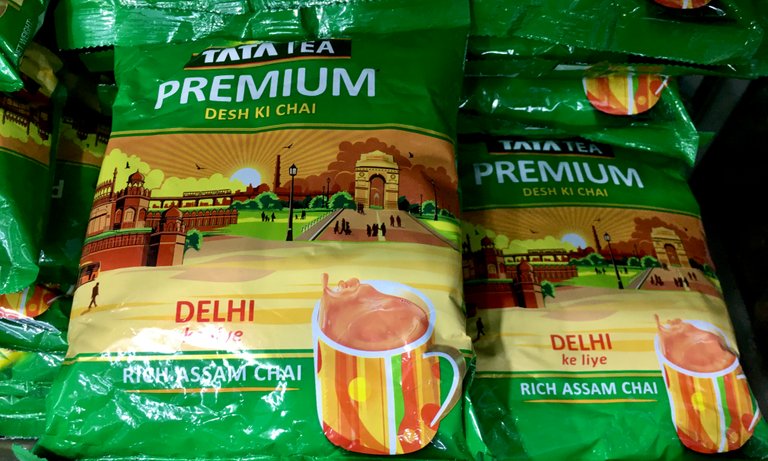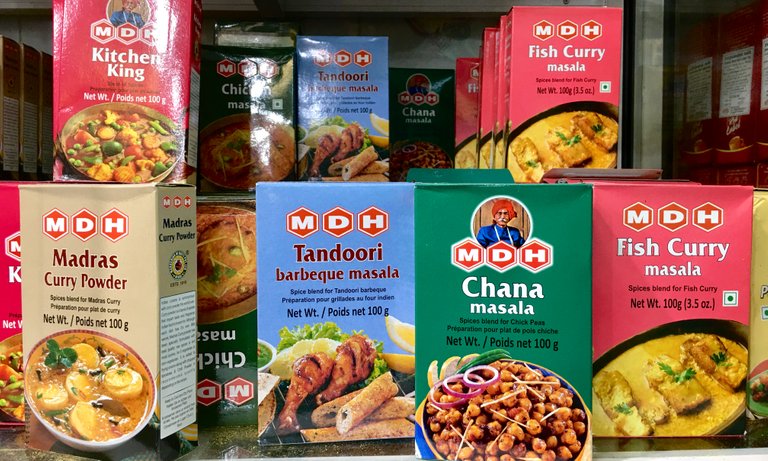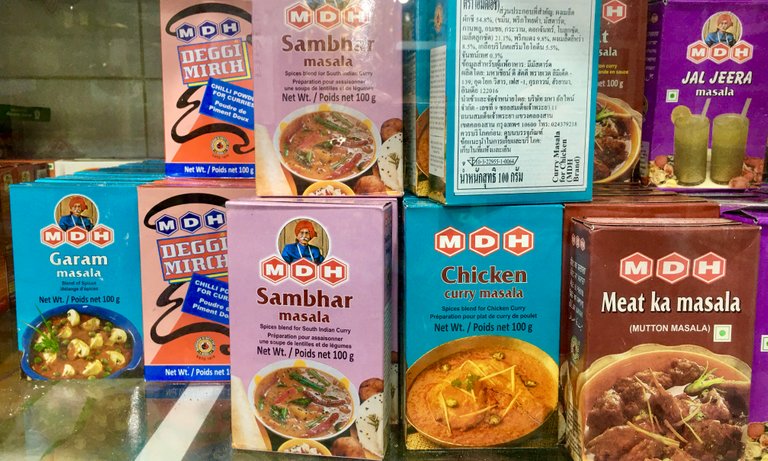 สุดสัปดาห์ก่อนเราไปเดินเที่ยวแถวสำเพ็ง แล้วเดินต่อไปที่ย่านตลาดอินเดียที่อยู่ถัดไปอีกถนนหนึ่ง เราต้องไปแถววัดจองชาวฮินดู เพราะข้างๆวัดนี้คือศูนย์การค้าของชาวอินเดียโดยเฉพาะ แถวนั้นเป็นชุมชนชาวฮินดูที่บรรพบุรุษได้มาตี้งรกรากในสยามตั้งแต่สมัยรัลดสบที่สามเป็นต้นมา ในหลวงรัชกาลที่5 ทรงโปรดให้มีการสร้างตึกแถวสองชั้นหลายร้อยหลังคาเรือน เพื่อให้คนจีนอพยพ คนไทยที่พึ่งตั้งตัวและชาวฮินดูที่เข้ามาตั้งถิ่นฐานในสยาม ดังนั้นในบริเวณย่านสำเพ็ง เราจะเจอทั้งวัดจีน วัดไทย และวัดฮินดูอยู่ไม่มาไกลจากกันนัก ตลอดจนร้านค้าและร้านอาหารทั้งสามสัญชาติ ให้ลูกค้าเลือกตามใจชอบ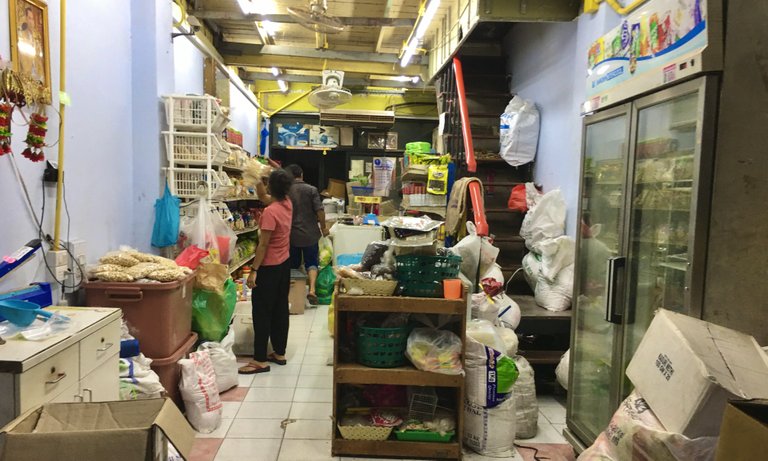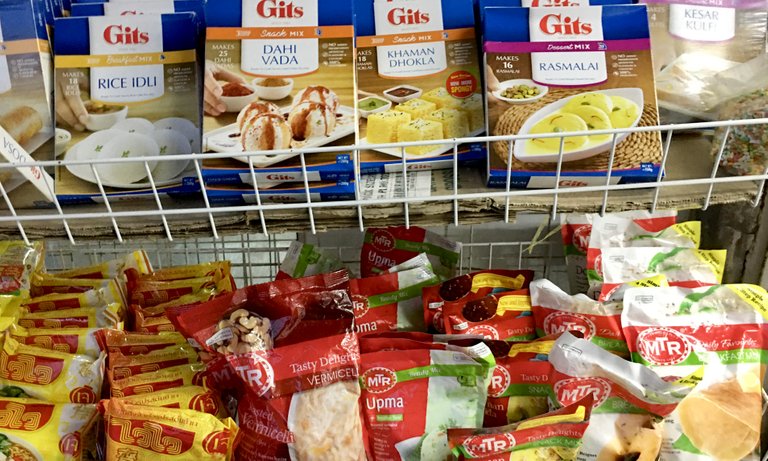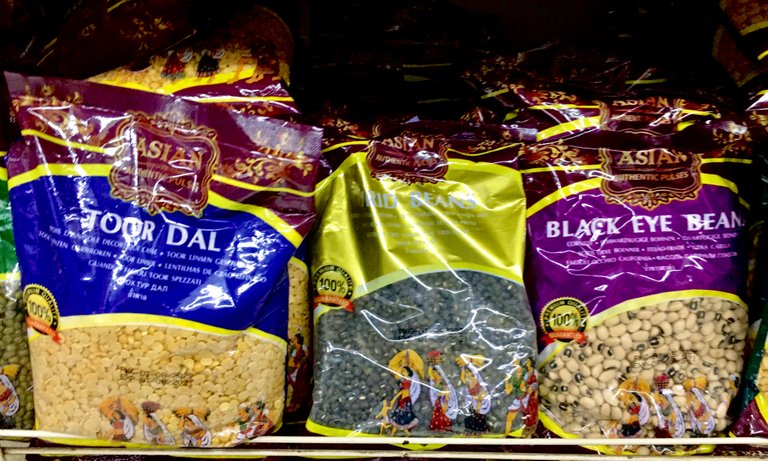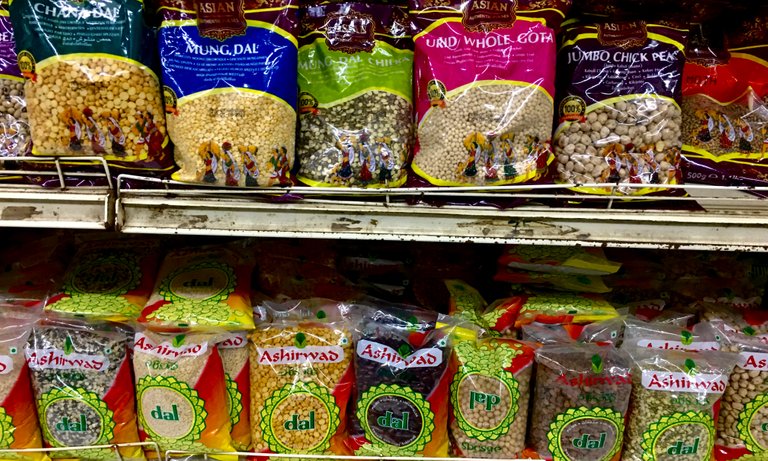 เราไปถึงตลาดอินเดียตอนเย็นแล้ว เราไปหาซื้อขมิ้นชันผงเพื่อใช้ในการทำอาหาร เราเริ่มติดการใช้ขมิ้นชันเพราะทำให้อาหารย่อยง่ายและเป็นการเสริมภูมิคุ้มกันของเราด้วย เราตามหาซื้อขมิ้นชันยากมาก ที่อื่นขายแพงมากราวกับว่าเป็นตัวยาอย่างหนึ่ง เราได้เป็นของนำเข้าจากอินเดีย เกรดค่อบข้างดี เราแวะสามร้านเพื่อตรวจสอบราคา ก็ซื้อมาร้านละสองห่อ คราวนี้เรามีขมิ้นชันผงไว้ใส่อาหารไปหลายเดือนทีเดียว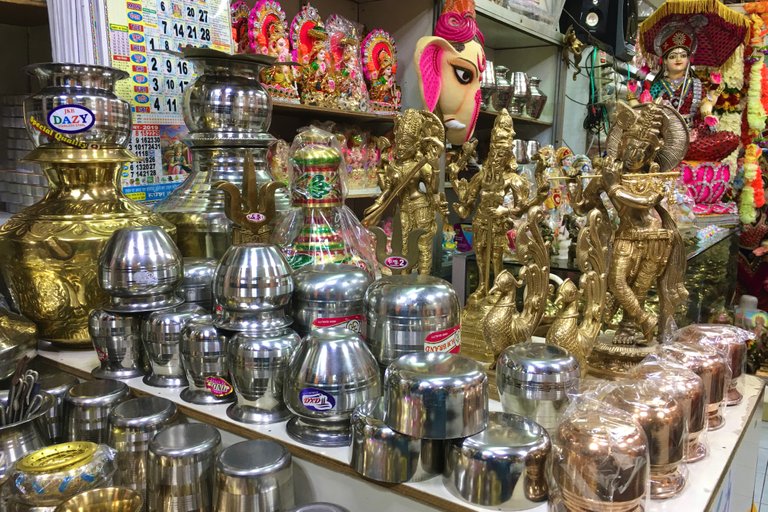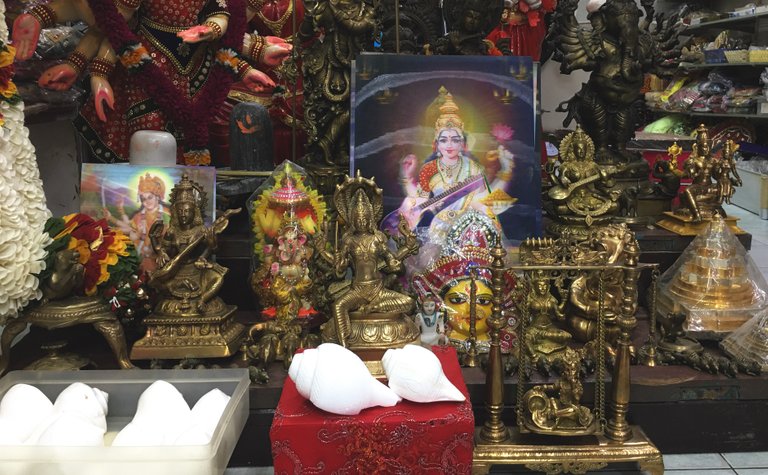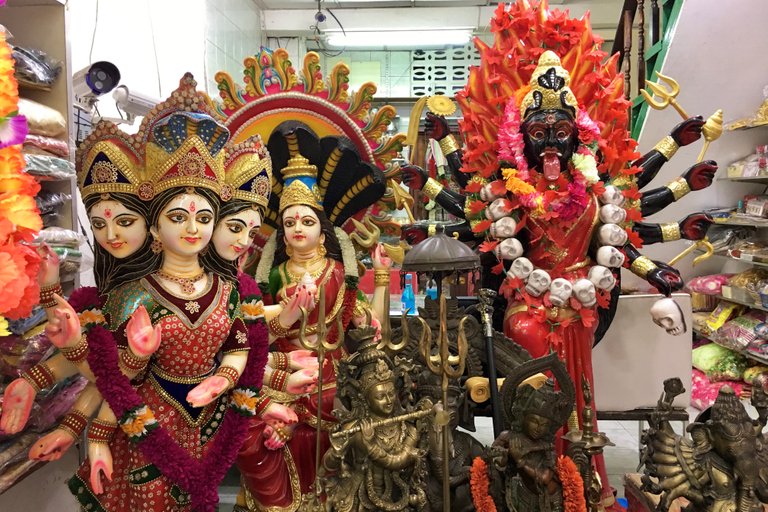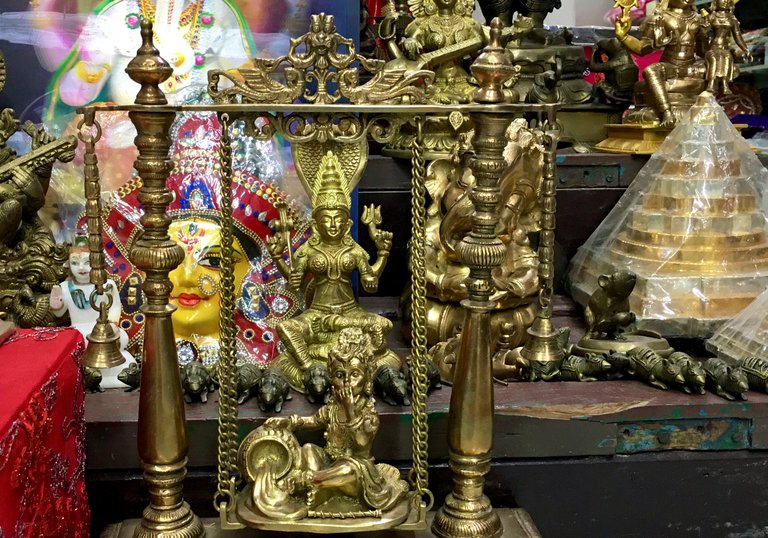 เราไปลองชิมขนมลาดู ที่ร้านอาหารปันจาบที่มีขนมหวานมากมายหลายอย่าง เราเลือกลาดูเพราะว่าเป็นขนมของพระพิฆเนศที่ทำจากถั่วและหวานน้อยที่สุด เจ้าของร้านบอกเราว่าเราต้องกินขนมหวานคู่กับ ชาของแขกเพื่อจะได้ตัดความหวานและช่วยล้างไขมันจากขนมด้วย เราคิดว่าขนมอินเดียมีรสหวานมากที่สุดเท่าที่เราเคยกินขนมมา ส่วนชาจากอินเดียก็เป็นอะไรที่น่าสนใจมาก เขาใส่เครื่องเทศลงไปต้มกับใบชา รสชาดเหมือนกินนํ้าต้มต้นไม้ใบหญ้า ชาอินเดียค่อนข้างแรงในการล้างสารพิษในร่างกาย เราเดินดูร้านขายของอีกสามร้าน เราเจอร้านที่ขายเม็ดถั่วมากมายหลายชนิด เราดีใจมากที่เจอร้านแบบนี้ คราวนี้เรามีที่มาซื้อถั่วมาทำอาหารกินเหมือนตอนอยู่เมืองนอกแล้ว เราได้กำยานแจกมาถุงหนึ่ง เป็นแบบผสมหลายอย่างในราคาที่ค่อนข้างถูกกว่าที่อื่น กว่าจะช็อปปิ้งเสร็จ ท้องฟ้าก็้เริ่มมืด เราก็รีบเดินกลับไปทางถนนใหญ่ที่เยาวราช เพื่อหารถเมล์นั่งกลับบ้านต่อไป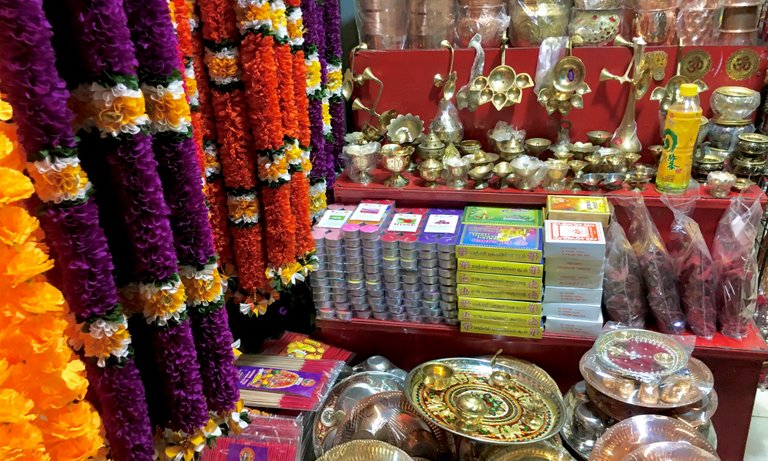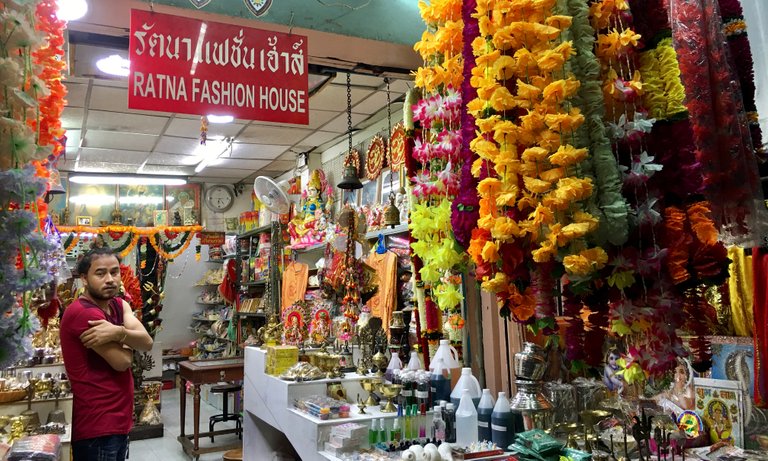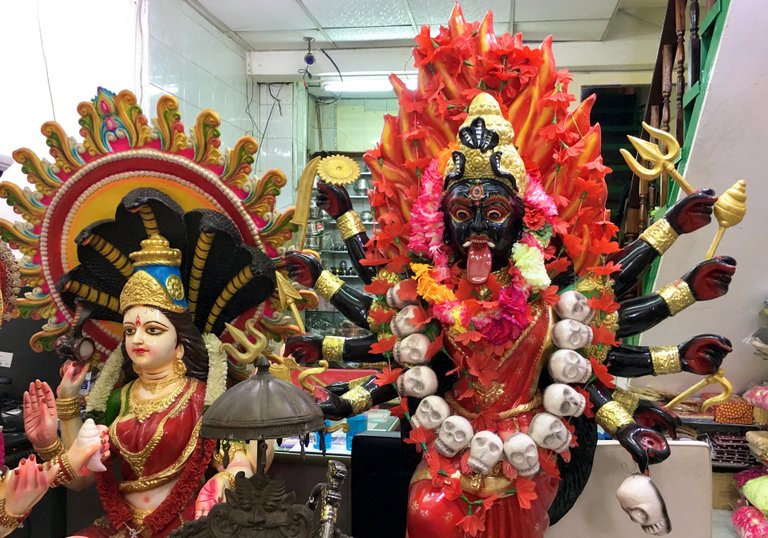 Wishing you peace, good health and prosperity.
Cheers.