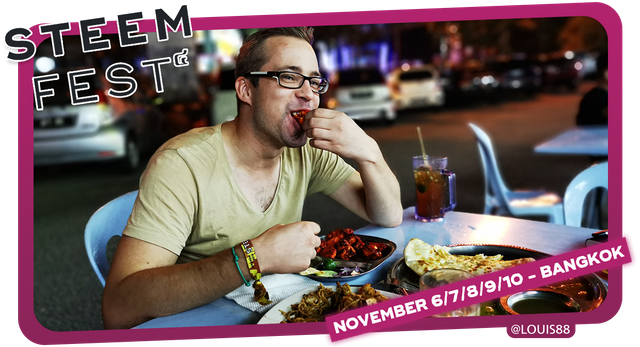 Yes, and that's where it starts. My first flight outside the EU. When I was about to leave home, the car had to be scratched first... That was about 05:30 in the early morning. My brother @rivalzzz was so sweet, and brought me to the station. I thought to myself already so, oh man... now also still the car from ice freely scratch ... good that I am in a few hours in the sun at 30 degrees.
After the car was scratched free we finally drove to the train station. There I said goodbye to my brother... Too bad that he didn't come with us :-/ Well... At the bakery shop I bought some rolls and a coffee and at the platform. There my dear mother surprised me and wished me a good journey :) Cool. The train arrives and the journey into the unknown begins. Via Hamm to the long-distance train station at Frankfurt airport with Rail&Fly - so easy... to be able to take every train.
On the way I met someone who makes a longer and bigger boat trip. I won't forget that, because the gentleman woke me up very gently shortly before I got off the train at the airport and said.... Hey, we're here - you want to get off here too. :) Dear guy - I hope he has a great trip :)
From the airport terminal 2 with the suspension railway driven and my suitcase with the Emirates check in given. No problems... Just a little early. So off to McDonalds and ordered me a big coffee. After 2 hours waiting and chilling it was finally time. Off through the security check with very nice customs officials. Somehow I participated there also then in a new check procedure. I had to stand there as if I were a skier :) The person check went through without problems - only my hand luggage was checked once - something was on my camera... The officer did a wipe test on the battery grip of my camera... but without findings... @mrdalle - strange, isn't it?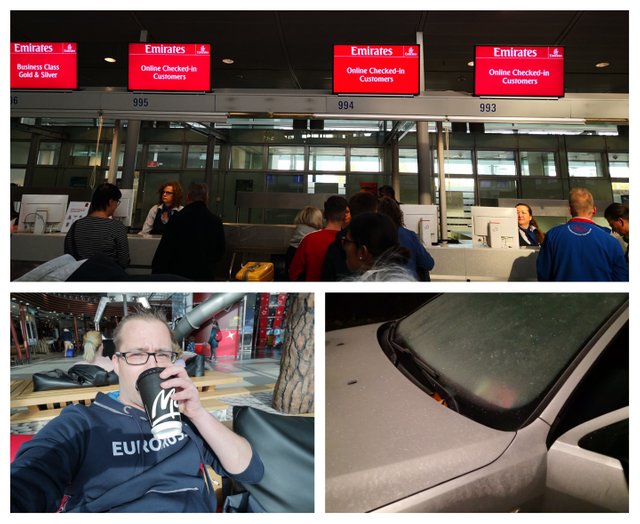 The boarding has started and when I went to the plane I thought to myself... What the Fuck... What a monster of an airplane. I've never boarded such a huge plane before. An A380-800 of the Emirates fleet. Comfortable and just big. Of course I booked a seat directly at the window wing to enjoy the view during my flight.
Had I known that the entertainment on board is so diverse, I wouldn't have thought so much about what movies I'm going to pull onto my iPad :D ... During the flight I watched a few movies. One was a documentary in English about the Woodstock Festival (I had also written an article about this, where we are hosting a small WoodStock), the film "Aladdin" with Wil Smith and two other films. The food during the flights was great. The stewardesses were super friendly and nice. One thing is for sure. If I should travel to Asia again, it will definitely be with Emirates. A very good and professional airline.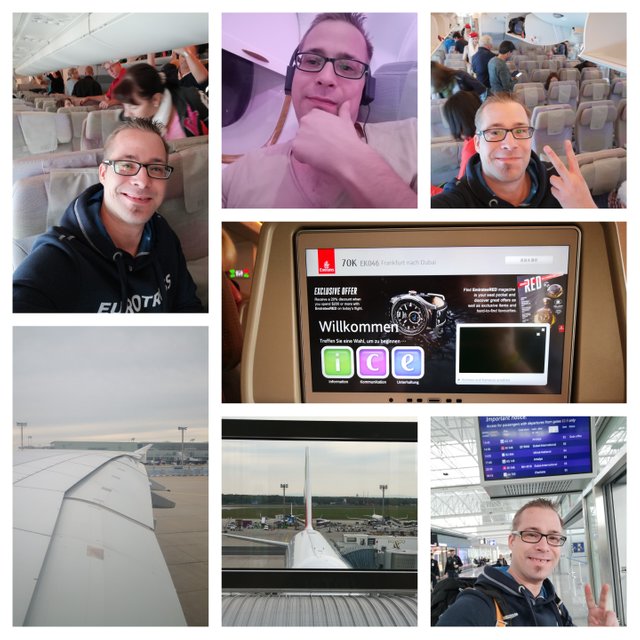 I had my stopover in Dubai after about 6 hours flight, where I didn't sleep. I think I flew 5 hours before the time, so I arrived in Dubai at about midnight. There I got out of the plane and went straight back to the next security check. That seems to be so common - because on board you can also get some dangerous items, which you are not allowed to carry with you on your journey :D Well... We pass the security check and first find our way around the huge airport. i went to a duty free shop.. Cigarettes were very cheap. 12,75 Euro for 200 cigarettes JPS red. In Germany I pay 7 Euro for 23 cigarettes :-D What a difference. The entry with the Duty Free stuff was also no problem.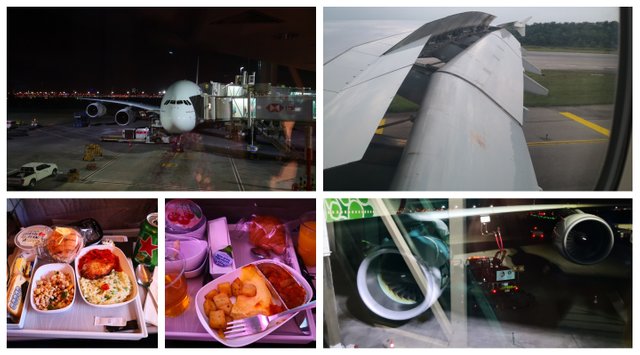 The next boarding starts and I sat on the same seat as before. We started at 03:30 local time in the morning, off to Kuala Lumpur. Unfortunately I missed the sunrise because I had to catch up some sleep. For breakfast I was gently awakened by the dear flight attendant. The coffee at breakfast was so good. We still had 2 hours of the altogether 7 hours flight on the clock. Then they went also still fast around. I slept quite well... At the window place is always a little more space to the head put on ;) Small tip.
The landing in Kuala Lumpur was super and rolled also quite fast to the gate. Then I went to the Immigration Control to pick up my visa. After only 2 questions I got my 90 days stamp in my passport. The question whether I travel alone - Yes. The question whether "Holidays" was also answered with Yes.
Then I went to the baggage carousel to pick up my suitcase (@mrdalle - Thanks for the rental)... after 20 minutes I finally had it... because outside at the Arrival someone was waiting longingly for me :)
Dear @redpalestino welcomed me warmly at the Arrival. The taxi driver who wanted to chat us up was completely ignored and we took each other in our arms as if we knew each other for many years. Steemit also simply connects. :) We got out then - so that I could make my lung power happy. Then we took the train a few stations further to take a grab (Here the Uber).
Then we arrived at his home. In the evening I was introduced to Malaysian food culture.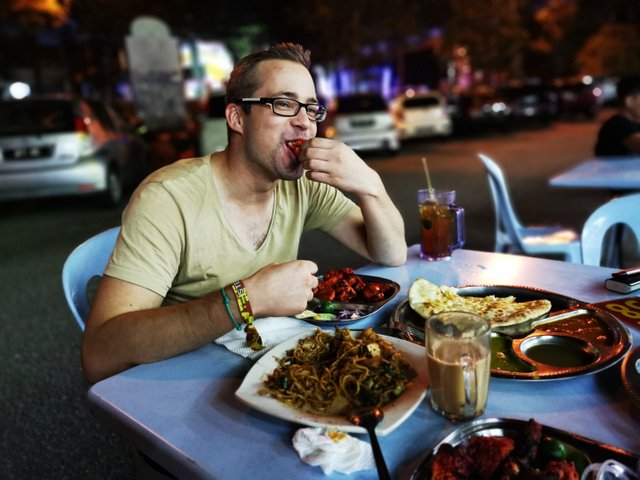 ---
My summary
The trip to Malaysia went without a problem. Malaysia is super cool but really warm, I have to get adjusted to that first. I already got at least 3 mosquito bites. The locals are very friendly. Redpalestino and his family are very welcoming). And we speak German :D
In the coming days I will report a little more.
Check out the video I made yesterday:
https://steemit.com/threespeak/@louis88/kjdhcpfh
Thank you and in the meantime, have a nice time!
@louis88