Actual substantive news regarding important information folks need to know to act to secure themselves from pandemic that threatens us all today are scarce and buried in enemedia fluff. Where can good information be found?
Have a look where enemedia doesn't bother to go, like Best Korea.
(I have hesitated to post Youtube videos, after recent posts containing them have suffered the loss of them. I've watched for two days to see that this video wasn't taken down before I posted it. If anyone can recommend a way to download Youtube video, I'd very much appreciate it, but in fact I don't have much storage space, so an archival solution would be preferable.)
I have been watching 2019 harvests, and for staple commodities like wheat,corn, sugar beets, and etc., harvests across the world are down, many by half. Supply chains are busting for many nonfood items due to China's importance as a manufacturing center. I could not more strongly recommend taking advantage of present prices and supplies for items that may be necessary to your quality of life in the next year.
~10% of the people in the world are presently under some form of quarantine, and the WHO has just begun to recognize that it's failure to recommend travel and trade restrictions regarding China may have prevented rational action to prevent a pandemic. My opinion of their 'work' could not be lower.
But, it's not just the WHO that has let us down. Many governments are become vectors for pandemic. South Korea is in the beginning stages of catastrophe, as it's problematic cults continue to destabilize it's society.
In the US, the CDC has been overridden by bureaucrats (who'da thunk it?) and evacuees from the Diamond Princess known to be infected with SARS-2 were packed onto buses and planes bound for the states with hundreds of uninfected civilians.
Western governments aren't the icons of free speech and democratic virtue they once were thought to be. I don't think they're going to save us. I believe salvation will come, as it always has, from we ourselves. I don't recommend waiting for warnings on TV. Don't believe the official numbers, because it's not just China that is lying about them. I cannot confirm the following information, but it's consistent with the current ILI data for this flu season, and my expectations of government regarding this threat.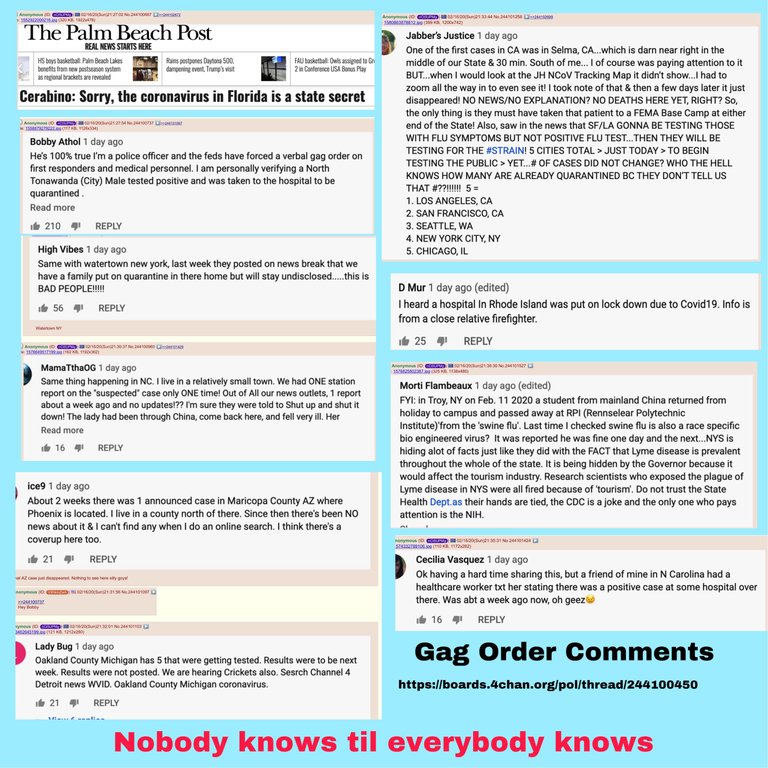 IMG source - /pol/ - the sketchiest source in existence
While the above cannot be verified, from Event 201 to the WHO, official censorship of scary facts has demonstrably been recommended, and I have absolutely no doubt we are not being apprised of factual information regarding the current state of pandemic spread. I know they're lying, but I can't know what the facts are they're concealing because they're concealing them.
You'll have to exercise your best judgment, and take action you deem advisable. I've speculated that China may have committed an own goal by provably vaccinating it's people with a SARS vaccine in small trials despite all research into such vaccines showing that they caused worse symptoms and more deaths from SARS/Coronavirii. That widespread vaccination with such a vaccine has contributed to the epidemic in China is only speculation, and censorship of actual infection rates in other countries may have caused the appearance of the confinement of COVID-19 largely to China.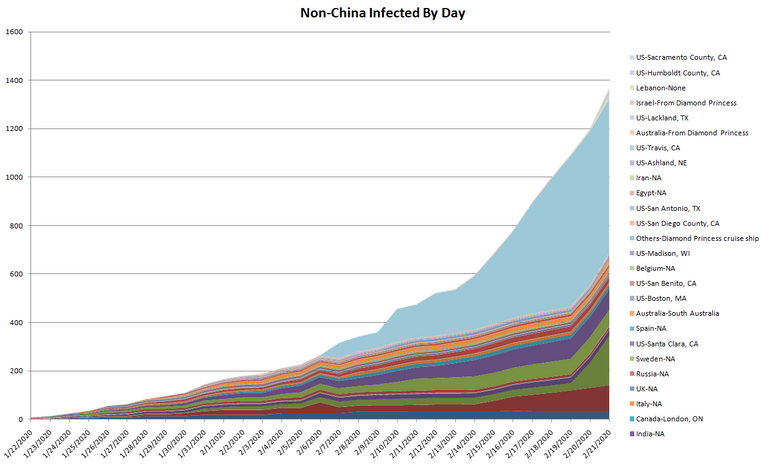 IMG source - /pol/ - the sketchiest source available
Until Wuhan scale infection is happening in such countries as are affected, it will remain censored information, and we won't know - until everyone knows. Then there will be panic by those that did not prepare for such event in advance.
Don't prepare to panic. Failure to plan is planning to fail. The worst that can happen from prebuying durable goods in preparation for lapses in supply that would eventuate from economic disruption and crop losses that are evident from the data available is that you secure pre-inflation prices if no disruption occurs.
In China we see the breakdown of society, with civilians being hapless victims of every kind of armed thug. That is common in similar events, such as war and famine. There are specific recommendations for preparing to survive such failure of societal order, and amongst the most useful is being a member of a group that can stand watches, defend it's members, and protect it's resources.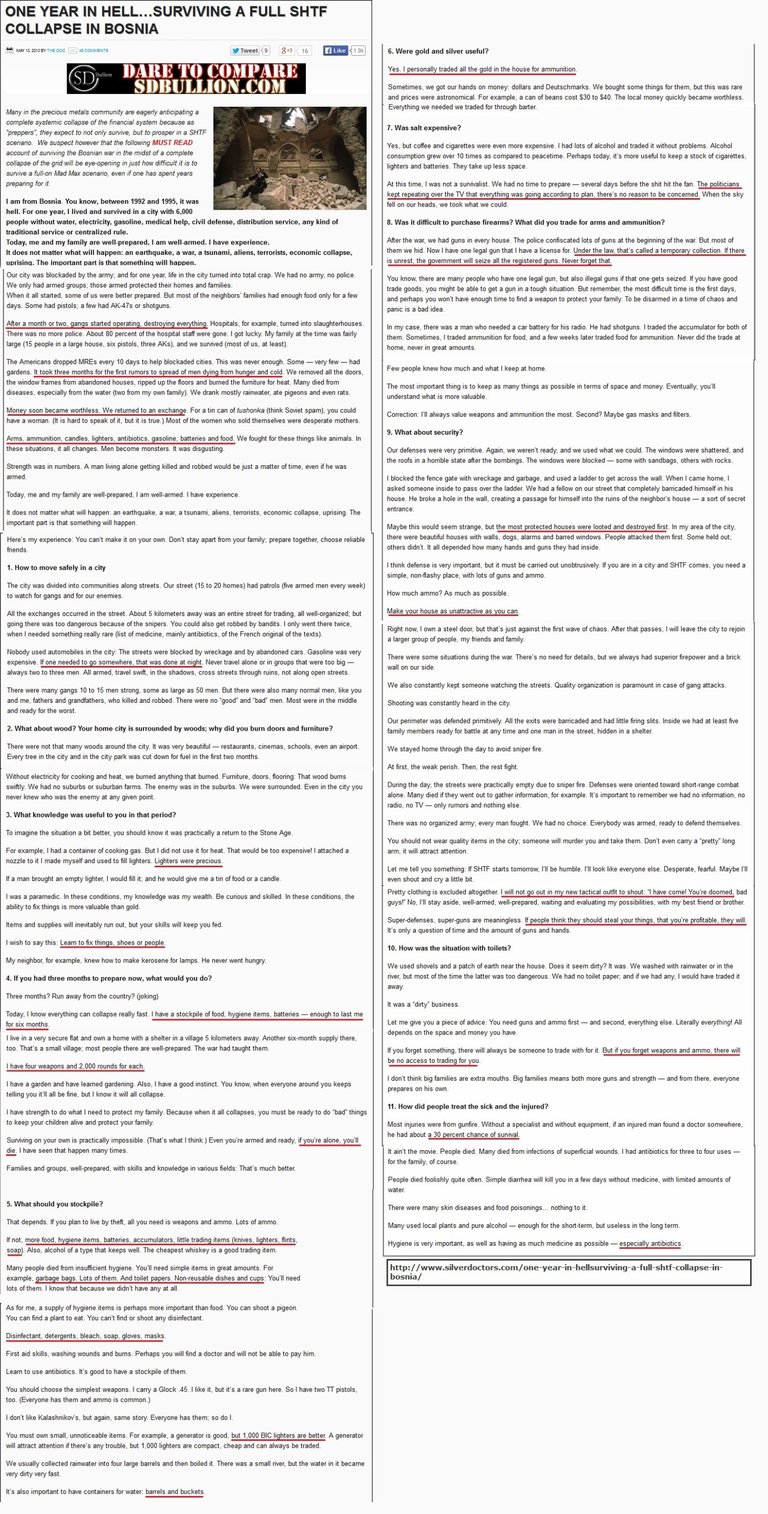 IMG source - /pol/ - don't trust this source
Consider what is likely, what is possible, and what is sure to happen, and take appropriate action to prepare per your best understanding. 20% of global manufacturing capacity is shut down today, and this is hitting certain manufacturers harder than others. Automotive parts and IT supplies are amongst the most impacted, but you'll have to do research to ascertain specifics relevant to your circumstances.
Please do that.