When we were born we experienced some pretty extreme trauma. As our consciousness formed in the womb, it reached a point where our personalities developed. We became who we are, and as our bodies grew we gained more and more grasp of our surroundings. We were floating in darkness, speculating on the nature of existence, impacted by various sensations and perceptions.
The dream time.
Upon birth, we were ejected from that environment, those philosophical musings, and disturbed by a vast array of novel experiences and sensations, of particular import is pain, which heretofore we had probably but limited experience of. Sound was radically different, immediate and shrill. Our skin was a riot of overwhelming and bizarre sensations, cold, and pain, and the touch of others and things besides flesh. The world was unimaginably full of light, before a dim, passing glow, a cacophany of color, intensity, and motion.
We didn't know how to interpret it, but our bodies were ready to take us on that journey, and we undertook the process and coping with the PTSD of the experience. Our bodies quit screaming, the instinctive alerting our mothers to save and protect us, which we found to be a process and undertaking we were eager to support and participate in. We calmed down, and our prior navel gazing was thereafter largely supplanted with looking out at the new world we were in and seeking to understand it.
Who were our mother's, father's, siblings, nan's and pawpaw's. How we were swaddled or not. Was the carpet plush or the floors slick and cool. What were windows and doors. And the tit. Most important to a newborn is the tit and the nappy. So we undertook the commencement of human life and consciousness, and the enormity of the tasks before us of becoming pillars of the community and raising the tent of society that protects us all from the rain of barbarism.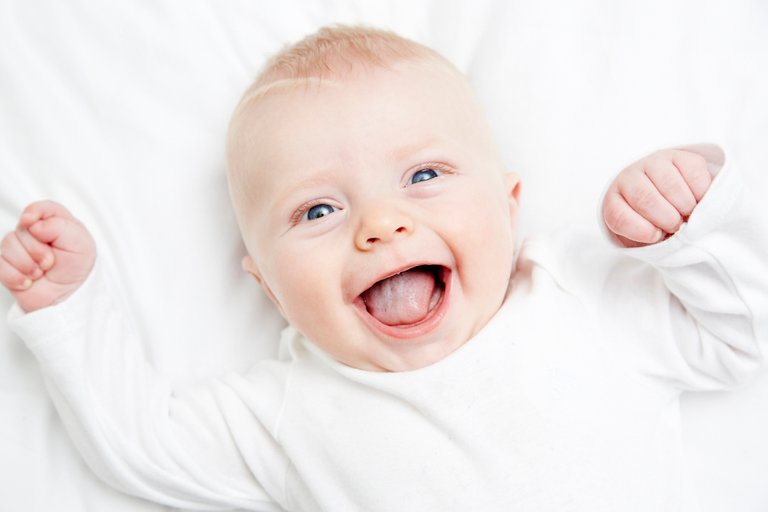 IMG source - BeautiesandBabies
We form a basis for understanding many of these things. The scientific method rules our lives as we test theories and consider experimental results. A baby is a full time scientist, diligently focused at all times on understanding the world. Not that we don't have fun, or aren't directed in doing so by integrated mechanisms or external forces. However, it's test, test, test, and interpret the results most of our conscious effort is spent on.
Today, most of us pass through this phase to become happy toddlers, and that's the demographic I am going to address. The dying and broken are no less people, and no less undertaking the same process, but they do not become able to undertake society in a formative way, and since that's my goal in this series of essays, they aren't relevant to my purpose. It is noteworthy that many that do become those pillars of the community get there broken, and but few aren't deprived of capacity to be supportive to some degree or another, whether intellectually or physically.
Almost none, in fact. Humanity isn't something that can be achieved perfectly. It's an amorphous goal, probably different in every mind that considers it. Degree of functionality is therefore highly subjective and indeterminate objectively. There is no consensus. Nonetheless, significant commonalities between us enable sweeping categorizations to be made, and various mental and physical incapacities of things that are necessary to peak humanity are recognizable by a broad consensus of the competent.
These are the topic of my essays here.
Sometime during infancy, generally quite early, only days in at most, something approaching half of infants are circumsized. Few published studies of the intellectual and emotional impact of circumcision have been undertaken, and those were been have been suppressed. This is a tell.
The excruciating torture committed by doctors and others slicing off foreskins is not without import to babies. Heretofore stimuli negatively impacting their emotional states has been acted on instinctively to summon caregiving that tends to mitigate such perceptions. This isn't gonna happen in circumcision, that is the crying for help will be undertaken, but there is no surcease for the pain.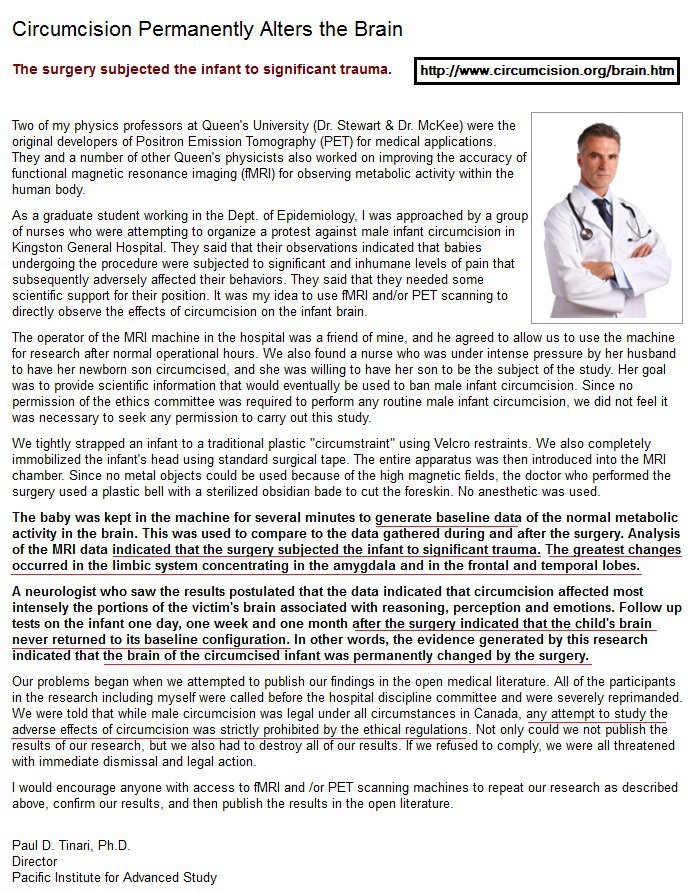 I'm not going to discuss circumcision's effects beyond this here. We can discuss whatever you want in the comments. The real question is why many people are convinced to torture their newborns in this way. I note it requires a significant lapse of empathy and parental focus on caregiving, and a plethora of influence on the thought processes of people in general, who are the pool from which parents are drawn.
As we are socialized and mature Western civilization inflicts a great deal of unnatural influence on us, particularly through the mechanisms availed to our parents, who themselves are the products of their society. Western civilization is a strange and potent culture amongst the examples that have eventuated throughout human existence, and it strongly emphasizes socialization in order to empower overlords, which have been able to use it to overpower other cultures to unprecedented degree.
These mechanisms have put a premium on indoctrination and propaganda in the West to a degree both amazing and alarming, as well as revelatory of the malleability of human society. It is notable that many extant cultures, presumably the most resilient of all that have arisen due to their current persistence, feature similar tortuous ritual passages, from the scarification and piercings undertaken by many primitive tribes, vision quests and gauntlets, to public schools and other Western institutional practices.
Perhaps it is highly beneficial to societies to impact their children in ways that reduce the capacity of adults to be rational and reckon well the import of their cultural practices, sometimes referred to in statements of elders to the effect of 'It was good enough for my ancestors...'
Strong societies are generally beneficial to individuals in them, but this does not void their costs, and it is undeniable that all such societies do harm to their members.
Here ends Part I