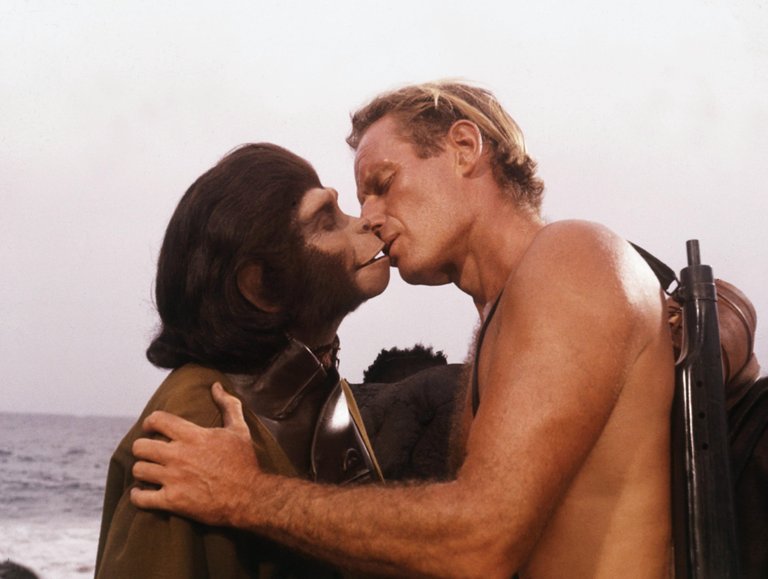 IMG source - TheSun "Humanzees"
In the last few years transcendental leaps in DNA technology have transformed our understanding of who we are, who we were, and where we come from. As fascinating as the work of Svante Paabo, David Reich, and Johannes Krause is, I want to talk about where we're going and who we're becoming.
The late lauded E.O. Wilson studied social insects, particularly ants, and reaped great insights from his studies of the myriad forms and social systems they undertake. He pointed out that all eusocial species share a common feature: they all make expensive nests where they share out food and rear young. Like people do.
But not Neanderthals. In the hundreds of millenia Neanderthals lived in Europe and Asia, they never built a hut. At least, not that we've found. When we diverged from Neanderthals ~500kya we probably didn't either.
Not long ago that changed. When Sapiens started making tents (which Neanderthals well could have. We'd be unlikely to find skin tents after at least 40kya) is unknown, but we've been living in huts since prior to the advent of agriculture ~15kya (and the end of the Younger Dryas), and building them in villages.
As far as we know, Neanderthals lived in family groups in natural caves, or slept outside. We are so evolved to build shelters having to sleep outside is probably a death sentence for many of us. Which brings up the fact that some of us are far less comfortable in cities than others.
We know Sapiens and Neanderthals hybridized, and Paabo et alia point out that ~3-7% of the current Sapien genome is Neanderthal, and that some of those particular genes are carried by as much of 60% of non-Africans, while most of the Neanderthal genome is far more randomly scattered about. The idea that some individuals have genomes that comprise far higher Neanderthal contribution overall is not discussed - even though, with ~7 billion of us now, it's almost mathematically impossible that such concentrations of Neanderthal genes don't exist.
But village living in huts is vastly different than living in natural caves in family groups. We see that Neanderthals were often inbred, and this may indicate that as Sapiens ingressed into their landscape, Neanderthals found it increasingly difficult to find mates. I am quite curious if Neanderthal women were hypersexual like Sapiens, or if they had a season like most vertebrates.
I digress. Sapiens were proto-eusocial, while Neanderthals appear not to have been. Whether hypersexual or not, our cousins have at least managed to get kissy with us a half dozen times or so, counting Denisovans and other subspecies. Sapiens clearly construct a very expensive nest where we share out food and rear our young, and increasingly perform specialized functions, which other hominins appear not to have done. This hybridization has resulted in our partial eusociality, or at least not promoted our transition to full eusociality.
Many social insects also have classes that perform specialized functions. Army ants have as many as 16 classes of individuals. Around ~7kya, tens of thousands of years since the last Neanderthals were gleams in their daddy's eyes, the hunter gatherers of Europe gave way to farmers. This appears to have been nearly a complete genetic replacement, with the hunter gatherer genes diminished comparably to Neanderthals today.
Both these evolutionary events greatly increased the eusociality of H. sapiens. The split from Neanderthals was the beginning of complex nesting behaviour. The end of nomadism was the beginning of the industrial revolution. Our nesting became orders of magnitude more complex, expensive, and integral to society.
A third mass influx of DNA into Europe came from the Yamnaya, whose invasion about ~5kya was apparently accompanied by another wholesale replacement of earlier genomes, although less completely (so far). This may have been the beginning of modern warfare, and the Bronze Age that followed certainly can be considered the age of war. War is a uniquely eusocial trait.
Today we are teetering on the precipice of new transitions. On the one hand, we can see deliberate husbandry directing our social behaviours. One that I note with great alarm is the ever increasing chemical castration of males. In two generations testosterone has decreased in the civilized world by more than half. Western men are almost completely transformed hormonally into infertile drones. A couple more decades will see that process far more complete. Another leap into eusociality by orders of magnitude will have occurred, and it will be accompanied by another genetic holocaust.
The fertile men will become like queen bees, deified and focusing the entire purpose of the hive to serve them and their breeding function. Since war began men have been disposable, and when men are reduced in number their value reproductively is relatively increased, and women are commoditized proportionately. The same will happen with reproductive scarcity through mass chemical castration, while the industrial productivity of the drones will still be useful to the hive, unlike with war.
Every institutional organ of global government is working together to make this transition into full eusociality. Agenda 2030 seems to be the timeframe for the beginning of the end.
However, there is another transformation ongoing: decentralization. Since the invention of the pointy stick, technology increased the power of the individual versus institutions - but institutions have easily overpowered individuals, and particularly more so as technology improves and larger institutions became possible.
A gang of a couple dozen Sapiens could rob a Neanderthal family at will. If a gang of only a couple dozen Sapiens tried to rob a family armed with commonly available weapons today, it would not be so easy. But, the gangs are bigger today.
As long as institutional power has increased faster than technology increased the relative power of individuals, institutions have enabled increasing domestication of Sapiens. Economic power has become highly focused in the hands of groups that also control media, industry, and politics, and this has enabled that group to undertake the transition to eusociality and deification I have outlined.
But this is impossible if means of production are highly decentralized, such that individuals and small groups no longer require the extraordinarily expensive nest. While cities are able to provide enormous benefits, they also bring existential risks, such as plague, war, starvation, and the mass chemical castration of all males.
Many species show that it is more beneficial to not be concentrated in hives, to not invest enormously in those social strategies, but to adopt other means. O. mykiss, Steelhead, reveal two strategies used by males to achieve reproductive success: go to sea and eat a lot of shrimp and squid while constantly dodging predators, or stay in the river and nibble on bugs pretty much ignored by predators.
Surviving sea run trout are big, fast, and starve their way upriver to the spawning grounds. Riverine males are much smaller, but survive to spawn at much higher rates.
When the run is on, the big males compete for the females, fighting viciously both each other, and the big bad world, every tail flick to the nesting redd. The little males idle behind handy rocks, waiting. When the females begin to deposit their eggs into the redds they have laboriously scooped from the spawning gravel, the little males dart in and cast their seed upon them, even as the large males do themselves.
The investment and risk the sea run trout take on is a lower return than that of the males that stay in their natal stream. The riverine can always go to sea next year too, after the big males all die from their terrible injuries and starvation. The huge investment in highly social behaviour is not necessary.
The technology to manufacture goods of every kind at every scale is being developed and distributed throughout the population today. Construction of homes, growing food, household items, clothes, tools, weapons, pharmaceuticals, and more are all necessary to our nesting behaviour, and have previously only been possible if you were in a nest; a city.
We are increasingly going off the grid, and making our own little shelters, and institutional submission is becoming less necessary to our quality of life. Why buy the cow when you can get the milk for free?
This new ability to have the benefits of expensive nests and the resources they provide without the existential risks and hardships of rigid social control is utterly contrary to deifying the Epsteins of the world, and eusociality.
Eusociality is not something we have acheived. It is not beneficial to the vast majority of humanity. Apart from the deified royalty, women will be commodities and men will be disposable. Our genomes will be eradicated, just as were Neanderthals, hunter gatherers, and the victims of the Yamnaya. We are being domesticated, and H. vulgaris is the mold we are being forced into.
Homo sapiens is a species half adapted to specific environments, which makes us adaptable to all. We are semi aquatic, semi eusocial, and semi intelligent (Cro Magnons who preceded us had brains ~25% larger than ours. Even Neanderthals had larger brains than modern Sapiens), which enables us to endure the human condition in many more conditions than were we fully terrestrial or aquatic, solitary or hive minded, geniuses or morons.
One more leap must be made by mankind, to fulfill our destiny, and we are unlikely to make that leap if we are transformed into a race of gormless drones: space diaspora. This is not the time to discard our options; to invest every penny in the deification of overlords, and abandon the wondrous variety of humanity that has managed to persist in our genomes through repeated genocide.
We will need all that variety in the vastness of the entire universe. We need decentralization in the ineffable environments that lay before us, and not only will we each and all suffer incalculable harm if we are transformed into gormless drones, but humanity, and life itself will lose uncountable opportunities to prosper where massive hives of infertile slaves and hypersexual gods never will.
Scarface pointed out that a man only has two things in this world: his word and his balls. See to your balls, that your ancestor's promise is kept to your progeny.