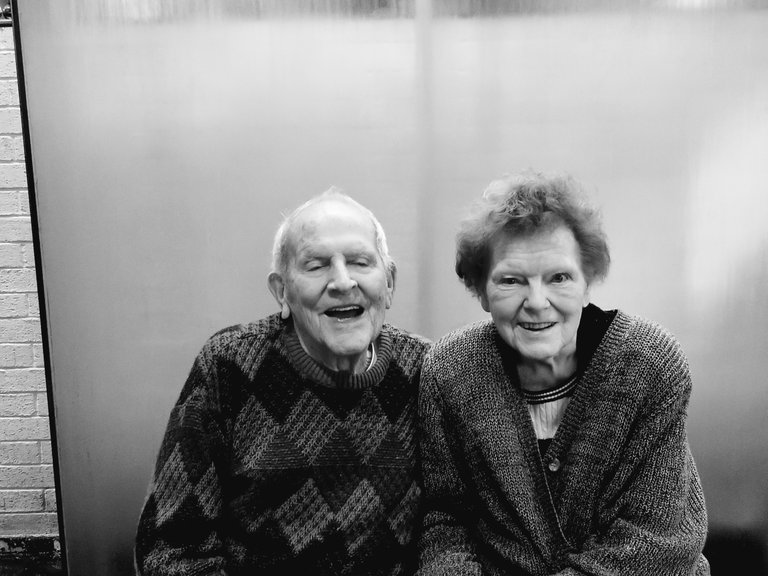 Last night we got word that we lost one of the good ones. My Grandfather was 93 years young and made it just past my Grandmother's 90th birthday. They were together for 70 years (married for 68) and had 7 Children (one who past as an infant) together.
I remember at his 90th Birthday party him saying "can you believe it, this all started with your Grandma and I. Look at this room full of smart, healthy, good looking people."
He was so proud of his family. As we would sit around having coffee or out to dinner over the last few years, Grandpa would never miss an opportunity to talk about different family members and brag about them.
Today I just want to brag about you Grandpa.
You were a great man that helped teach an entire family a strong work ethic. Our family as whole down to the Grandkids who spent so much time with you are hard workers that understand if you want something you need to work for it.
You showed us that while there are ups and downs you keep working at it and a marriage can last a lifetime.
Your sense of humor made us laugh at times we needed a laugh. At the very least made us laugh at how bad your joke was.
Your willingness to be blunt allowed you to tell us when we were being a dumb ass. Sure a few of us got this side more then others, but clearly it worked.
Your compassion showed all the way until the last time you could talk as you were so worried about Grandma and making sure you got to talk to her otherwise she would be worried. You weren't worried about yourself, but that Grandma would be ok and taken care of. I'm pretty sure the last few years you lived purely to take care of Grandma
Your ability to stay patient while teaching was amazing. Even to a 16 year old with limited skills who you let work with you over the summer on the house you were building. You'd put me to work and let me run with the projects you assigned me to either do it right, or have to do it all over again to get it right. Then I'd find you "thinking" once I was done...nobody could nap like you...lol
Maybe above all, you had the ability to show a different side of you to different people. It was always you, but those that needed more compassion got the compassion, those that needed you to keep things light got your humor, and those who needed direction got your advice and bluntness.
You are part of all of us. Your legacy is what you were so so proud of, the family you leave behind..
(He passed on June 30th, this was written on July 1st...but I've been a little down about the whole thing)