My last post was titled "Choices" and I rambled on a little about a decision that has been facing me. I've had a "Dream" if you will of opening a Toy and Comic store that is focused on bringing the community together. The reason I'm saying "dream" vs "Goal" was that for the longest time there was no plan of action to make it happen. The past year I've been intentionally setting money to the side to make this happen, set a date that I wanted to make it happen, and been talking with customers to feel them out as to their interest in being able to visit a store that was run by me. Couple posts coming on some of these topics....but onto the topic of Action.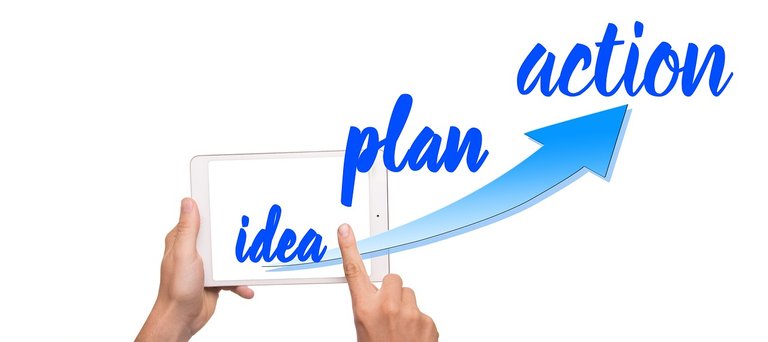 In the last 6 days it's all been about "Action" on my end. After seeing what I feel is about as close to perfect of a location as I will find, with a landlord that is reasonable, and the correct base layout which keeps up front build out costs down I felt it was time to take action and do the steps needed to make a decision. It's a process with me and my financial background means a lot was about the numbers. Here are my last 6 days in a recap:
Sunday 10th
Stopped by a location I had seen an add for and talked with the current tenant. Great visit and spurred everything to some.
###Monday 11th
LOTS of discussions with my Wife about if we are really ready for the lifestyle change that comes with opening a store. Also started talking about my vision for the store with my Wife. It was in my head, but hadn't really been verbalized with her. Looked online at every other space currently on the market to see if any were even slightly a contender...none were even close.
###Tuesday 12th
Called the listing agent to let him know I wanted to take a look at the property. Appointment set for the next day. More discussions with my Wife who honestly at this point is freaking out about the risks involved with this store. There is a lot of financial responsibilities that come along with a store and these tend to be legally binding contracts for set periods of Years with steep penalties for breaking of the contract. There is also plenty of liability by opening the doors. At this point the more I talk about the store, the more I am thinking this is a great idea.
Talk with my Mom about some of this as She has had her own business for 40 years and dealt with lots of leasing of commercial spaces. Wanted an outside perspective, but one that is close enough that they know my business and personal situation. Very helpful conversation and did scratch a couple items from my "want list" for opening the store to help control up front costs.
Wednesday 13th
Got to take a much closer look at the location. Inspected the condition of the unit, measured out the floor plan, and got some questions answered. Best part was when we arrived the current tenant was there so got to clear up a few things with him. The most important was if my desired move in date was possible. I am wanting to open the doors in March so looking at spaces in Nov is a little early. They said that March 1st would be ideal!!
Noticing a few things we wanted to have taken care of while in the unit I did some pricing out of these repairs/upgrades. Now typically in a retail storefront the tenant gets the unit as is and they can then do as they wish with the space. So figuring out what painting a nearly 1900sq ft store will cost along with a few other things that we felt were needed was very important.
Again a lot more discussions with my Wife, but they transitioned into layout and other productive looking forward type topics. This was a huge deal as she had started getting comfortable with the idea of this actually happening.
Also had a productive conversation with another shop owner in the area about things he wished he knew before he started. Things to avoid doing at the start and what to be prepared for. Very helpful and gave some added confidence in moving forward.
Thursday 14th
Lots of research about cost for what displays, signs, and other upfront costs will be. Have a great handle on the total costs at this point and know it can be covered! But realize that the upfront repair costs of the store would leave me strapped for cash and don't want to be in this position when taking on a new $3k a month set of bills.
Thinking of how I want to structure my offer letter for leasing the space I realize that it never hurts to ask for things. I give the listing agent a call and talk about the landlord a little more in an effort to feel out how he will handle things. Mind you the agent can't tell me straight out anything as he represents the owner, not me. So each conversation with him gives me new pieces of information and allows me to figure out what the owner wants to achieve which in turn lets me negotiate better.
Floor plan is becoming solidified in my mind. Designs for a couple custom cabinets are drawn up and material sourcing research done. Idea for the front window wrap is now solidified, next talking to the artist who I want to hire to see if she wants the project.
Decision is made, we are moving forward with submitting an offer letter!
Friday 15th
Wrote up an offer letter! Submitted the letter and asked for all repairs that I feel are needed to be done by the owner. 2 year lease requested. A few other details that are important are included and one I asked for more then I knew the owner would give so we could settle on a middle ground. Nobody takes the first offer on a lease...if they did you could have gotten a better deal.
Ran up to a local business supply warehouse. Looked at some cabinets and cases. Found out there have room to give a better price for someone opening a new store making a larger order all at once. Nice! Hopefully this savings will offset some of the surprises I'm sure will come up.
Got a reply from the agent, the owner went for everything except the one item I knew they wouldn't but they gave me 1/2 of my ask. Decided to ask for something extra if I renew the lease. Agent said it sounded reasonable and now waiting on a reply.
Found out a friend can do the wrap for the window that I want done and he offered to install for free and print it at cost. Oh it's nice to have friends! More importantly to be the guy that normally helps everyone else so when I need something people are willing to step up and help me out.
Saturday 16th
Today I arranged cases and commercial grade book shelves. Another favor being done for me and it's going to save me about $5,000 as the cases are being given to me for free. So very blessed to have people like this in my life!
Still waiting on the agent to get back to me. Basically taking the day off as we have friends coming over for "game night", which just means cards and drinking. But I need a night like this as it's been a solid week of every minute thinking about the store and getting things in order.
Fingers Crossed
So at this point it's a waiting game, but hopefully this will all work out the way I'm hoping. Will share the news once it comes in! Here are a few photos of the space as it sits. Currently it's a stained glass shop. For me the parts I loved is it's wide open space and a back room for storage and to set up a photo booth for online selling.
---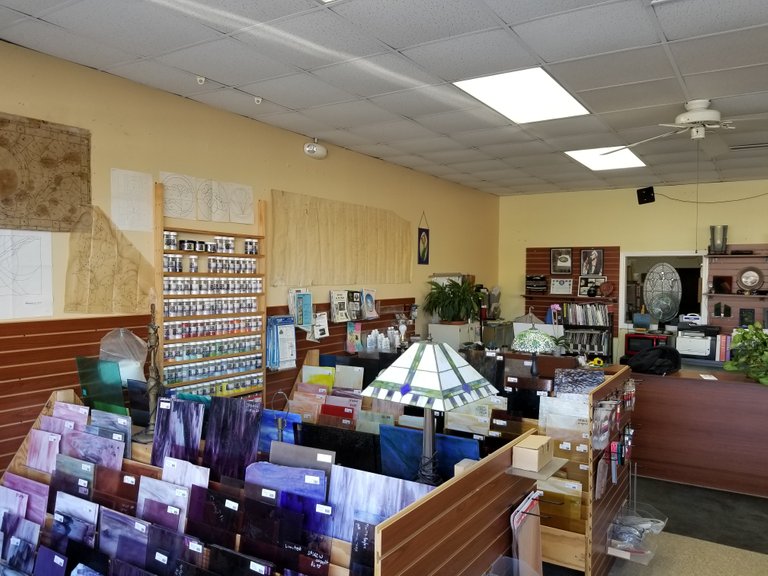 ---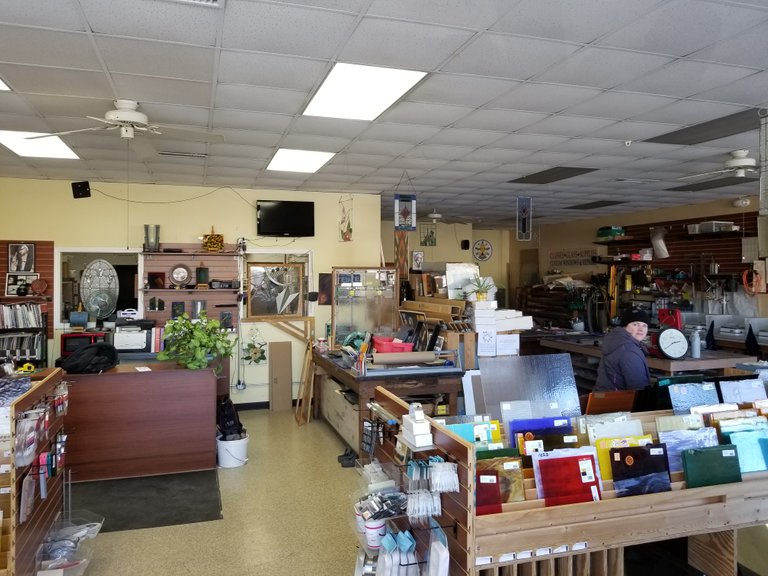 ---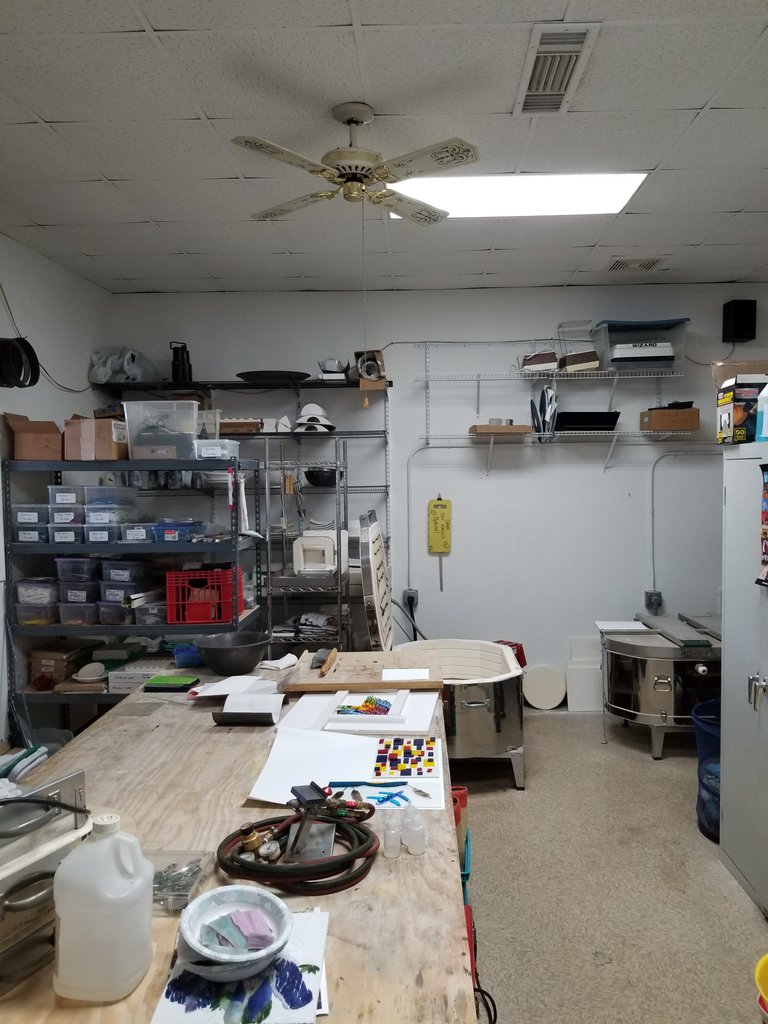 ---