War may have killed billions of people since the dawn of time but there are other factors which are equally merciless. And as in war, the big guys suffer the least and the people on the field die by the bushel. I am speaking about the lack of Fundamental Human Rights - Capitalist, Socialist, Muslim, Jew, Christian, Hindu, White, Asian, African - ALL die if these are taken away.
Air which does no imminent harm

Water fit for drinking

Food- minimum 800 calories a day

Shelter from fierce weather
These four should be non-debatable; we expect that the worse of the criminals and even animals farmed from slaughter are kept in humane conditions- so atleast the same for human beings.
REALITY:
1 . AIR
2 . WATER
3 . FOOD
4 . SHELTER
Least we can do is oppose WAR and large scale displacement. We will soon need to face many problems for which we do not have easy solutions.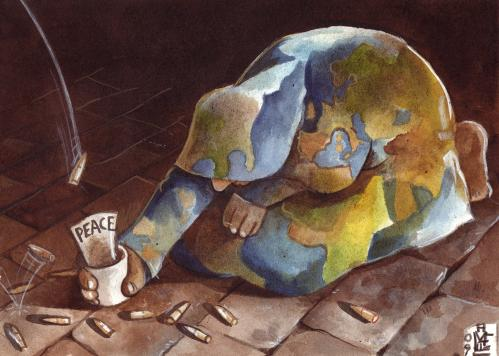 - www.toonpool.com/user/734/files/mother_earth_540105.jpg