Everyone has a story and somehow whenever I decide to bring a hitchhiker along, they often tell me theirs.
Here in Ireland, it's quite common for people to hitchhike their way around the place. Especially those who don't drive a car and need to get to a larger town from the country-side hole in the road they're living in. I guess a lot of hitchhikers would be older (retired) farmers who have nothing better to do in the day than to frequent their local pubs from 10 a.m. in the morning.
You'll see these men stand on the side of the road in the afternoon, and when they enter the car, they'd blast you away with their smell of Guinness. I usually have kids in the car with me, so I rarely take these men, epecially since sometimes the Guinness is not the only thing they'll smell like... Unless it's raining and there's no chance anyone else will bring them. In that case, I'll stop. And just air out the car after I get home lol.
But every now and then, I'll be on my own or only one or two children in the car with me, and when I see a reasonably harmless hitchhiker on the side of the road, I'll actually stop.
Women seldom hitchhike, at least I've not seen it often. They usually just start walking and there will always be someone who stops and asks if they need a lift.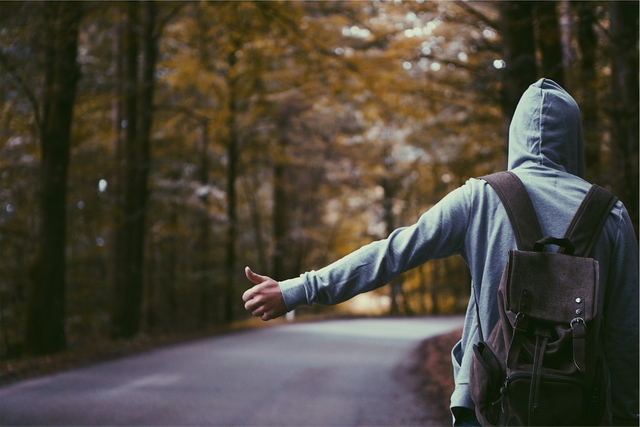 source
The life stories
Once my eldest and I stopped for three teen boys, aged between 17 and 19, who were trying to get to a city about an hour away from where they were. I wasn't going there but offered to drop them to the train station only about 15 minutes from where they needed to be. We heard all about their football training and how they were going to meet a friend for the weekend. The time flew by and once I dropped them at the station, they were so grateful that we stopped and brought them along. It saved them a long wait (not everyone is willing to give three people a lift), and a lot of hassle getting to their destination.
A few years ago I stopped for a young man who was standing out in the pouring rain. Turned out he had to get to school and missed the bus. During our 15 minutes together in the car, he had told me quite a bit of his life story. How he was autistic, where he lived, how long he'd been in this school, how he didn't like his old school, and that his mother would be home when he came back and the dinner on the table. I like these conversations you wouldn't otherwise have with people. It makes the time go a bit faster and driving a little less boring.
A man with a story - and a book
Last week I was on my way to get to a town about half an hour away, to start my first day of training for the new job.
Just outside the next town over, there was an older gentleman standing in a bit of an inconvenient spot. At first, I wanted to keep going, but then I remembered I didn't have anyone else with me, so I decided to stop a little further up the road.
He made a little sprint towards the car and when he opened the passenger door he thanked me for stopping and apologized for being in the spot he was in, he was walking towards the gas station but decided to put his thumb up just when I came around the corner. Well, meant to be I guess. His thick Birmingham accent gave away his roots, although he quite quickly told me that his father used to own a house just up the road and he pointed it out to me as we passed it.
I asked him where exactly he was going and he explained that he had to pay his rent in town and would usually catch a bus, but if he waited for the bus, it would take him half a day to get home. He would much rather spend his time wisely. He then went on to tell me that his 'job' as a 12-year-old was to go up to the bog in the summer to load the trailer with turf and then bring it back home with the donkey. He had fond memories of spending his summers in Ireland and from the way he told me about that, I understood that he had had a lovely childhood. It made me smile. Ireland is full of horror stories, and it's nice to hear a good story for a change.
He happily chatted away about his time in the country, and then turned to me and said: "So, that was my life story, how about you?" I told him where we live, about the kids and that we're renting a small farm with some dogs, cats and a pony and that I was on my way to start my new job. His voice became even more cheerful when he told me that he had 'some history' with horses too. Interested, I asked him what this history was.
Turned out that he used to work as a stable-boy, at quite a famous stable for racehorses in the UK, where he would ride and take care of the horses there. His small posture did look a bit like that of a jockey, so I said that he must have some interesting stories to tell, to which he replied that someone even wrote a book about his time at the stables. With a smile, I told him I felt honored to have a celebrity in the car, at which he waved his hand up in the air and said: 'Agh, celebrity, I'm not a celebrity, but I had a great job.' At this point, we were almost at our destination, so I quickly asked for the name of the book. He gave me the details and then I said: "You had an interesting life, and I will read the book." "Yes, my life was quite exciting and interesting. Let's put it this way: I have no regrets", he replied. He then thanked me for the lift and wished me good luck with the new job.
That was surely one of the nicest 30 minutes I've spent driving from A to B. I ordered the book that same day. Great start of the day, and it had only just begun.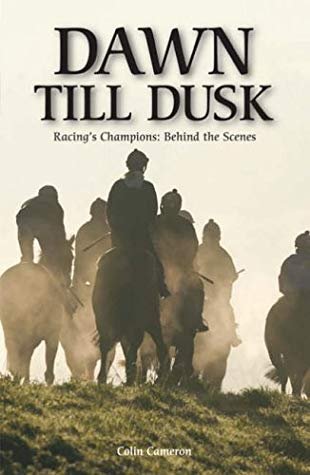 source
Thank you for reading!