Picture a jagged hole a little over three feet wide in the basement of a spooky old house. We called it "The Tunnel to Hell" and it was underneath the stairs in my grandmother's basement. According to her, it was there when she bought the house and had been so for a very long time. It was in the wall a few feet from the floor. No one knew who put it there or what it was for.
My city has a warren of tunnels that were built during prohibition in order to move illicit booze. Many of them connected buildings in our downtown area where people and product could be transported underground without alerting the police. When I was a kid, some of them were re-discovered during a construction project and pictures of them were posted in the newspaper.
The basement was in the front half of the home and the old shaft went underneath the dining room and the kitchen. That's about as far as we were able to see with a flashlight. I wondered if it might have led to a storage area for alcohol, as our town was frequented by mobsters in the past. However to me, the thing looked natural, almost as if they had discovered it while building the home.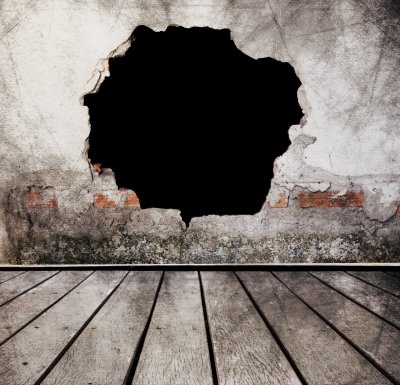 I had an HO scale model train set right next to the stairs and you better believe I kept a good eye out on that thing. The gaping maw seemed to gently slope downwards into inky blackness. Odd noises could be heard deep inside as if something was moving around in there. When she was twelve, my sister decided to go exploring in it. Grabbing a flashlight and ignoring my warnings, she climbed in and began to crawl. I had my own flashlight on her, but could only see in so far. At some point, we both heard something in the distance, and I began yelling for her to come out. She scrambled out of the hole knocking me to the ground and we both ran upstairs and locked the cellar door behind us.
The closest I ever got to going inside? Was sticking my head in and shining a light into the darkness...
After that, whenever we had to go down there, we would hurry and run back up. I said fuck that, and the train set was pretty much abandoned. Grandmom was always amused that we were afraid to go down there. With a mischievous smile, she'd gently tease me asking: "Don't you want to go downstairs and play with your trains?" Yeah, right. She had crosses in every room of the house except the bathroom and was absolutely fearless.
We never took any pictures of the tunnel because it was always there, you know what I mean? We'd invite the neighbors over, but no one ever learned anything more about its origin. My grandmother died and the house was sold. A few years ago, I spoke with the current owner who now has a family living in the house. I told him about the hole, and he replied that that section of wall had been freshly bricked over when he bought it. No one wanted to buy it, so the problem was hidden away. They may have covered up the opening, but The Tunnel to Hell is still there...
Thanks for your support!
Join Actifit and earn AFIT tokens while staying active.
photo credit: 1

If you liked this post, you can also check out my most recent articles: