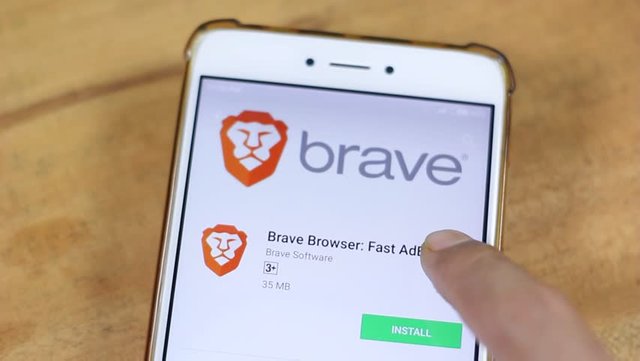 ---
I feel a little bit ashamed for having to write and post this but, here we go.

Earlier this year, some people I interact with regularly introduced me to this new browser called 'Brave'. This browser is open source and works with Chromium, so it has many similarities to Chrome, but it is less performance heavy than the latter. Brave also comes with an ad blocker incorporated and additional features, being their Reward system the most important one. The browser has a special wallet that stores BATs (Basic attention tokens), and the browser's users can earn this token in a handful of ways, such as; by watching adds that the browser specially provides, monthly token grants and through a referral system. You can also verify your social media profiles through the Publishers program, to gain access to the tip feature, that makes your profiles eligible for people to 'tip' you BATs.
---
Through your Publisher profile page, you can see how many BATs are you getting and how many people are downloading the browser through your referral link. Brave allows you to link your Uphold account to your Publisher's page to receive your BAT's monthly (Uphold has a BAT wallet), from there you can decide if you want to convert your BAT's into $ or even other crypto.
---
The reason I'm talking so profusely about Brave, is because I got a referral link that you guys can use to download the browser. I get a little reward for each referral I get, and, due to my current economic situation, I am in the need of every little source of income I can get to survive. But, besides that point, the browser is an amazing sustitute for Chrome or other browsers: It's lighter, slightly quicker and if you allow ads to run on the browser, you can get some tokens. Also, you only need to use the browser a couple of times for the referral to count, so, if after that, you don't like the browser, you can uninstall it.
---
So, please guys, if you want to help your boy @elbrujo out, you can check this browser out by using my link below, it would mean a lot to me. I don't really want to stop making lo-fi music, but everyday a new problem surfaces in my life and money becomes more scarce each time. Steemit was a nice source of income for me a few months back; I was doing what I like, and also getting a little bit of bread on the side but now, things are getting worse for me and I can't live from melomania alone.
---
To whoever reads this and decides to give Brave a try, you are being of so much help and I'm sorry for asking for this, I'm not used to ask for help and especially not used to do this referral thingy. Links below:
---
My referral link:

Brave Publisher program (To get your own referral link and verify your social media profiles):

If you like this post, tt would be amazing if you share it!