Working conditions at home and in the fields.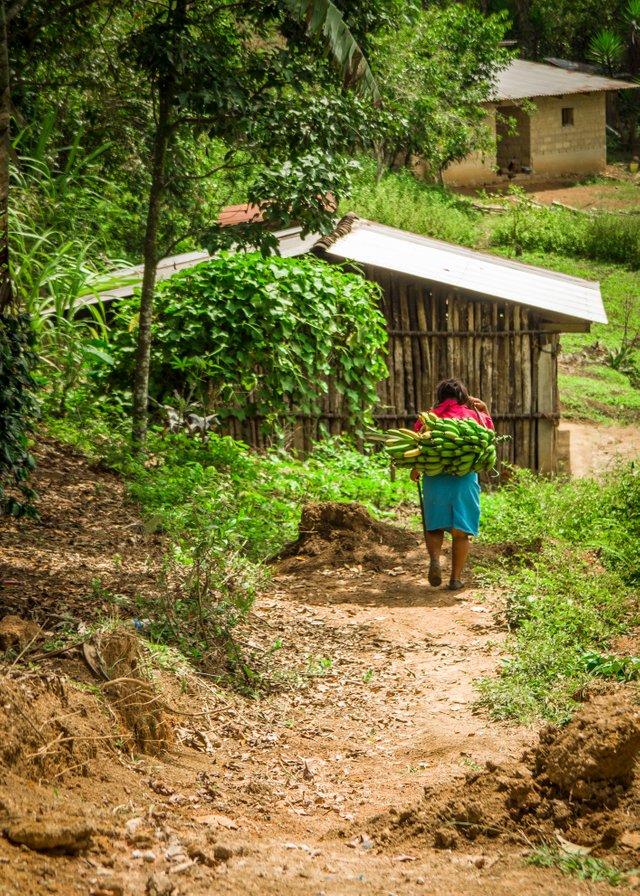 A coffee worker in the field is many times not a one single man or woman. The harvest season in Latin America is in the months of November, December and part of January. This is the rainy season, characterized with heavy rains and colder weather. During this harvest time, a seasonal coffee worker will typically travel to the neighboring regions with his entire family, women and children included, to any farm that has available work. During the next three months, the family will live with various other families in a single open shed. The conditions that they will share for the next few months are not favorable, to say the least.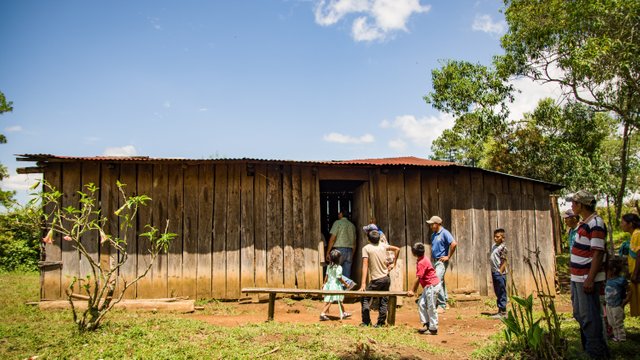 This small house of approximately 20X16 feet will hold 30 workers and family members. A very limited space.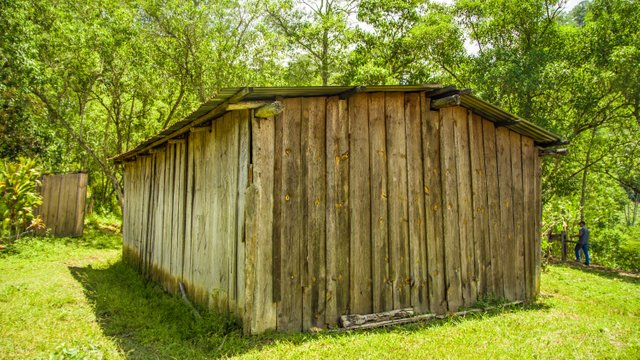 The owner of the farm mentioned this room will hold up to 40 people and kids. Some will get cushions, hamacks, and some will be cast on the cold floor.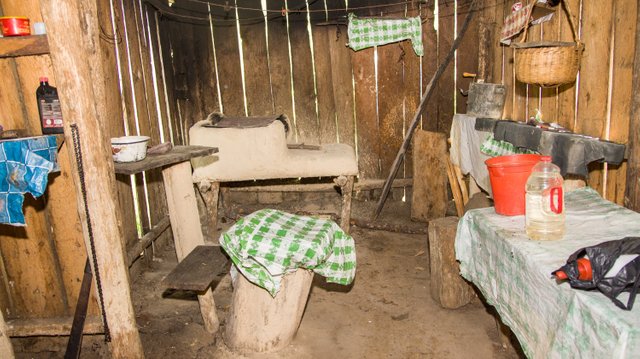 This is the kitchen where most of the meals will be prepared by the women.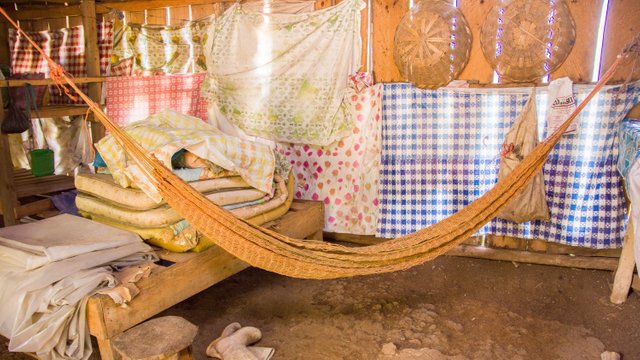 Hammocks and simple beds the workers will use to sleep in. You can notice the bunk beds as well.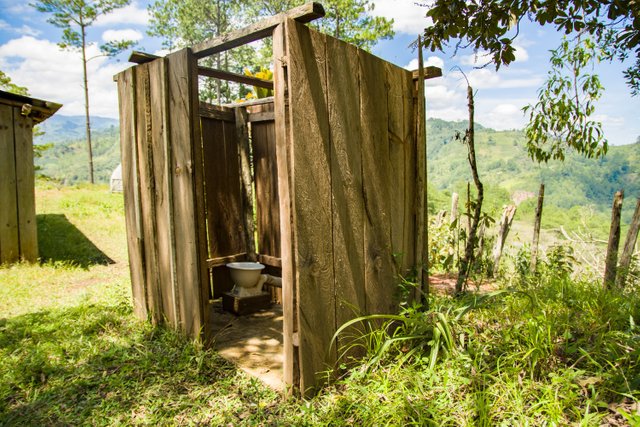 The letrine is also shared.
Some coffee farms, specifically Organic Specialty Coffee farms will provide better living conditions. The amount of money paid will not vary because this is determined by the local labor market. Seasonal workers will ultimately be paid the least whether it is a traditional farm, or an organic certified process. The accommodation facilities make a crucial difference for the seasonal worker.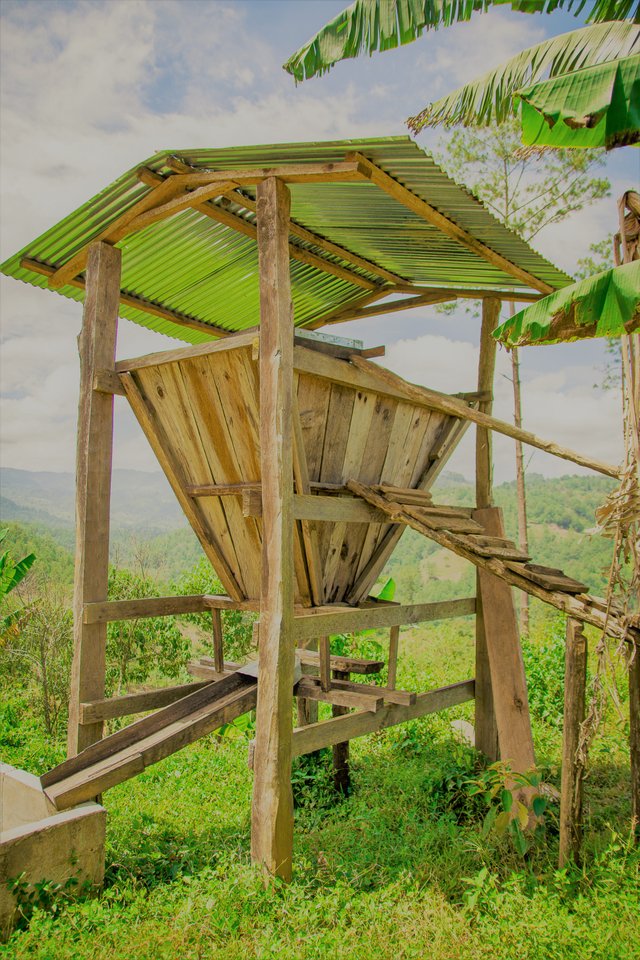 Bean press and de-pulper. One of the various setups that the farmers will use to process the beans.
Once the harvest work is over, some of the workers will return home. Many will stay for an additional 3 months to prepare the farm for the coming year; there is cleaning and replanting work to be done. For the ones that return home, they will return with a hard-earned check to cover the financial necessities for the year. This payment is of course not enough to cover many of their needs and the men will work in various jobs throughout the year to make ends meet. Many will store the money and use it for the most crucial circumstances like medical expenses, school supplies or emergencies. For nutrition, many of the families will have a small plot of land planted with fresh produce and a poultry enclosure. Life in the country is labor-intensive and distances from many of the comforts you and I (Western Culture) may enjoy without noticing. Other things considered, the life in the coffee country is serene and inviting all around. Almost no crime or violence is present, and there are strong ethnic traditions enrich community life.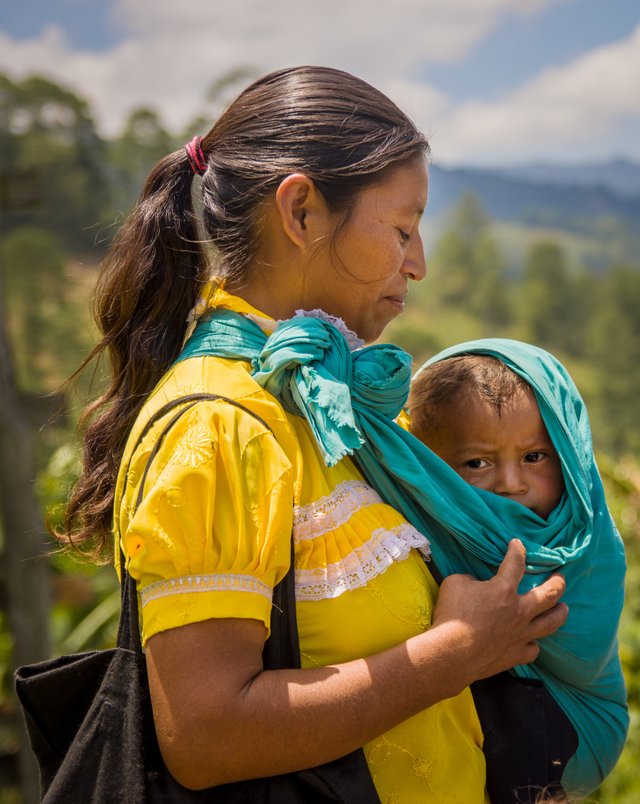 This lovely lady in bright yellow followed us all day (with 3 kids) in the hope that we will consider her for a DwellingsAG donated home. We are considering her. She is a single mother and will likely be in the coffee farms for work during the harvest season.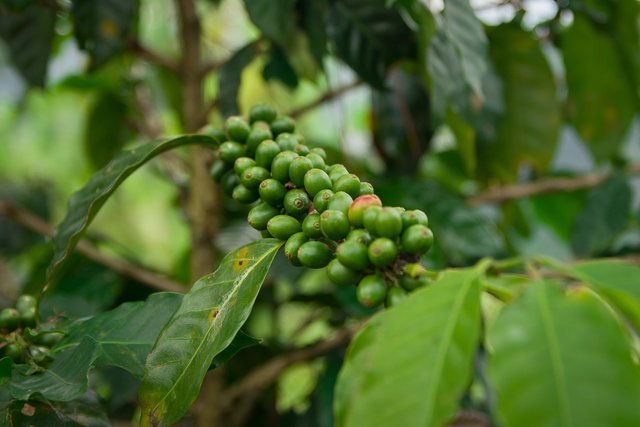 All of this work is for these coveted beans that bring happiness to so many around the world.
All of the images from this post are from a traditional farm which shows the drastic living conditions many of the workers endure. Organic farms that are on the other spectrum are doing much work in improving the living conditions of workers in general. Beginning with of course dignified living quarters for their seasonal workers. I will be share examples of beautiful organic farms in the future posts about coffee.
The purpose of this post is to bring light living conditions of agricultural workers around the world. Some of the basic products that we consume every day are produced by some of the poorest people around the world. We can do better than that. Acknowledgment is the first step to improvement.
---
Contenido en Español:
Condiciones de trabajo en casa y en el campo.
Un trabajador del café en el campo muchas veces no es un solo hombre o mujer. La temporada de cosecha en América Latina es en los meses de noviembre, diciembre y parte de enero. Esta es la temporada de lluvias, caracterizada por fuertes lluvias y clima más frío. Durante este tiempo de cosecha, un trabajador de café de temporada generalmente viajará a las regiones vecinas con toda su familia, mujeres y niños incluidos, a cualquier granja que tenga trabajo disponible. Durante los próximos tres meses, la familia vivirá con otras familias en un solo cobertizo abierto. Las condiciones que compartirán durante los próximos meses no son favorables, por decir lo menos.
Algunas granjas de café, específicamente las granjas de café de especialidad orgánica proporcionarán mejores condiciones de vida. La cantidad de dinero pagada no variará porque esto lo determina el mercado laboral local. A los trabajadores estacionales se les pagará menos, ya sea una granja tradicional o un proceso orgánico certificado. Las instalaciones de alojamiento hacen una diferencia crucial para el trabajador de temporada.
Una vez que termine el trabajo de cosecha, algunos de los trabajadores regresarán a casa. Muchos se quedarán por 3 meses adicionales para preparar la granja para el próximo año; Hay trabajos de limpieza y replantación a realizar. Para los que regresan a casa, regresarán con un cheque duramente ganado para cubrir las necesidades financieras del año. Por supuesto, este pago no es suficiente para cubrir muchas de sus necesidades y los hombres trabajarán en varios trabajos durante todo el año para llegar a fin de mes. Muchos almacenarán el dinero y lo usarán para las circunstancias más cruciales, como gastos médicos, útiles escolares o emergencias. Para la nutrición, muchas de las familias tendrán una pequeña parcela de tierra plantada con productos frescos y un recinto avícola. La vida en el país es intensiva en mano de obra y dista mucho de las comodidades que usted y yo (Cultura occidental) podemos disfrutar sin darnos cuenta. Otras cosas consideradas, la vida en el país cafetero es serena y acogedora. Casi no hay crimen ni violencia, y hay fuertes tradiciones étnicas que enriquecen la vida comunitaria.
---
Link to the previous Coffee Series Posts
---
ORIGINALLY POSTED BY @DEEPWATERS ON THE STEEM NETWORK.
WOULD YOU CONSIDER UPVOTING AND RESTEEMING THIS POST?
20% OF THE PROFITS OF THIS BLOG WILL BE DONATED TO TURTLE AND OCEAN PROTECTION PROGRAMS IN THE PARADISE ISLAND OF ROATAN, HONDURAS. FOLLOW US FOR MORE EXCLUSIVE CONTENT.
FOR DIRECT CONTACT, YOU MAY USE THE EMAIL:
jay.deepwaters@gmail.com
OR DISCORD
impatientoptim#6729