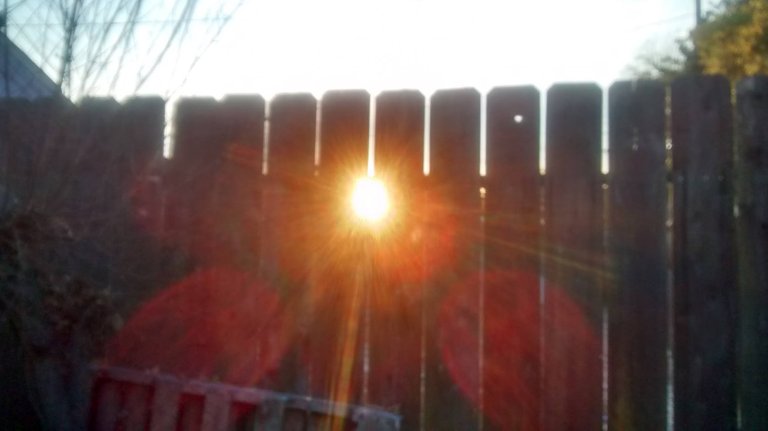 I was in my backyard as the sun is about to set in the west. The sun was lower than the fence line, but I could still see the sun through the gap in the boards.
I thought it had an interesting look. Notice how its brightness expands through the gap in the fence.
So we find that the brightness of the light of the sun not only shines through the gap, but it also looks like it expands through the gap.
Well, a little bit of light in the dark can do so much.
Of course it is hard to see in the dark. I wanted to get some kindling wood to light a fire, but it was outside. I grabbed one of my rechargeable flashlights and went into the dark to get some kindling.
A flashlight is a kind of stored light and when its light shines through the darkness, then one can see more than when it was dark.
Sometimes when there is no flashlight one still has a cell phone, well, a lot of people have cell phones and that also can be used like a flashlight.
After I turn off the lights in the house I use my cell phone to see a bit.
We talked of a flashlight and even a cell phone as stored light, yet what about a piece of wood? Is not a piece of wood stored light? Yes, it stored the light of the sun, caught by its leaves and when the wood is dried enough, it can be lit with fire and some kindling.
Then in the fireplace the wood will give off its stored light when it is put on fire.
It was the sunlight that shined through the gap in the fence and it was the stored light of a flash light that helped me to find my kindling and it was the kindling that helped to light up the firewood.
At this moment my fireplace does have some light as the fire in the fireplace is burning bright.
Let's end with a scripture, as it is written, And the very God of peace sanctify you wholly; and I pray God your whole spirit and soul and body be preserved blameless unto the coming of our Lord Jesus Christ. 1 Thessalonians 5:23.
If you enjoyed this blog, please upvote and follow.
Thank you, David.
Image is mine, taken with my Moto G.