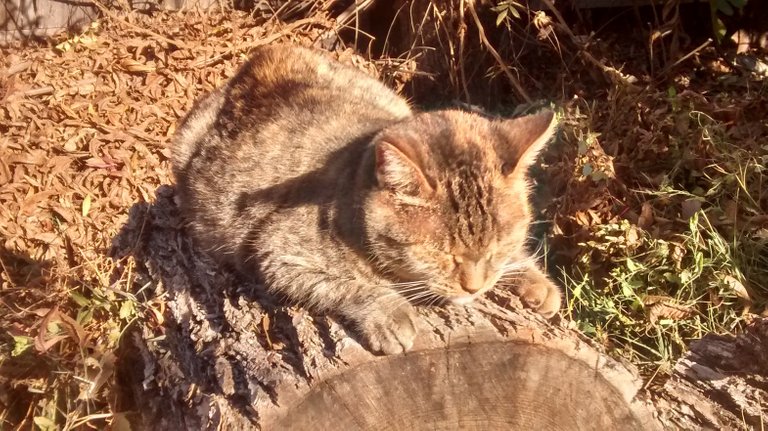 I took this picture a couple of days ago as I was walking my backyard. My cat will come outside and watch me walk for awhile and then she may do something else like take a nap.
I wonder do cats sleep more than humans? Well, it is just a thought. It does seem like she is sleeping a lot or is she meditating?
So some people meditate on nothing and some people meditate on something. The scripture tells us to meditate on the law of the LORD, day and night. As it is written, But his delight in the law of the LORD; and in his law doth he meditate day and night. Psalm 1:2.
Of course meditating on the word of God can only do good, as it is written, I have more understanding than all my teachers: for thy testimonies my meditation. Psalm 119:99.
It is when you put the scriptures together in a certain way, it all seems to make sense, but we may just get a little here and a little there, as it is written, For precept must be upon precept, precept upon precept; line upon line, line upon line; here a little, and there a little: Isaiah 28:10.
Even if one does not have a Bible if one has a smartphone then one has access to a Bible. If one would do a Google search for Bible then a lot of Bible sites come up and one with a smartphone would be able to read the Bible from one of those sites.
So my cat in the picture is either sleeping or meditating on a piece of wood. Well, she sure does look comfortable.
Let's end with a scripture, as it is written, with Jesus speaking, Heaven and earth shall pass away, but my words shall not pass away. Matthew 24:35.
If you enjoyed this blog, please upvote and follow.
Thank you, David.
Image is mine, taken with my Moto G.