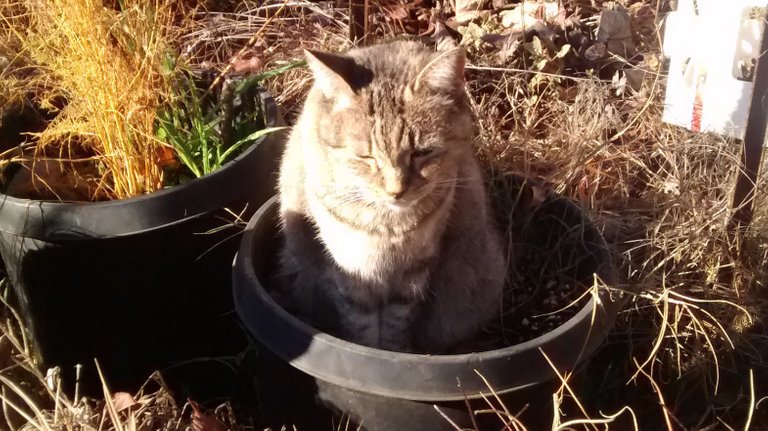 My cat in her meditative state as I walk my backyard. She is sitting in a garden pot full of organic soil. I was going to plant more asparagus, but I never got around to it.
So there is no plant in the pot as of yet. So my cat can sit in a garden pot all she wants. So she sits there and watches me walk. I think my walking habit is set pretty good as I find myself waking up in the morning getting ready, then out the door to walk my backyard.
Sometimes when I walk I listen to a text to speech program on some articles that I wanted to hear. Yes, I listen to articles about benefits of hot chocolate, salmon, sardines, beef, walking, persimmons and other subjects that may interest me at the time.
Also at times I listen the Bible. That is the benefits of owning a smartphone.
Long ago I used to walk a park and I would listen to a pocket tape player with headphones. Now days I just listen to my smartphone to my text to speech or Bible out loud on medium volume.
After eating dinner I took a nap in my bedroom and then I got up later wanting to walk my backyard at night. I set the time for 45 minutes and started walking.
Usually my cat follows me outside. I could see through my window and found that my cat stayed in my bedroom sitting on my bed. So I just kept walking my backyard at night.
This night I listened to the book of Matthew. It is good to listen to the words of Jesus over and over again. Jesus did say, Heaven and earth shall pass away, but my words shall not pass away. Matthew 24:35.
So my cat didn't even want to go outside with me this night, that is OK. She can still keep an eye on me as I walk my backyard.
Let's end with a scripture, as it is written, But his delight is in the law of the LORD; and in his law doth he meditate day and night. Psalm 1:2.
If you enjoyed this blog, please upvote and follow.
Thank you, David.
Image is mine, taken with my Moto G.