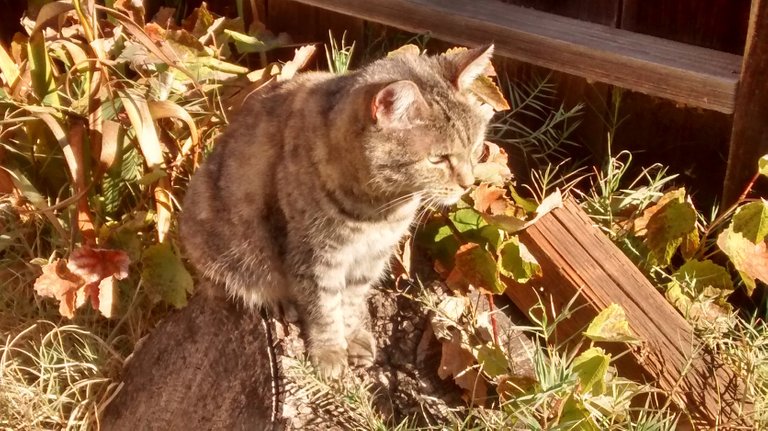 This is my cat in the morning sun. I was doing my morning walk in my backyard. All of a sudden the cat made a little racket, I looked and then seen a mouse in her mouth.
I kept on walking and noticed her playing with her food. I would think, Just hurry up and eat it. Well, she would play with it then let it go. I kept on walking hoping she would eat it.
After awhile I had to go into my house, but I kept the door closed as, sometimes my cat brings in her live food and sometimes it gets away from her.
One time she brought in a rat. I thought the rat wasn't going to make it, but the next day I seen that same rat running around the house. I had wished that the cat would eat that rat, but she didn't
Well, I went back outside and noticed that the mouse didn't move anymore. My cat still didn't eat that mouse. Well, I called her in as I had to leave to go visit my mom.
Then after awhile after visiting my mom, then going to get a few things at a couple of stores I came back home. The mouse was still outside and not moving.
I don't like it that my cat wastes her food. So with an instrument I picked up the mouse and put it where I know skunks would find it. I know that the skunks will eat it.
There have been many times when I either caught a mouse in a mouse trap or I found a dead mouse around the house. I would just put the dead mouse near where I know skunks would be. Then I noticed that the next morning the mouse body would be gone.
Well, I put the mouse body of the mouse that my cat didn't eat in about the same place. Tomorrow I will check and see if the mouse body would be gone or not.
Those skunks don't play with their food as I think they really like eating the whole mouse body.
Let's end with a scripture, as it is written, For even when we were with you, this we commanded you, that if any would not work, neither should he eat. 2 Thessalonians 3:10.
If you enjoyed this blog, please upvote and follow.
Thank you, David.
Image is mine, taken with my Moto G.