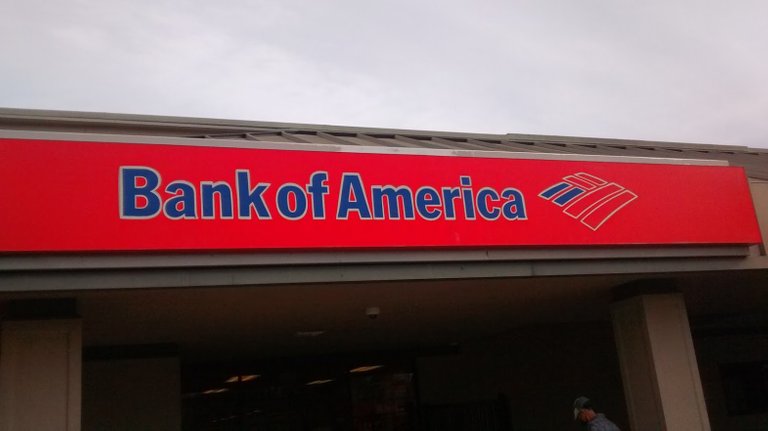 I took this picture of the Bank of America sign yesterday while in line with my mom. At first we were at another branch that we have been going to for awhile. Then there was a sign that said, This branch is temporarily closed.
So since last year, my mom had to move from her regular branch to another branch north in our city, then that one had a sign that said, that they were temporarily closed.
Then we went to the branch that is in the south of the city for awhile until this day that I took this picture. We noticed that there was no line. We notice that there was no security guard.
When we walked up to the door, we found a note that said, they were temporarily closed. Well then we had to relax and get centered and I took out my phone and looked up the different branches of Bank of America. Most of them still had there ATM working, but if you wanted a teller there would only be certain places open.
There were other cities where the lobby was still open, but I wanted to check if our city still had a branch that was still open as my mom did need to have a teller help her, also she doesn't like using ATM. I don't like using ATM either.
I was even telling my mom that she might open an account at my credit union. At least at my credit union they haven't temporarily closed any of their branches in our city. Mom thought that it might be a good idea.
Well anyway, I looked and there was a branch that closed at 4pm. It was an east branch, not too far from where we were in the parking lot of a now temporarily closed branch.
So we took off to that branch that was still open. I looked and there was also another branch still open on the northwest side of the city. So now there is only 2 branches in the city where you can talk to tellers.
So we waited in the line for a time. The wind was blowing and it was cold. My mom was glad that she had on 2 jackets. I myself was wearing 2 jackets. Well, we finally got in and mom got to do her transactions and we got out of there.
We will have to keep on going to this branch and I hope that they are not going to temporarily close it. I hope that we can get to normal and all these temporarily closed branches can open up and mom can go to her usual branch that is not too far from where she lives.
Let's end with a scripture, as it is written, with Jesus speaking, And he sent them to preach the kingdom of God, and to heal the sick. And he said unto them, Take nothing for journey, neither staves, nor scrip, neither bread, neither money; neither have two coats apiece. Luke 9:2-3.
If you enjoyed this blog, please upvote and follow.
Thank you, David.
Image is mine, taken with my Moto G.