Checking Out And Lowering My Blood Pressure 7.20.2021
I was cleaning my computer room and found this blood pressure monitor. This is the kind that wraps around the upper arm. It used to belong to my mom. My mom has another type of blood pressure monitor, the kind that wraps around her wrist.
Well, since the blood pressure monitor that wraps around the upper arm still worked well, she wanted to know if I wanted it. She gave it to me years ago and I recently found it under some stuff in my computer room.
My mom has the white coat syndrome and every time she is called in by her doctor her blood pressure rises higher than her normal blood pressure that she would take in the comfort of her own bedroom.
I try to tell my mom, if she can quiet her mind and relax her breathing, she can lower her blood pressure.
Here is an example, on this first picture is my blood pressure at 142/77 I guess that is higher than the average of my age range. I am 62 years old as I write.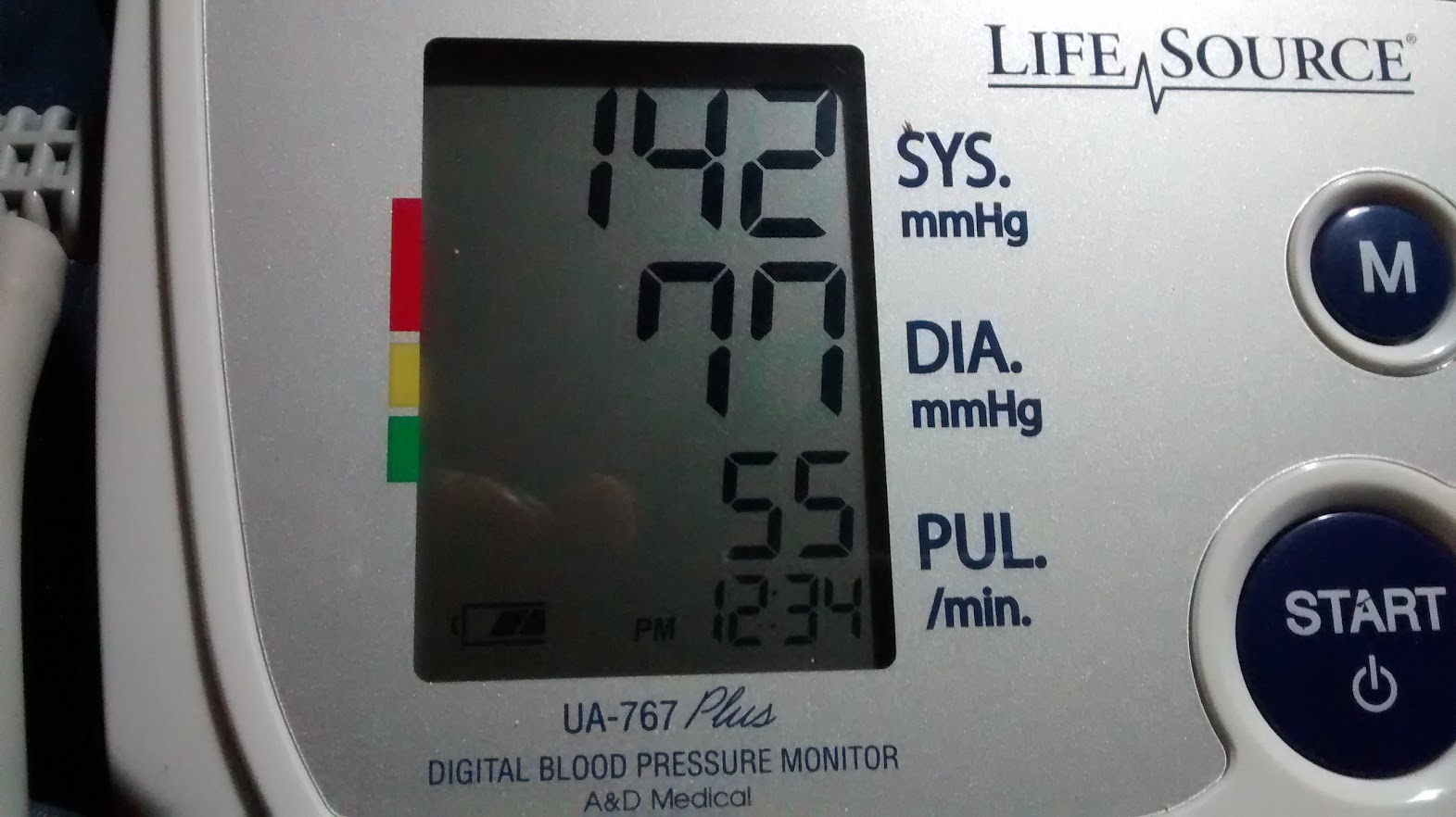 I wanted to lower that upper number to something lower. So I hit the button again and air came into the thing wrapped around my left arm, and I started to relax and slowed down my breathing and also to quiet my mind. This is what was the result and it did come down a bit to 130/70. That is an improvement, but I wanted that upper number to go down even more.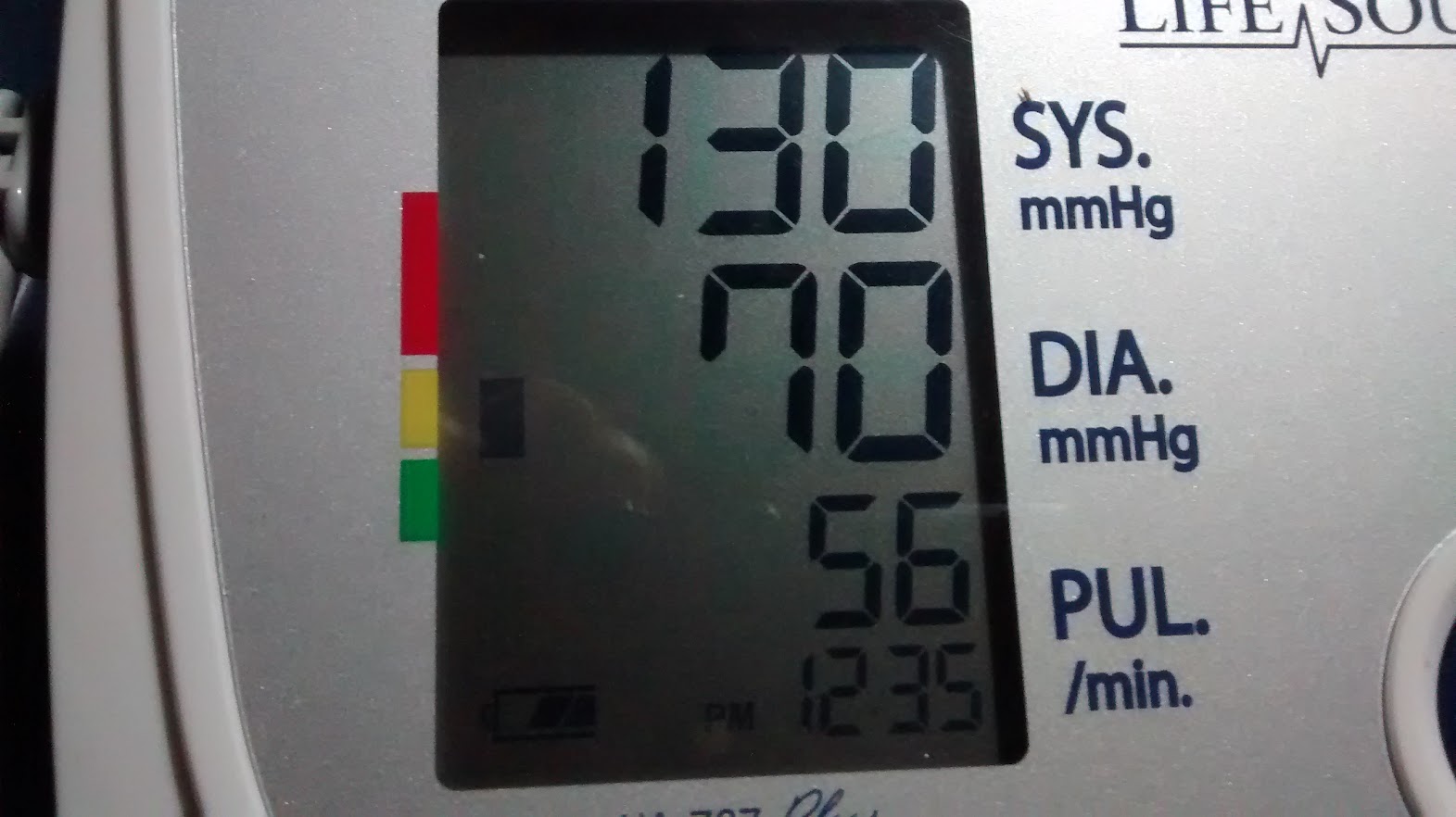 So I hit the button again and again I concentrated on relaxing and slowing my breathing and quieting my mind. This is my third reading: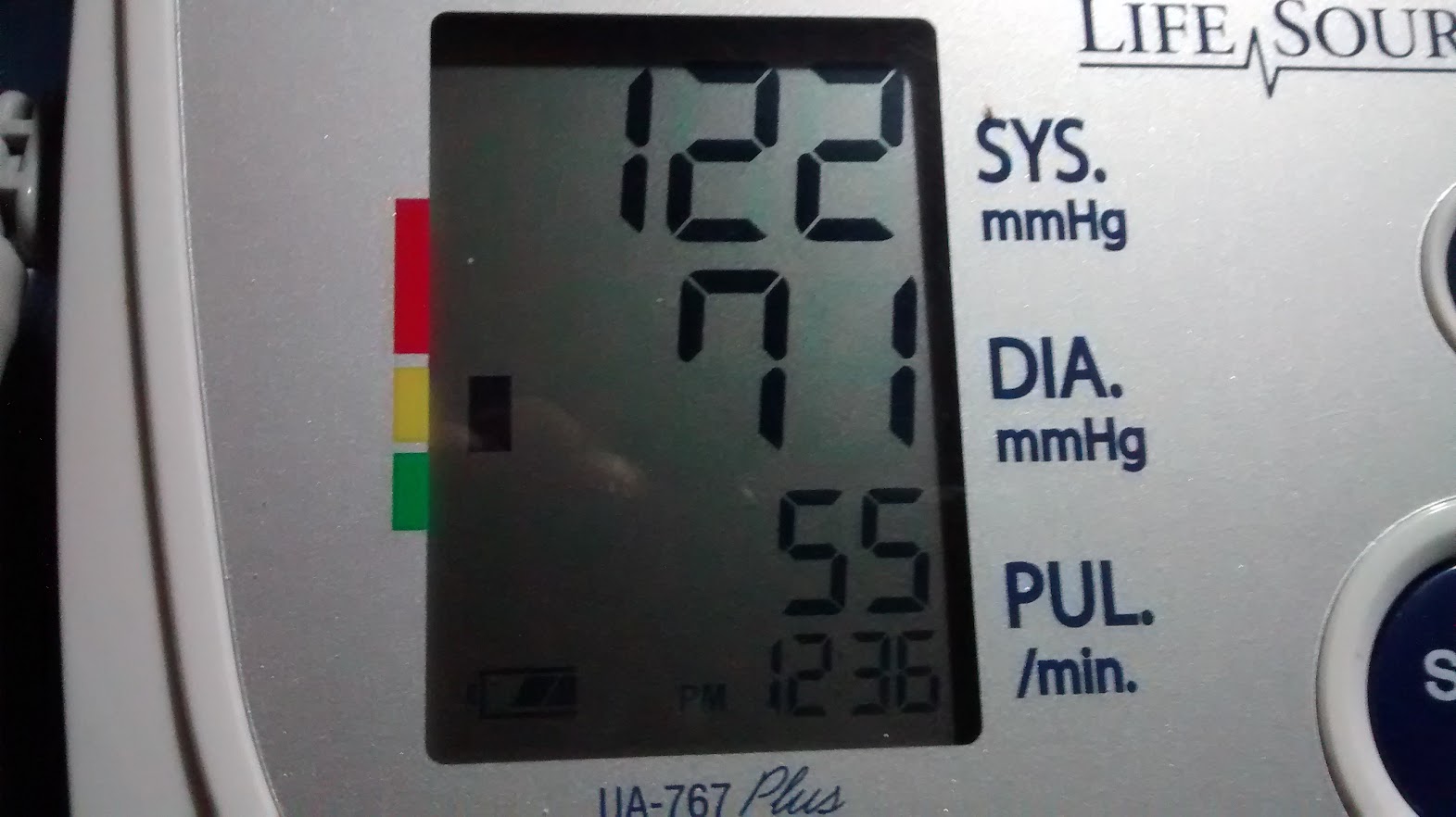 Well, you see that it went down again. This time it is 122/71. I thought I might make it go lower than that. So I hit the button again, and again the wrap tighten around my upper left arm and again I relaxed and slowed my breathing and quieted my mind and the upper number went up a little to 125/70, but I wanted that upper number lower, not higher than the last reading.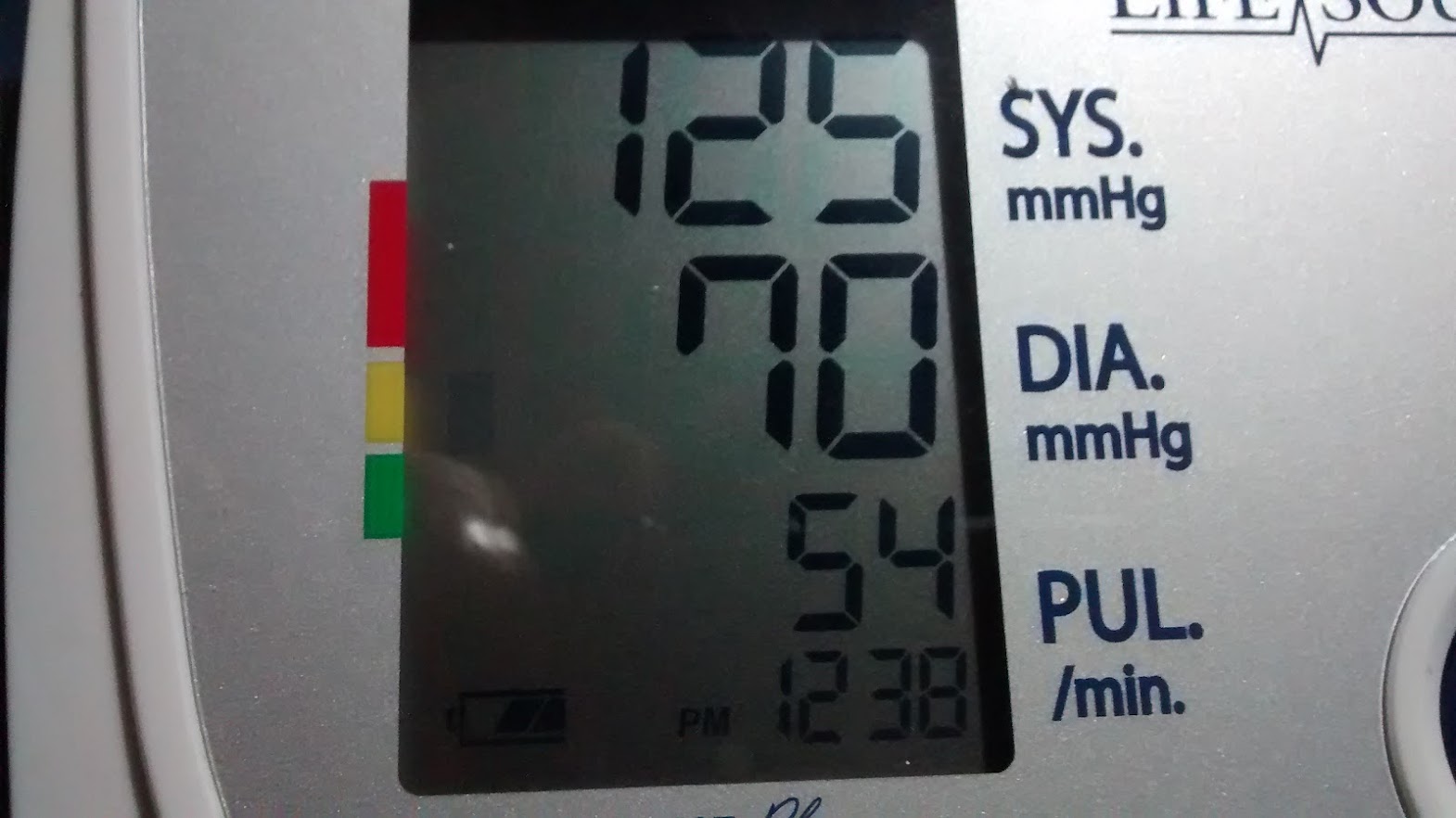 So I thought I would try it one more time to lower the upper number. Again I went through my deal of breathing slower and in a relaxed way with quieting my mind and this was the result.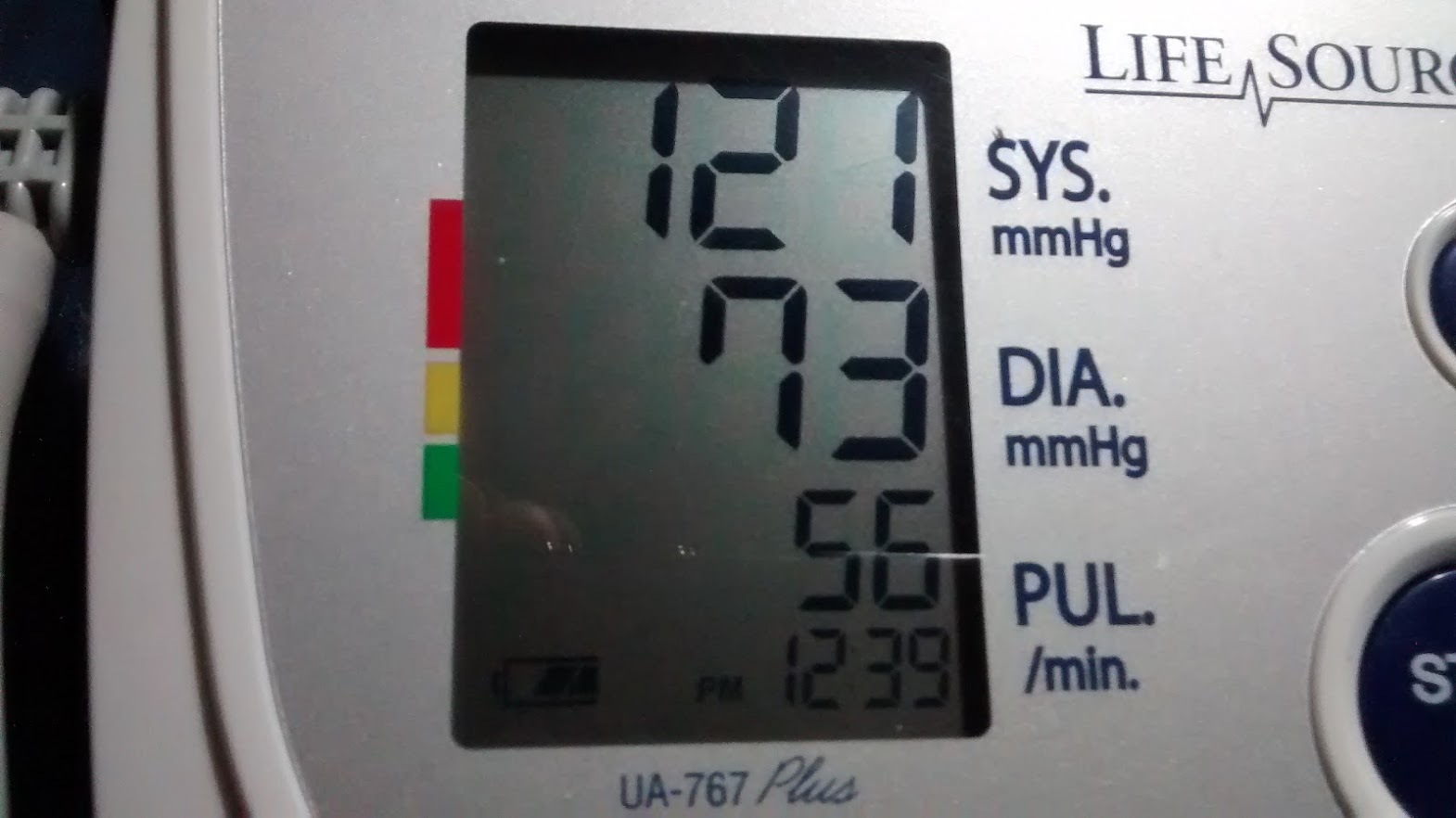 So my lowest reading for the day is 121/73. It seems I have the reading that is the average of a guy younger than myself.
Well, this is it for my blood pressure readings for this day.
Let's end with a scripture, as it is written, Honour thy father and mother; (which is the first commandment with promise;) That it may be well with thee, and thou mayest live long on the earth. Ephesians 6:2-3.
Source 1
If you enjoyed this blog, please upvote and follow.
Thank you, David.
Images are mine, taken with my Moto G.
---
---