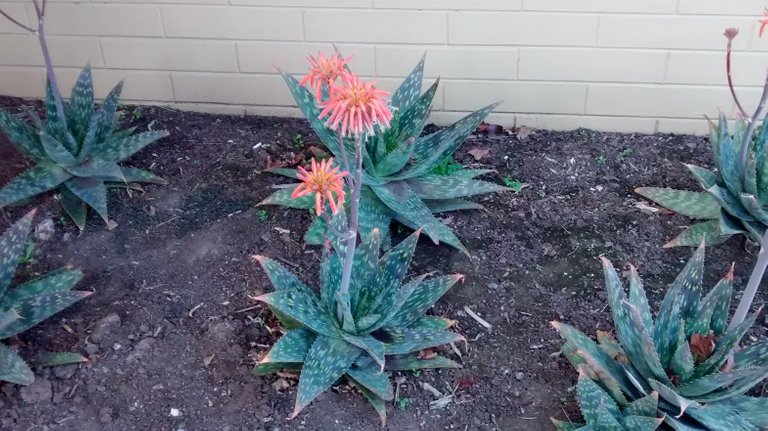 I have Aloe Vera also, but not in the ground like these. Well, I don't want to grow them in the ground as they spread pretty good and take over a lot of space.
So I just grow them in pots. My mom gave me one plant and that one plant multiplied a lot over the years. I would imagine on the ground they will take over like grass over the years.
I would be interested in how this is going to workout over the years.
I have seen a person in the neighborhood plant one in the ground. I would see it when I bring my car to the mechanics as after I drop off my vehicle, I have to walk home. When I do walk home, I notice his Aloe Vera plant and it started to expand.
Lately when I do have to pass his place when walking I noticed that he dug that plant out. Well, I guess it got too invasive for him.
I would imagine over the years all that ground would be filled with Aloe Vera plants. Of course that may be the goal for the landscape person.
Of course having access to an Aloe Vera plant can help with cuts and bruises. At least I know another place other than my own house and my moms house where there is Aloe Vera.
Of course the Aloe Vera plants at this Post Office look great and they are flowering.
Let's end with a scripture, as it is written, with Jesus speaking, Then Jesus answering said unto them, Go your way, and tell John what things ye have seen and heard; how that the blind see, the lame walk, the lepers are cleansed, the deaf hear, the dead are raised, to the poor the gospel is preached. And blessed is, whosoever shall not be offended in me. Luke 7:22-23.
If you enjoyed this blog, please upvote and follow.
Thank you, David.
Image is mine, taken with my Moto G.