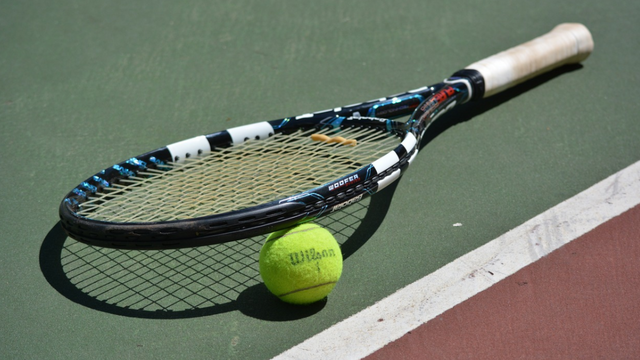 ---
I started a challenge of taking 100 days off to mainly focus on my health and overall personal development and used this account as a personal blog to keep track of all my activity. I enjoyed it and continued afterward trying to build better habits and find a good balance between health, fitness, work and my personal life...
---
Only 1 hour of tennis yesterday but it was a very fun one. I almost thought I was going to have to skip because I misread to clock in the morning thinking it was an hour later and it felt so comfortable in bed. I'm glad I was able to go though. I had t use my spare racket after breaking my strings last week but I rarely made a difference.
The next couple of days I will put my focus on productivity as I have some throat inflammation and don't want to turn it into actually getting sick. Form my experience, keeping up with my regular sporting activity is deadly and made these things much worse in the past.
---
365 DAY HOT YOGA CLASSES | JOINED: 21/100 (Day 81)
---
| Day | Bed Time | Awake | Out Bed | Weight |
| --- | --- | --- | --- | --- |
| 01 Jan | 23:00 | 07:30 | 09:00 | 66.0kg |
| 02 Jan | 00:00 | 08:30 | 09:30 | 64.8kg |
| 03 Jan | 00:00 | 08:40 | 10:20 | 64.7kg |
| 04 Jan | 00:30 | 09:00 | 09:50 | 64.6kg |
| 05 Jan | 00:30 | 08:30 | 09:40 | 64.6kg |
| 06 Jan | 23:30 | 08:00 | 09:05 | 64.5kg |
| 07 Jan | 00:00 | 08:20 | 09:40 | 64.8kg |
| 08 Jan | 00:00 | 09:00 | 10:15 | 65.0kg |
| 09 Jan | 00:00 | 09:00 | 09:30 | 65.0kg |
| 10 Jan | 01:00 | 10:00 | 10:40 | 64.8kg |
| 11 Jan | 00:30 | 08:45 | 09:50 | 64.7kg |
| 12 Jan | 00:30 | 09:45 | 10:15 | 65.0kg |
| 13 Jan | 01:00 | 09:30 | 10:15 | 64.8kg |
| 14 Jan | 00:30 | 09:30 | 10:00 | 64.8kg |
| 15 Jan | 23:30 | 09:00 | 09:55 | 64.7kg |
| 16 Jan | 23:00 | 09:00 | 09:45 | 64.6kg |
| 17 Jan | 01:00 | 09:30 | 10:15 | 64.5kg |
| 18 Jan | 00:00 | 09:00 | 09:30 | 64.5kg |
| 19 Jan | 00:00 | 08:30 | 09:10 | 64.6kg |
| 20 Jan | 23:50 | 08:00 | 09:00 | 64.5kg |
| 21 Jan | 00:00 | 08:30 | 09:40 | 64.5kg |
| 22 Jan | 23:50 | 08:40 | 09:20 | 64.7kg |
| 23 Jan | 23:40 | 09:30 | 09:40 | 64.8kg |
---
Januray
20
21
22
23
Plant Based
v
v
x
v
Supplements
v
v
v
v
Active
v
v
v
v
Productive
v
x
v
v
Expenses
0€
0€
62€
2€