Just One of Those Days...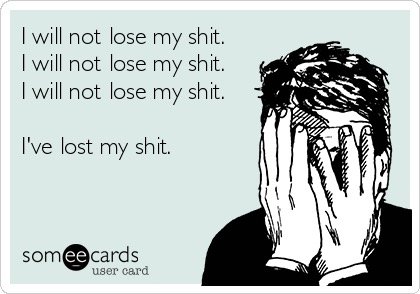 This is going to just be a bit of a rant as I'm having a woes me moment, so I apologize right off the bat.
2020 was supposed to be "my year". I turned 40 in February and for the first time in as long as I can remember, I was actually looking forward to it. I had a plan and I figured the big 40 was as good a time as any to start getting my shit together. My 30's were not super kind to me as they were loaded with plenty of hardships that seemed to beat me down physically, mentally, financially, emotionally, and any other way imaginable. So I set out a plan to right the ship and started inching towards accomplishing some of those goals.
I felt good as I seemed to be making some progress in the past several months...but things have seemingly taken a turn once again with the current state of affairs that we all find ourselves knee deep in. Covid-19 is all we hear about as of late and it seems to be just the beginning.
I'm not sure my business can survive an extended period of uncertainty and that's weighing heavily. I cannot go visit my mom at all as she's in a nursing home with dementia. They stopped visitations several days back and I have no idea how long that will remain in effect. Finances are obviously going to be brutal as we all start to feel the crunch in the coming weeks and months ahead.
The insanity on social media between my friends and family who have differing opinions on social and political issues is just getting more brazen as the divide furthers. Just got into it with one of my good friends the other day as he was completely out of line and hung the bait...which I stupidly took.
But tonight as I see the results of the Democratic Primaries come in...I just can't help but feel truly disheartened. Bernie got demolished. The youth vote didn't turn up once again and the aging population is once again, the most reliable voter block.
I'm a Bernie guy which I'm sure will please some of you and make others want to spit in my face. That's fine. While I don't agree with everything he stands for, I felt as though he was the most genuine and passionate candidate. He has been fighting the good fight for ages and I truly felt as though the world would have benefited from having someone as genuine as him in office. He just wants everyone to have a shot at a decent life but I guess that's too fucking extreme. Sadly for me, it looks like this world won't get the chance to see that.
The youth vote...just...fucking sucks. They don't come out and support. The numbers are telling and it's troubling that so many young people could simply not be bothered to pay attention to what goes on around them in this country. Shit...my wife and kids don't seem to care. My sister told me the other day that she didn't even know who was running. Nobody cares it seems...and that it just disheartening on so many levels.
I'm just at a breaking point again after a few months of feeling like things could be on the up. Everything that I have planned for has gone to hell and I worked my ass off to get to a point where I could start making major life moves. It seems that once again, life has other plans in place and I just need to accept that.
I know I'm bitching right now about my personal life and it's such an insignificant thing while the world is crumbling...I get it. I'm just having a day and a moment and needed to vent my frustrations to the one place that I feel comfortable doing that...my writings.
I hope your days are going a bit smoother and that you are all safe and healthy. Keep practicing social distancing as it's important. We will get through this.
Blewitt
Posted using Partiko iOS
---
---