Zahnflügel-Bläuling ■ Meleager's blue
Polyommatus daphnis (Denis & Schiffermüller, 1775)
Der Zahnflügelbläuling ist ein Tagfalter aus der Familie der Bläulinge (Lycaenidae). Der Schmetterling fliegt auf Kalkmagerrasen mit reichem Blütenangebot. Die Raupe ernähert sich von Esparsetten und bunter Kronwicke. Sie kann sowohl als Puppe als auch als junge Raupe überwintern. Die Raupe lebt in einer Symbiose mit Ameisen, die sie beschützt. Im Gegenzug sondert die Raupe ein Sekret ab, welches von den Ameisen gerne angenommen wird. Der Falter fliegt in einer Generation von Ende Juni bis August. In Deutschland gilt dieser Tagfalter als stark gefährdet.
The Meleager's blue is a butterfly from the family of Lycaenidae. The butterfly flies on calcareous low-nutrient grassland with a rich supply of flowers. The caterpillar feeds on sainfoin and colourful crown vetch. It can spend the winter both as a caterpillar and as a pupa. The caterpillar lives in symbiosis with ants, which protects it. In return, the caterpillar secretes a secretion which is gladly accepted by the ants. The butterfly flies in a generation from the end of June to August. In Germany this butterfly is considered to be highly endangered.
♂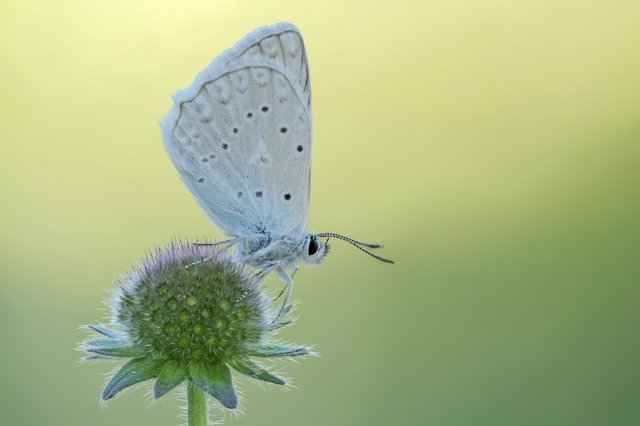 ▲ Click on the image for full resolution ▲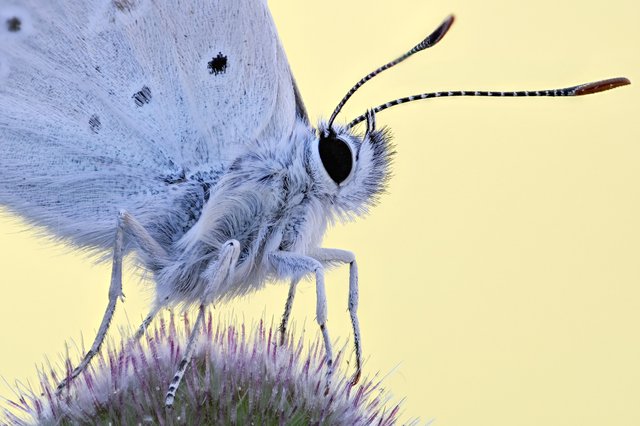 ▲ Click on the image for full resolution ▲
〰️
| | |
| --- | --- |
| Category: | Macro |
| Camera: | Panasonic Lumix DC-G9 |
| Lens: | Canon EF 100 mm 1:2.8L Macro IS USM |
| Location: | Germany, Deutschland, Baden Württemberg, Tauber Valley |
Wenn dir mein Beitrag gefällt, freue ich mich über deine Nachricht.
Herzlichen Dank und viele Grüße vom @faltermann 🐛
If you like my contribution, I am looking forward to your message.
Many thanks and greetings from Germany 🦋
🔴 SteeamPeak (Best user interface for the Steem Blockchain)🔴
🔴 SteemWorld 🔴
🔴 eSteem Search 🔴
🔴 Partiko mobile app 🔴