Möndcheneule ■ Toadflax moth
Calophasia lunula (Hufnagel, 1766)
Die Möndcheneule wird im deutschen auch als Leinkraut-Eule bezeichnet. Sie ist ein Nachtfalter aus der Familie der Eulenfalter (Noctuidae). Ihr deutscher Name wurde von der Futterpflanze dem Leinkraut (Linaria vulgaris) abgeleitet. Das Weibchen verteilt bis zu 400 Eier an mehreren Pflanzen. Die Raupen ernähren sich von den Blüten und Blättern der Pflanze.
The toadflax moth is called also yellow toadflax moth in German. It is a moth from the family of Noctuidae. Its German name was derived from the forage plant Linaria vulgaris. The female distributes up to 400 eggs to several plants. The caterpillars feed on the flowers and leaves of the plant.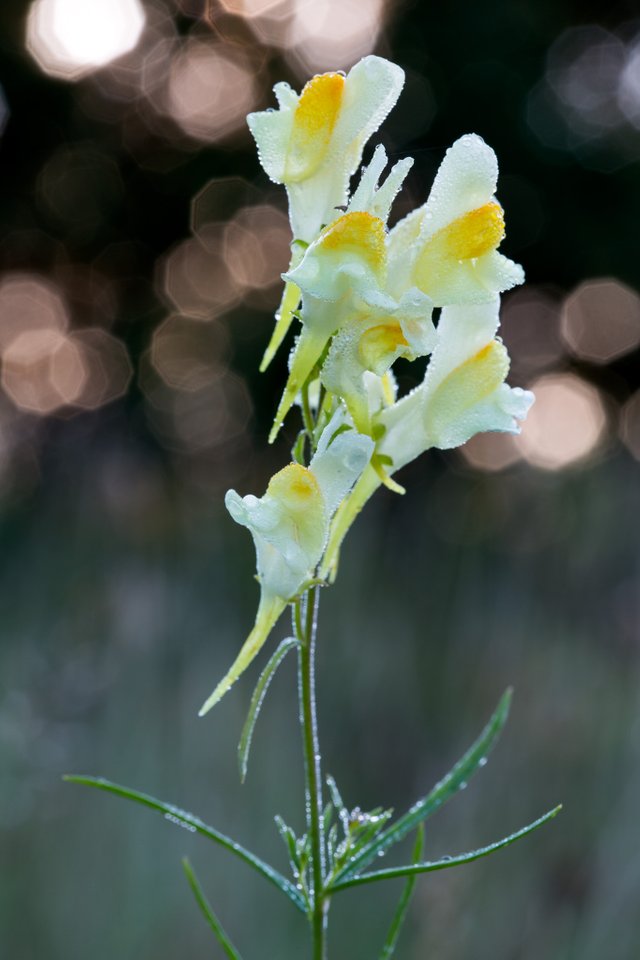 ▲ Click on the image for full resolution ▲
Die beiden Raupen hatte ich in der Firma direkt neben meinem Parkplatz entdeckt. Es bot sich an die Raupen zu züchten, da ich das nötige Futter problemlos jeden Tag frisch mit nach hause nehmen konnte. Die Zucht gestaltet sich problemlos, so dass die beiden Räupchen sich schon nach wenigen Tagen verpuppten.
I had discovered the two caterpillars in the company right next to my parking lot. It offered itself to breed the caterpillars, since I could take the necessary food fresh every day with me. The breeding was problem-free, so that the two caterpillars pupated already after a few days.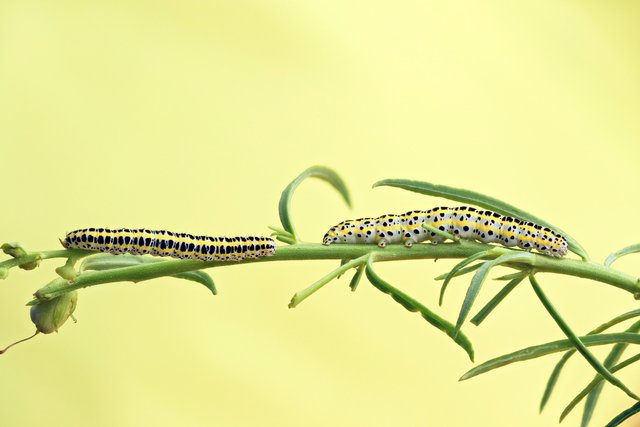 ▲ Click on the image for full resolution ▲
Nach der letzten Häutung begannen die Raupen am Stängel der Futterpflanze ihren Kokon zu bauen. Hierbei werden kleine Pflanzenteile in den seidenen Kokon mit eingebaut. Die Raupe kann sich in diesem zähen Gebilde gut geschützt verpuppen. Nach einer Puppenruhe von 4 Wochen ist einer der beiden Falter geschlüpft. Der Zweite ist noch in seinem Kokon und wird überwintern, sofern er nicht noch im September schlüpft.
After the last moult, the caterpillars began to build their cocoon on the stem of the forage plant. Small parts of the plant are built into the silk cocoon. The caterpillar can pupate well protected in this tough structure. After a puppet rest of 4 weeks, one of the two moths hatched. The second is still in its cocoon and will spend the winter, provided that it does not slip yet in September.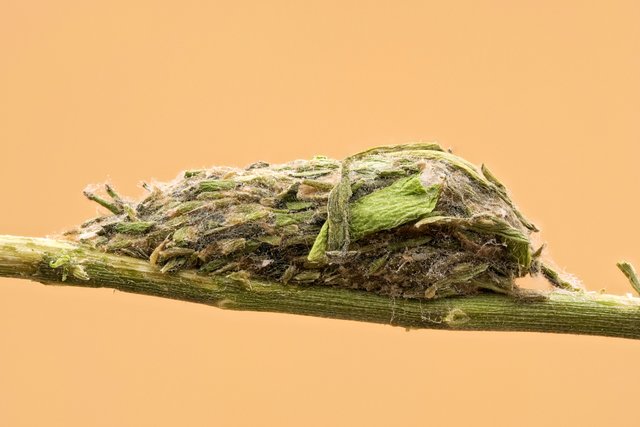 ▲ Click on the image for full resolution ▲
Die Möndchen-Eule fliegt in bis zu drei Generationen von April bis September. Der Falter ist vorwiegend dämmerungsaktiv, kann aber auch tagsüber in der Natur beobachtet werden. Lichtfallen und Köder werden nur selten angeflogen. Der Nachweis gelingt am besten durch die gezielte Suche nach Raupen. Der Falter stellt keine besonderen Ansprüche an sein Habitat und kann überall dort wo die Futterpflanze vorkommt beobachtet werden. In Deutschland ist dieser Falter noch häufig zu finden und in seinem Bestand derzeit nicht gefährdet.
The toadflax moth flies in up to three generations from April to September. The moths are mainly active at dusk, but can also be observed in nature during the day. Light traps and baits are rarely approached. The best way to detect them is to search for caterpillars. The moths make no special demands on their habitat and can be observed wherever the forage plant occurs. In Germany this moths can still be found frequently and its population is currently not endangered.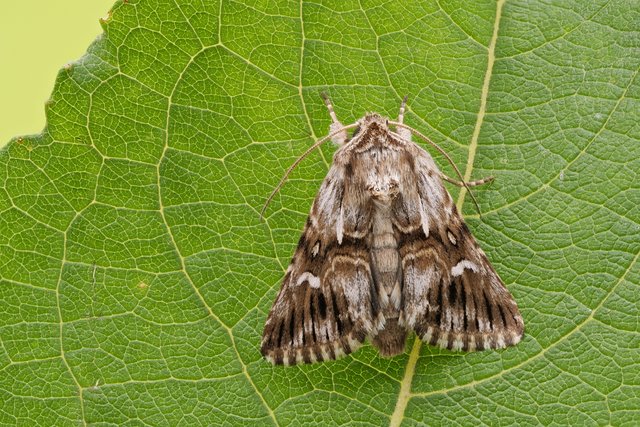 ▲ Click on the image for full resolution ▲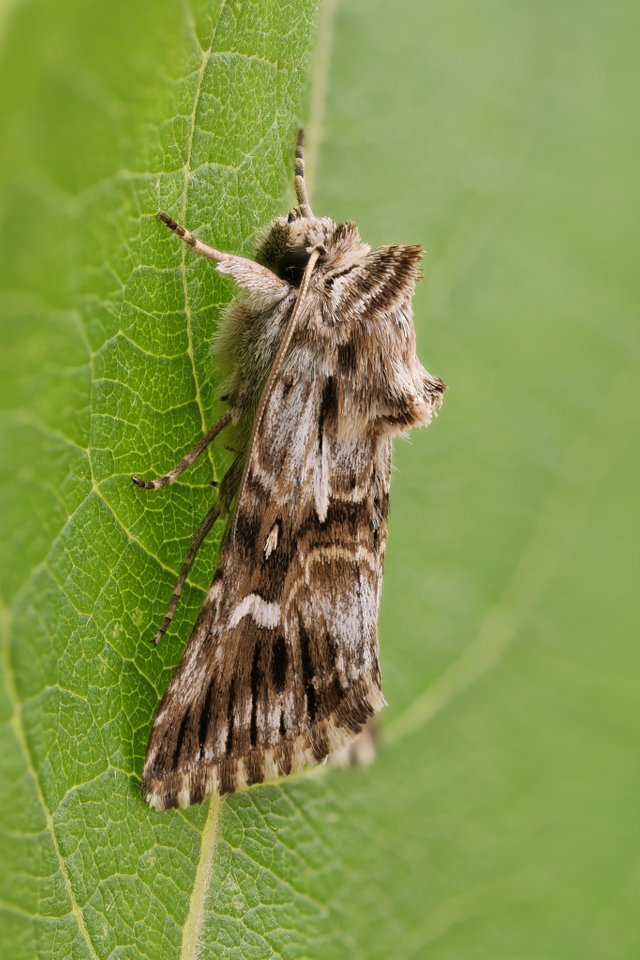 ▲ Click on the image for full resolution ▲
〰️
| | |
| --- | --- |
| Category: | Macro |
| Camera: | Panasonic Lumix DC-G9 |
| Lens: | Olympus M.Zuiko Digital ED 60mm 1: 2.8 Macro |
| Location: | Germany, Bavaria, Lower Franconia, Kreuzwertheim |
Wenn dir mein Beitrag gefällt, freue ich mich über deine Nachricht.
Herzlichen Dank und viele Grüße vom @faltermann 🐛
If you like my contribution, I am looking forward to your message.
Many thanks and greetings from Germany 🦋
🔴 SteeamPeak (Best user interface for the Steem Blockchain)🔴
🔴 SteemWorld 🔴
🔴 eSteem Search 🔴
🔴 Partiko mobile app 🔴