Rhabarber-Zünsler
Oncocera semirubella (SCOPOLI, 1763)
Der Rhabarber-Zünsler ist ein Nachtfalter aus der Familie der Zünsler (Pyralidae). Der Kleinschmetterling ist alles andere als unauffällig. Mit seinem leuchtenden Rot ist er sehr attraktives Model wie ich finde. Der Falter fliegt von Mai bis September in einer Generation. Die Raupe frisst an Klee und Luzernen. Sie überwintert am Boden in einem Gespinst zwischen Blättern, um sich im Frühjahr zu verpuppen. Der Falter ist noch weit verbreitet und in seinem Bestand nicht gefährdet.
The oncocera semirubella is a moth from the family Pyralidae. The small moth is anything but inconspicuous. With its bright red it is a very attractive model in my opinion. The moth flies from May to September in one generation. The caterpillar eats clover and alfalfa. It hibernates on the ground in a web between leaves to pupate in spring. The moth is still widespread and its population is not endangered.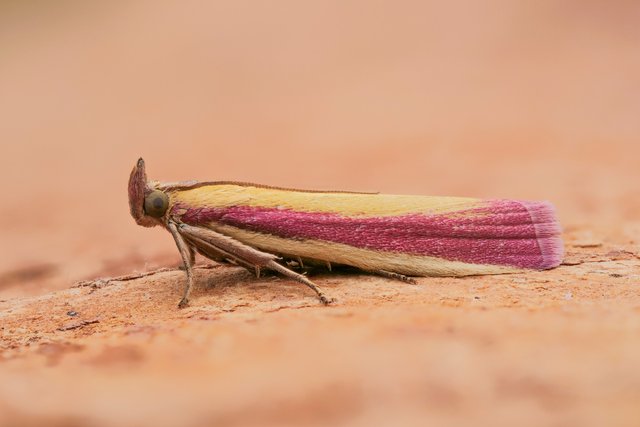 ▲ Click on the image for full resolution ▲
〰️
| | |
| --- | --- |
| Category: | Macro |
| Camera: | Panasonic Lumix DC-G9 |
| Lens: | Olympus M.Zuiko Digital ED 60mm 1: 2.8 Macro |
| Location: | Germany, Bavaria, Lower Franconia, Kreuzwertheim |
Wenn dir mein Beitrag gefällt, freue ich mich über deine Nachricht.
Herzlichen Dank und viele Grüße vom @faltermann 🐛
If you like my contribution, I am looking forward to your message.
Many thanks and greetings from Germany 🦋
🔴 SteeamPeak (Best user interface for the Steem Blockchain)🔴
🔴 SteemWorld 🔴
🔴 eSteem Search 🔴
🔴 Partiko mobile app 🔴