Kiefernspanner ■ Bordered white
Bupalus piniaria (Linnaeus, 1758)
Der Kiefernspanner ist ein Nachtfalter aus der Familie der Spanner (Geometridae). Der Falter ist sowohl tag- als auch nachtaktiv und fliegt Lichtquellen an. Das Weibchen legt seine Eier an Nadelbäumen ab, von denen sich die Raupe ernährt. Die erwachsene Raupe verbringt den Winter unter dem Baum im Boden, um sich dort zu verpuppen. Der Falter fliegt in einer Generation von Mai bis Juli. In Mitteleuropa ist der Falter häufig anzutreffen und in seinem Bestand derzeit nicht gefährdet.
The bordered white moth is a moth from the family of Geometridae. The moths are active day and night and fly to light sources. The female lays her eggs on conifers, from which the caterpillar feeds. The adult caterpillar spends the winter under the tree in the ground to pupate. The moth flies in a generation from May to July. The moths are common in Central Europe and are currently not endangered.
♀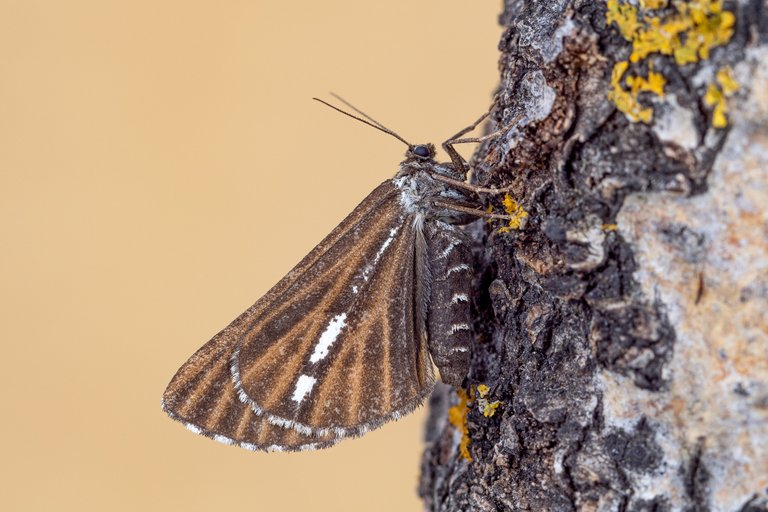 ▲ Click on the image for full resolution ▲
〰️
| | |
| --- | --- |
| Category: | Macro |
| Camera: | Panasonic Lumix DC-G9 |
| Lens: | Olympus M.Zuiko Digital ED 60mm 1: 2.8 Macro |
| Location: | Germany, Bavaria, Lower Franconia, Kreuzwertheim |
Wenn dir mein Beitrag gefällt, freue ich mich über deine Nachricht.
Herzlichen Dank und viele Grüße vom @faltermann 🐛
If you like my contribution, I am looking forward to your message.
Many thanks and greetings from Germany 🦋
🔴 SteeamPeak (Best user interface for the Steem Blockchain)🔴
🔴 SteemWorld 🔴
🔴 eSteem Search 🔴
🔴 Partiko mobile app 🔴