Buchen-Streckfuß ■ Pale tussock
Calliteara pudibunda (Linnaeus, 1758)
Der Buchen-Streckfuß ist ein Nachtfalter aus der Familie der Eulenfalter (Noctuidae) und sortiert sich in die Unterfamilie der Trägspinner (Lymantriinae) ein. Bei meiner täglichen Tour zur Futterbeschaffung ist mir die Raupe an Salweide aufgefallen. Dieser Raupe ist unverwechselbar und und so war die Bestimmung einfach. Die Salweide als Nahrungspflanze verwende ich bereits für andere Raupen die ich derzeit in der Zucht habe. Die markanten Haarbüschel sind wahrlich ein Augenschmaus. Allerdings sollte man den Kontakt mit den Haaren vermeiden, da diese allergische Reaktionen hervorrufen können. Meine Bilder zeigen die seltenere rote Variante. Die Raupe ist bereits erwachsen und wird sich in den kommenden Tagen verpuppen. Bei der Verpuppung spinnt die Raupe einen Teil der Behaarung in ihren Kokon mit ein. Auch hier gilt es den Hautkontakt mit dem Kokon zu vermeiden. Der Buchen-Streckfuß ist noch weit verbreitet und in seinem Bestand derzeit nicht gefährdet.
The pale tussock is a moth of the family Noctuidae and belongs to the Lymantriinae subfamily. During my daily tour to get some food I noticed the caterpillar at Salix caprea. This caterpillar is unmistakable and so the determination was simple. I already use the Salix caprea as a food plant for other caterpillars which I currently have in breeding. The distinctive tufts of hair are truly a feast for the eyes. However, you should avoid contact with the hairs, as they can cause allergic reactions. My pictures show the rarer red variant. The caterpillar is already adult and will pupate in the coming days. During the pupation the caterpillar spins a part of the hair into its cocoon. Here, too, skin contact with the cocoon must be avoided. The pale tussock moth is still widespread and currently not endangered in its existence.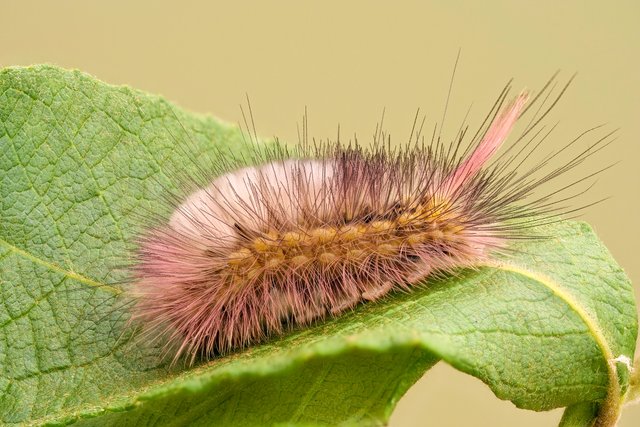 ▲ Click on the image for full resolution ▲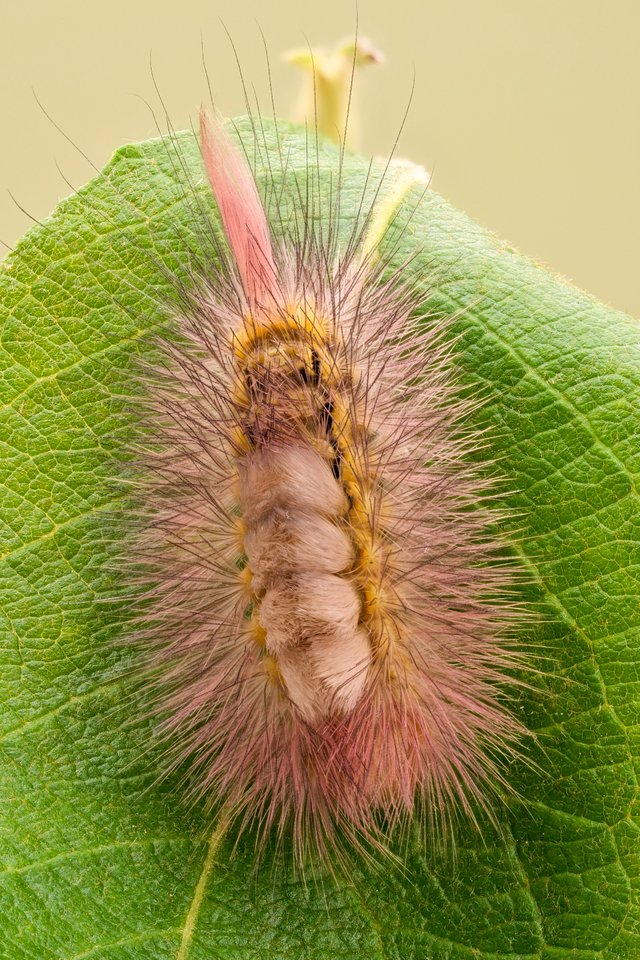 ▲ Click on the image for full resolution ▲
〰️
| | |
| --- | --- |
| Category: | Macro |
| Camera: | Panasonic Lumix DC-G9 |
| Lens: | Olympus M.Zuiko Digital ED 60mm 1: 2.8 Macro |
| Location: | Germany, Bavaria, Lower Franconia, Kreuzwertheim |
Wenn dir mein Beitrag gefällt, freue ich mich über deine Nachricht.
Herzlichen Dank und viele Grüße vom @faltermann 🐛
If you like my contribution, I am looking forward to your message.
Many thanks and greetings from Germany 🦋
🔴 SteeamPeak (Best user interface for the Steem Blockchain)🔴
🔴 SteemWorld 🔴
🔴 eSteem Search 🔴
🔴 Partiko mobile app 🔴