Mondvogel ■ Buff-tip
Phalera bucephala (Linnaeus, 1758)
Der Mondvogel ist ein Nachtfalter aus der Familie der Zahnspinner (Notodontidae). Den Falter findet man von Mai bis Juli und die Raupe ist von August bis September zu finden. Die erste Aufnahme habe ich meinem Freund Ritschi zu verdanken. Er hatte die beiden im Gras entdeckt und mir sofort Bescheid gegeben. Da der Falter tagsüber nicht fliegt, habe ich mich umgehend auf den Weg gemacht, um die beiden zu fotografieren. Wir hatten Spaß, den so ein Pärchen findet man nicht alle Tage. Was braucht es mehr, als gute Freunde und etwas Glück.
The buff-tip is a moth from the family of Notodontidae. The moth can be found from May to July and the caterpillar from August to September. I owe the first picture to my friend Ritschi. He had discovered them in the grass and informed me immediately. Since the moth does not fly during the day, I immediately set off to photograph them. We had fun, you don't find such a couple every day. What needs more than good friends and some luck?
♂ ♀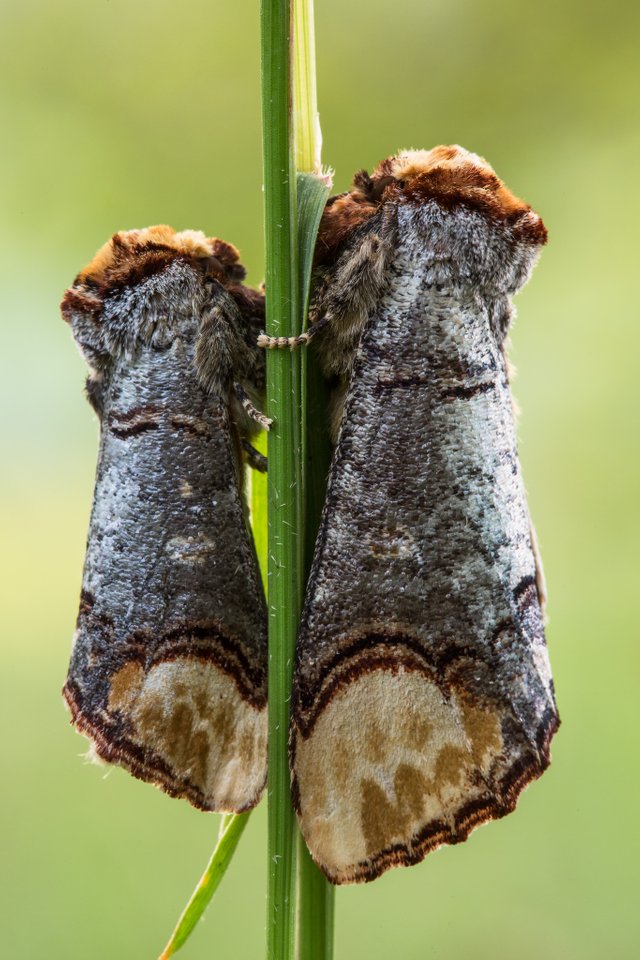 ▲ Click on the image for full resolution ▲
Diese Raupe wird derzeit von mir mit Salweide gefüttert. Ich hatte sie bei meiner Futterbeschaffung für die Abend-Pfauenaugen mit nach hause gebracht. Das ist die perfekte Gelegenheit um diesen Falter zu züchten. Jetzt ist die Raupe schon ordentlich gewachsen und in 1-2 Wochen rechne ich damit, dass sie sich verpuppt. Ein Bild von der Puppe ist mir bisher noch nicht gelungen. Das wird sich wohl bald ändern.
This caterpillar is currently being fed with saline willow by me. I brought it home with me when I bought the food for the Eyed hawk-moth. This is the perfect opportunity to breed this moth. Now the caterpillar has grown well and in 1-2 weeks I expect it to pupate. A picture of the pupa I have not yet succeeded. That will probably change soon.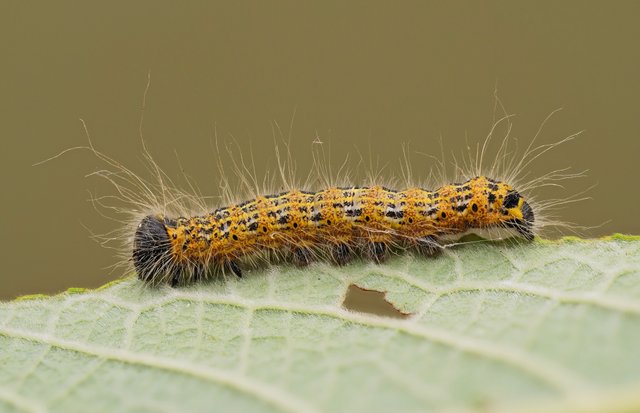 ▲ Click on the image for full resolution ▲
〰️
| | |
| --- | --- |
| Category: | Macro |
| Camera: | Canon 5D Mark IV - Panasonic Lumix DC-G9 |
| Lens: | Canon EF 100 mm 1:2.8L Macro IS USM _ Olympus M.Zuiko Digital ED 60mm 1: 2.8 Macro |
| Location: | Germany, Bavaria, Lower Franconia, Südspessart |
Wenn dir mein Beitrag gefällt, freue ich mich über deine Nachricht.
Herzlichen Dank und viele Grüße vom @faltermann 🐛
If you like my contribution, I am looking forward to your message.
Many thanks and greetings from Germany 🦋
🔴 SteeamPeak (Best user interface for the Steem Blockchain)🔴
🔴 SteemWorld 🔴
🔴 eSteem Search 🔴
🔴 Partiko mobile app 🔴