Malven-Dickkopffalter ■ Mallow Skipper
Carcharodus alceae (Esper, 1780)
Der Malven-Dickkopffalter ist ein Tagfalter aus der Familie der Dickkopffalter (Hesperiidae). Der Kleine Falter fliegt in zwei Generationen von Mai bis September. Er besiedelt sehr warme Magerrasen mit Rosengewächsen, von denen sich die Raupe ernähert. Diese Überwintert in einem Blatt, um sich im nächsten Frühling zu verpuppen. Eine besonderes Verhalten hat das Männchen. In Ruhestellung senkt es den Körper und hebt gleichzeitig das Hinterteil. Warum der Falter sich so verhält ist noch nicht geklärt. Leider hat auch dieser Schmetterling es auf die Liste der Gefährdeten Arten geschafft. Er wird unter der Kategorie 3 als stark gefährdet eingestuft.
The Mallow Skipper is a butterfly of the family of Hesperiidae. The butterfly flies in two generations from May to September. It colonizes very warm low-nutrient grasslands with rose plants, from which the caterpillar feeds. The caterpillar hibernates in one leaf and pupates next spring. The male has a special behaviour. In resting position it lowers the body and lifts at the same time the rear part. Why the butterfly behaves like this is not yet clear. Unfortunately, this butterfly has also made it onto the list of endangered species. It is classified under the category 3 as strongly endangered.
♂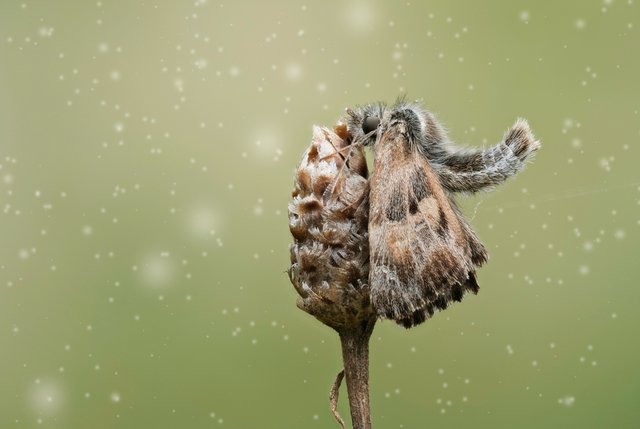 ▲ Click on the image for full resolution ▲
〰️
| | |
| --- | --- |
| Category: | Macro |
| Camera: | Panasonic Lumix DC-G9 |
| Lens: | Olympus M.Zuiko Digital ED 60mm 1: 2.8 Macro |
| Location: | Germany, Bavaria, Lower Franconia, Bocksberg |
Wenn dir mein Beitrag gefällt, freue ich mich über deine Nachricht.
Herzlichen Dank und viele Grüße vom @faltermann 🐛
If you like my contribution, I am looking forward to your message.
Many thanks and greetings from Germany 🦋
🔴 SteeamPeak (Best user interface for the Steem Blockchain)🔴
🔴 SteemWorld 🔴
🔴 eSteem Search 🔴
🔴 Partiko mobile app 🔴