Kleiner Feuerfalter ■ Small copper
Lycaena phlaeas (Linnaeus, 1761)
Der kleine Feuerfalter ist ein Tagfalter aus der Familie der Bläulinge (Lycaenidae). Der Falter fliegt in bis zu vier Generationen und ist noch weit verbreitet. Das Weibchen legt seine Eier an sauren Ampferarten (Rumex spec.), von denen sich die Raupe ernähert. Die Generation im Herbst, überwintert als Raupe und verpuppt sich im darauf folgenden Frühling. Der Falter ist noch weit verbreitet und in seinem Bestand derzeit noch nicht gefährdet.
The small copper is a butterfly from the family of Lycaenidae. The butterfly flies in up to four generations and is still widespread. The female lays her eggs on sour dock species (Rumex spec.), from which the caterpillar feeds. The generation in autumn, hibernates as a caterpillar and pupates in the following spring. The butterfly is still widespread and its population is not yet endangered.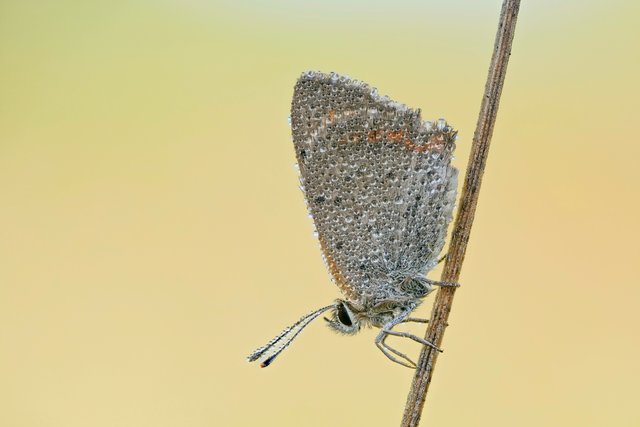 ▲ Click on the image for full resolution ▲
Die Ehrlichsgärten bei Kreuzwertheim, bieten mit ihrem Silikatboden eine reiche Flora und Fauna. Am vergangenen Sonntag bin ich am Morgen aufgebrochen, um in den Wiesen nach Schmetterlingen zu suchen. Schon nach wenigen Schritten hatte ich den ersten Tagfalter in der Wiese entdeckt. Er saß sehr schön an einem Halm und war mit Tautropfen überzogen. Als die Sonne auf den Falter schien erwachte er und breitet seine Flügel aus. Mein Geduld hat sich wieder ausgezahlt, denn meine Kamera war auf dem Stativ immer noch in Position um ihn auch mit offenen Flügeln zu fotografieren.
The Ehrlich Gardens near Kreuzwertheim offer a rich flora and fauna with their silicate soil. Last Sunday I left in the morning to look for butterflies in the meadows. After only a few steps I discovered the first butterfly in the meadow. It sat very nicely on a stalk and was covered with dew drops. When the sun shone on the butterfly he woke up and spread his wings. My patience paid off again, because my camera was still in position on the tripod to photograph him with open wings.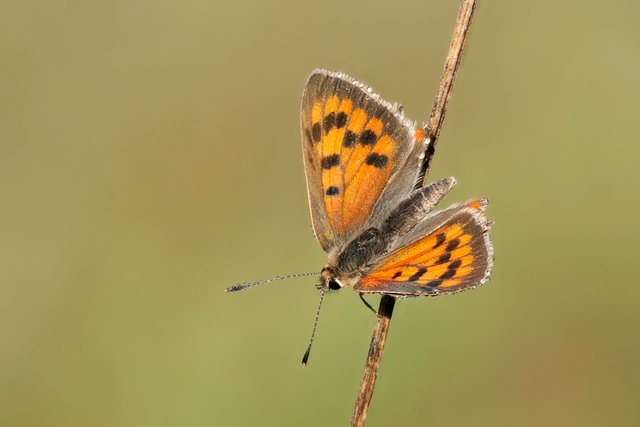 ▲ Click on the image for full resolution ▲
〰️
| | |
| --- | --- |
| Category: | Macro |
| Camera: | Panasonic Lumix DC-G9 |
| Lens: | Olympus M.Zuiko Digital ED 60mm 1: 2.8 Macro |
| Location: | Germany, Bavaria, Lower Franconia, Kreuzwertheim |
Wenn dir mein Beitrag gefällt, freue ich mich über deine Nachricht.
Herzlichen Dank und viele Grüße vom @faltermann 🐛
If you like my contribution, I am looking forward to your message.
Many thanks and greetings from Germany 🦋
🔴 SteeamPeak (Best user interface for the Steem Blockchain)🔴
🔴 SteemWorld 🔴
🔴 eSteem Search 🔴
🔴 Partiko mobile app 🔴