Felsenflechtenbär
Setina roscida (Denis & Schiffermüller, 1775)
Der Felsenflechtenbär ist ein Nachtfalter aus der Familie der Bärenspinner (Arctiinae). Am 19. Juli 2019 habe ich diese Raupe zwischen Steinen und Moos entdeckt. Für einen Tag hatte ich die Raupe in Untersuchungshaft genommen. Als mir von einem Experten bestätigt wurde, dass es sich um die Raupe des sehr seltenen Felsenflechtenbär handelt, habe ich sie wieder in ihr Habitat an die Fundstelle zurück gebracht. Die Raupe ernährt sich von Flechten auf Steinen. Bei der Raupe handelt es sich um die erste von zwei Generationen. Die zweite Generation überwintert als Raupe unter Steinen und verpuppt sich erst im nach dem Winter im Frühling. Eine Generation definiert den Zeitpunkt vom Ei bis zum adulten Schmetterling. Der Zeitraum dazwischen wird als Metamorphose bezeichnet.
The Setina roscida is a moth from the family of Arctiinae. On 19 July 2019 I discovered this caterpillar between rocks and moss. For one day I had taken the caterpillar into custody. When an expert confirmed to me that it was the caterpillar of the very rare Setina roscida moth. I brought it back to its habitat. The caterpillar feeds on lichens on stones. The caterpillar is the first of two generations. The second generation hibernates as a caterpillar under stones and pupates only after winter in spring. One generation defines the time from egg to adult moth. The period in between is called metamorphosis.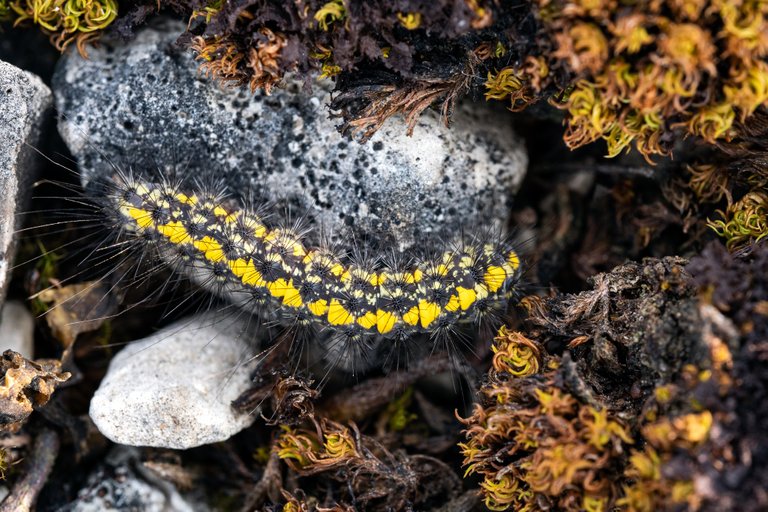 ▲ Click on the image for full resolution ▲
Gestern Abend war ich im gleichen Gebiet wieder unterwegs, um nach Schmetterlingen und Raubfliegen zu schauen. An der gleichen Stelle an der ich die Raupe im Sommer gefunden hatte, ist der nachfolgende Flechtenbär aufgeflogen. Ich habe vier Versuche gebraucht um ein Bild von dem kleinen Nachtfalter zu fotografieren. Die Bildgestaltung und weitere fotografischen Aspekte waren mir nicht wichtig. Ein Bildnachweis zur Artenbestimmung war mir am wichtigsten. Der Schmetterling ist in Deutschland sehr selten und wird auf der roten Liste unter Kategorie 1, vom aussterben bedroht eingestuft!
Yesterday evening I was in the same area again to look for butterflies and robber flies. At the same place where I found the caterpillar in summer, the following Setina roscida moth was discovered. It took me four attempts to take a picture of the little moth. The image design and other photographic aspects were not important to me. A picture proof for the species determination was most important to me. The butterfly is very rare in Germany and is classified on the red list under category 1, threatened with extinction!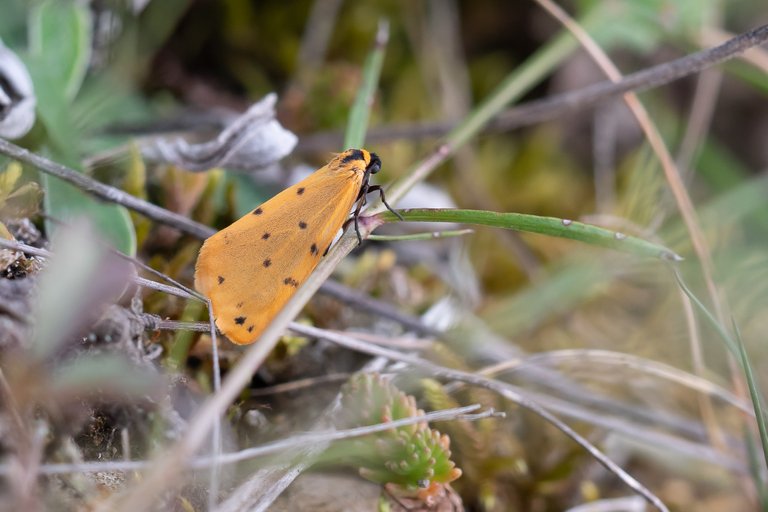 ▲ Click on the image for full resolution ▲
Wie ihr mich kennt, freue ich mich über jeden Schmetterling den ich in der Natur beobachten kann. Ein Habitat mit solch einer Rarität direkt vor meiner Haustüre zu haben, freut mich ganz besonders. Ich hoffe, dass ich den Falter auch in Zukunft nachweisen kann.
As you know me, I am happy about every butterfly I can observe in nature. To have a habitat with such a rarity directly in front of my front door, makes me especially happy. I hope that I can also prove this moth in the future.
〰️
| | |
| --- | --- |
| Category: | Macro |
| Camera: | Panasonic Lumix DC-G9 |
| Lens: | Olympus M.Zuiko Digital ED 60mm 1: 2.8 Macro |
| Location: | Germany, Bavaria, Lower Franconia, Bocksberg |
Wenn dir mein Beitrag gefällt, freue ich mich über deine Nachricht.
Herzlichen Dank und viele Grüße vom @faltermann 🐛
If you like my contribution, I am looking forward to your message.
Many thanks and greetings from Germany 🦋
🔴 SteeamPeak (Best user interface for the Steem Blockchain)🔴
🔴 SteemWorld 🔴
🔴 eSteem Search 🔴
🔴 Partiko mobile app 🔴