Labkrautschwärmer ■ Bedstraw hawk-moth
Hyles gallii (Rottemburg, 1775)
Der Labkrautschwärmer ist ein Nachtfalter aus der Familie der Schwärmer (Sphingidae). Er fliegt in Gebieten mit dem Vorkommen von Weidenröschen (Epilobium) und Labkrautarten (Gallium verum so wie Gallium mollugo). Dort legt das Weibchen seine grünen Eier einzeln ab. Der Falter ist relativ selten zu beobachten, da er weite Strecken fliegen kann. In der Dämmerung startet er zur Nahrungsaufnahme in die Nacht. Tagsüber sitzt er meistens gut getarnt vor Feinden in der Vegetation. Wird der Falter gestört, lässt er sich zu Boden fallen und krümmt sich. So kann er hüpfende Bewegungen erzeugen, die einen Angreifer verwirren. Dieses Verhalten kann man so bei keinem anderen Schwärmer beobachten.
The bedstraw hawk-moth is a moth of the Sphingidae family. It flies in areas with willowherbs (Epilobium) and bedstraws (Gallium verum as well as Gallium mollugo). There the female lays its green eggs individually. The moths are relatively rare to observe as they can fly long distances. At dusk it starts to feed at night. During the day it usually sits well camouflaged from enemies in the vegetation. If the moth is disturbed, it drops to the ground and bends. So it can produce jumping movements, which confuse an aggressor. One cannot observe this behavior so with any other Sphingidae.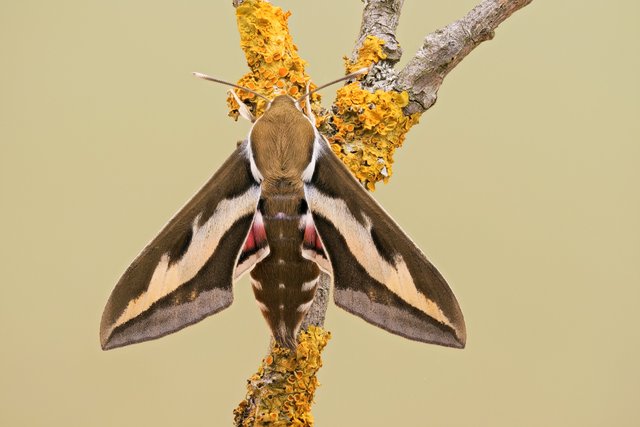 ▲ Click on the image for full resolution ▲
Mit seinem langen Saugrüssel der in ruhendem Zustand eingerollt ist, kann der der Falter wie ein Kolibri in der Luft stehend tief in Blütenkelche eindringen um Nektar zu saugen. Finden kann man Ihn überall dort, wo er ein reiches Angebot an Blüten und die Futterpflanze der Raupen ausreichend vorkommt.
With its long sucking trunk, which is rolled up when at rest, the moth can penetrate deep into the calyx like a hummingbird standing in the air to suck nectar. It can be found anywhere where there is a rich supply of flowers and caterpillars.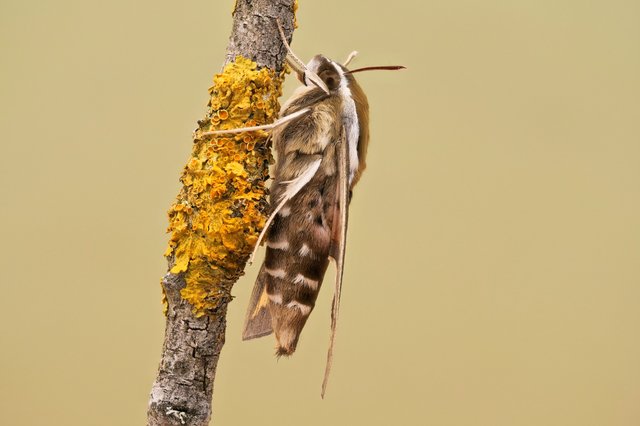 ▲ Click on the image for full resolution ▲
Nur die Hinterflügeloberseite trägt die rote Färbung. Die Flügelunterseite ist eher unscheinbar gefärbt. Bevor der Falter fliegen kann, muss er sich aufwärmen. Hierbei beginnt er mit den Flügeln zu vibrieren, bevor er zu seinem Flug in die Nacht startet.
Only the rear-wing-upper side carries the red coloring. The underside of the wings is rather inconspicuously coloured. Before the butterfly can fly, it must warm up. Here it begins to vibrate with the wings before it takes off for its flight into the night.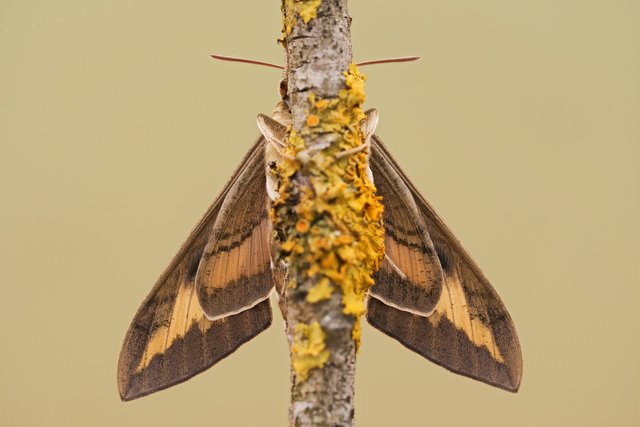 ▲ Click on the image for full resolution ▲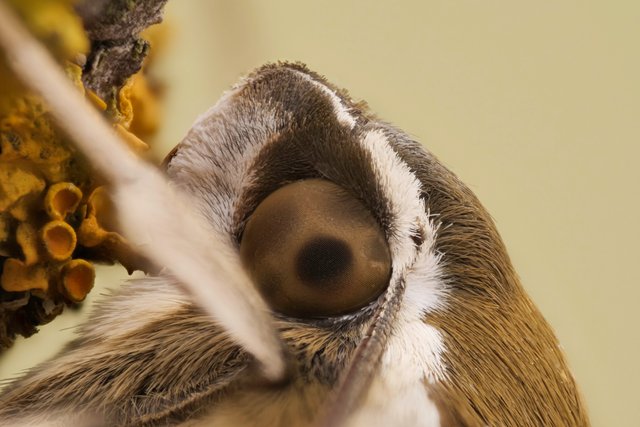 ▲ Click on the image for full resolution ▲
Die Raupen lieben saftiges Labkraut. Hier werden die Blüten der Pflanze noch vor den Blättern verzehrt. Die erwachsen Raupe erreicht eine Länge von bis zu 80 mm und ihre Haut ist weich und verletzlich. Das rote Analhorn schaut aus wie ein gefährlicher Stachel. Dieser ist jedoch weich und dient nur als Tarnung für Feinde. Nach der letzten Häutung wird die Raupe nervös und sucht sich einen geeigneten Platz zur Verpuppung.
The caterpillars love juicy bedstraw. Here the flowers of the plant are eaten before the leaves. The adult caterpillar reaches a length of up to 80 mm and its skin is soft and vulnerable. The red anal horn looks like a dangerous sting. However, this is soft and serves only as camouflage for enemies. After the last moult the caterpillar gets nervous and looks for a suitable place to pupate.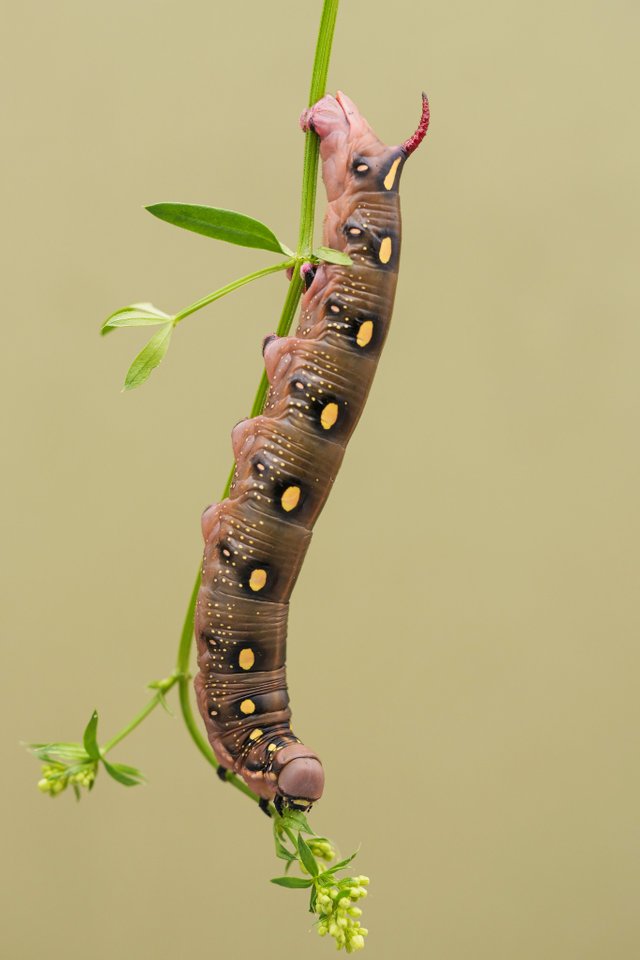 ▲ Click on the image for full resolution ▲
An geeigneter Stelle gräbt sich die Raupe mehrere Zentimeter ins Erdreich, um sich dort zu verpuppen. Nach zwei bis drei Wochen ist die Verpuppung abgeschlossen und die Puppe überwintert. Im folgenden Jahr Anfang Mai schlüpft der Falter und der Kreislauf der Metamorphose beginnt erneut.
At a suitable place, the caterpillar digs itself several centimetres into the ground in order to pupate there. After two to three weeks the pupation is finished and the pupa hibernates. In the following year at the beginning of May the moth hatches and the cycle of metamorphosis begins again.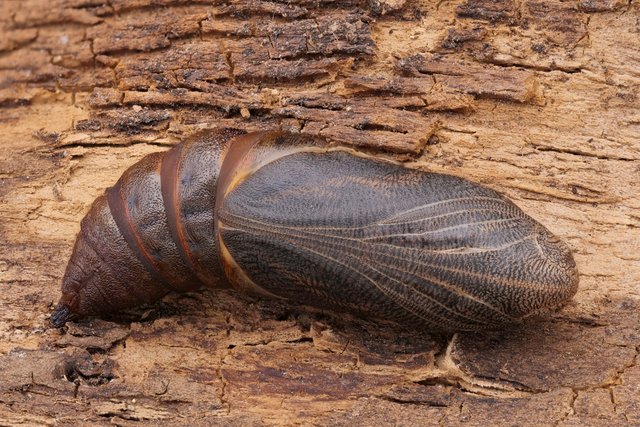 ▲ Click on the image for full resolution ▲
Sehr schön kann man an der Puppe den fertigen Falter erkennen. Die Flügel, der lange Saugrüssel in der Mitte und die Fühler sind deutlich sichtbar. Auch beiden Augen kann man gut erkennen. Manchmal bewegt sich der hintere Teil und damit wird klar, in der Puppe ist Leben, welches im nächsten Frühling als wunderschöner Nachtfalter erwacht und wie ein Kolibri von Blüte zu Blüte schwirrt.
One can recognize the finished moth very beautifully by the pupa. The wings, the long sucking trunk in the middle and the feelers are clearly visible. Also both eyes can be seen well. Sometimes the rear part moves and it becomes clear that there is life in the doll, which awakes next spring as a beautiful moth and buzzes from flower to flower like a hummingbird.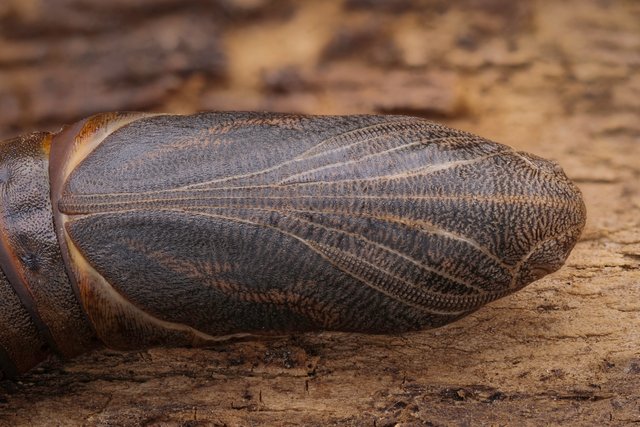 ▲ Click on the image for full resolution ▲
〰️
| | |
| --- | --- |
| Category: | Macro |
| Camera: | Panasonic Lumix DC-G9 |
| Lens: | Olympus M.Zuiko Digital ED 60mm 1: 2.8 Macro + Raynox DCR 250 |
| Location: | Germany, Bavaria, Lower Franconia, Kreuzwertheim |
Wenn dir mein Beitrag gefällt, freue ich mich über deine Nachricht.
Herzlichen Dank und viele Grüße vom @faltermann 🐛
If you like my contribution, I am looking forward to your message.
Many thanks and greetings from Germany 🦋
🔴 SteeamPeak (Best user interface for the Steem Blockchain)🔴
🔴 SteemWorld 🔴
🔴 eSteem Search 🔴
🔴 Partiko mobile app 🔴