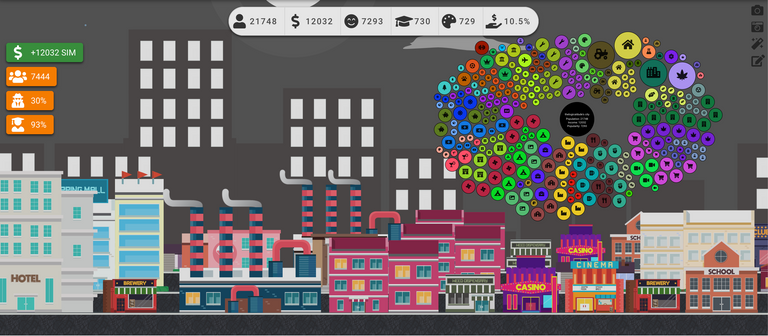 DCity.io at the moment is the only game I am playing actively. The reason for that is it is more than just a game, it is turning out to be a full scale virtual business! Being that it is a numbers game, I have been working hard at finding a balance in the cards I have been purchasing. For a while, I was randomly minting cards, but finding that I can find better deals out there on the markets in some cases, in others I have lucked up and minted some valuable cards for very little.
At one point in time I was in the top 80 cities, but if you don't basically put in daily investments, you won't stay at the top for long, lol. So I have fallen back into the 110-115 range, but that's okay, it's not all about the ranking in my opinion. For me it's all about that sweet passive income!
DCity has been an awesome source for passive income for my business. It is currently paying my server bills and helping to fund the rest of my business ventures like @hivelist and has also helped with some of the seed funding for my upcoming @hivehustlers purchase!
As of now, I don't really get into the governance and politics, but I may get into that part this year as well. I just need to not sell all my SIM, lol, but it's hard, lol, even if it's just putting it all back into the city.
So today I made a pretty sizable investment, for me at least, into my DCity bringing the population over 21k from 19k and bringing my SIM daily income up from around 9k to over 12k! That's a sizable bump for sure! Now I know that will fluctuate with the taxes and all, but I am happy with what I am working with. I just wish I could kill off my unemployment issue, but it seems like it is a never ending struggle, lol.
My 2021 goal is to be able to get up to the amount of daily SIM income that will yield me 100 Hive a day! Considering I am over half way there, it's not too bad of a stretch!
With the income of the DCity, I plan on taking a quarter of it and reinvesting into the city for growth and keeping some for governance, the second quarter of it will be split and sent to the @hivelist and @hivehustlers accounts for powering up stake or any other needed uses, the third quarter will go to @thelogicaldude account for powering up stake or or any other needed uses, and the last portion will go out to pay for server bills. This will get split up daily.
I feel that this will give me a good budget to help continue to build these accounts and help my business be more reliant on crypto and less reliant on USD income!
Anyway, was just messing with my city and felt like sharing an update!
Be Cool, Be Real, and Abide!