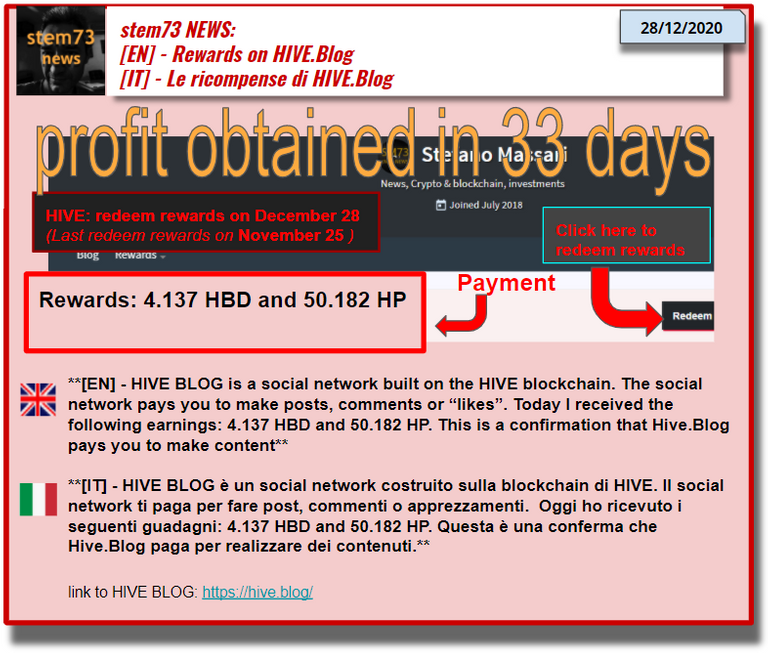 [EN] - HIVE BLOG is a social network built on the HIVE blockchain. The social network pays you to make posts, comments or "likes". Today I received the following earnings: 4.137 HBD and 50.182 HP. This is a confirmation that Hive.Blog pays you to make content
[IT] - HIVE BLOG è un social network costruito sulla blockchain di HIVE. Il social network ti paga per fare post, commenti o apprezzamenti. Oggi ho ricevuto i seguenti guadagni: 4.137 HBD and 50.182 HP. Questa è una conferma che Hive.Blog paga per realizzare dei contenuti.
link to HIVE BLOG: https://hive.blog/
[EN] - My opinion
HIVE is a blockchain created to build a favorable environment for the creation of decentralized applications dedicated to media. The blockchain is already fully functional and there are already many applications within it. We can find applications such as PEAKD (social network with an easy to use interface), HIVE.Blog (social network), Splinterlands (collectible card game), Ecency (mobile application for blogging, commenting and rewarding the users we follow) 3Speak ( platform for sharing videos), etc ... etc ... Using all these applications we can get rewards and our time is paid off. While with the classic applications that many still use, time is totally wasted, with HIVE the opposite happens. HIVE is a blockchain ready for WEB 3.0. WEB 3.0 will be an inevitable transformation for the internet, so in my opinion decentralized applications based on social media will spread as well. I personally believe that this thing will happen with certainty. The HIVE blockchain was born in March 2020 and already has a good amount of users. The coins that regulate the HIVE system are 2: HIVE and HBD (Hive Based Dollar). To date, the value of 1 HIVE is equal to $ 0.11, but who knows how much it will be worth in 3 years. I believe that the value of this coin will increase in the future, but this is my opinion and I want to clarify that I am not a financial promoter. Mine is not investment advice.
[IT] - Considerazioni personali
HIVE è un blockchain creata per costruire un ambiente favorevole per la realizzazione di applicazioni decentralizzate dedicate ai media. La blockchain è già pienamente funzionante ed al suo interno si trovano già molte applicazioni. Possiamo trovare applicazioni come PEAKD (social network con un interfaccia di facile utilizzo), HIVE.Blog (social network), Splinterlands (gioco di carte collezionabili), Ecency (applicazione mobile per fare blogging, commentare e premiare gli utenti che seguiamo) 3Speak (piattaforma per la condivisione dei video), ecc...ecc… Usando tutte queste applicazioni possiamo ottenere delle ricompense ed il nostro tempo viene ripagato. Mentre con le applicazione classiche che ancora molti usano, il tempo viene totalmente sprecato, con HIVE succede il contrario. HIVE è una blockchain già pronta per il WEB 3.0. Il WEB 3.0 sarà una trasformazione inevitabile per internet, quindi a mio avviso le applicazioni decentralizzate basate sui social media si diffonderanno a loro volta. Personalmente ritengo che questa cosa accadrà con certezza. La blockchain di HIVE è nata a Marzo del 2020 ed ha già una buona quantità di utenti. Le monete che regolano il sistema di HIVE sono 2: HIVE e HBD(Hive Based Dollar). Ad oggi il valore di 1 HIVE è uguale ad 0,11 $, ma chissà quanto varrà tra 3 anni. Io credo che il valore di questa moneta aumenterà in futuro, ma questa è la mia opinione e ci tengo a precisare che non sono un promotore finanziario. Il mio non è un consiglio all'investimento.