Not too far from Suwon in the Hwaseong area is one of the chief temple complexes of the Jogye Order of Korean Buddhism called Yongjusa.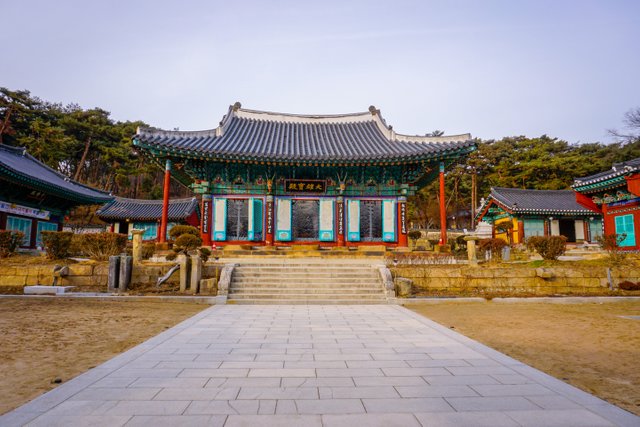 This is the main hall which was built when the temple was restored in the 1790s
For those of you unfamiliar with Korean Buddism, Jogye is the main type of traditional Korean Buddhism dating back to the later ancient Shilla dynasty around 1200 years ago. It was the first 'native' form of Buddhism in the country.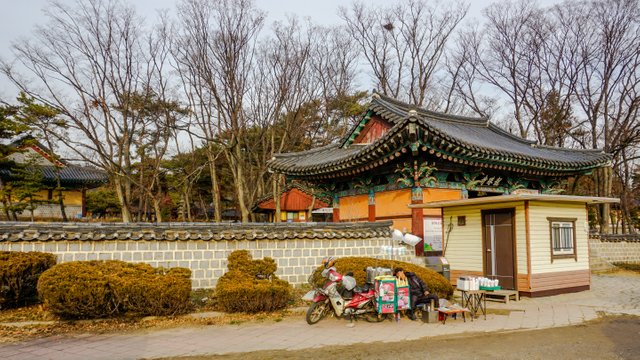 This is the outer wall of the temple. I like the dude selling stuff with his motorbike. He has quite a variety of stuff for such a small mobile set up.
Yongjusa Temple was said to be founded around 854CE and originally called Garyangsa. This would make it one of the older temples in this part of the country (the oldest ones are in the South and nowhere near Seoul.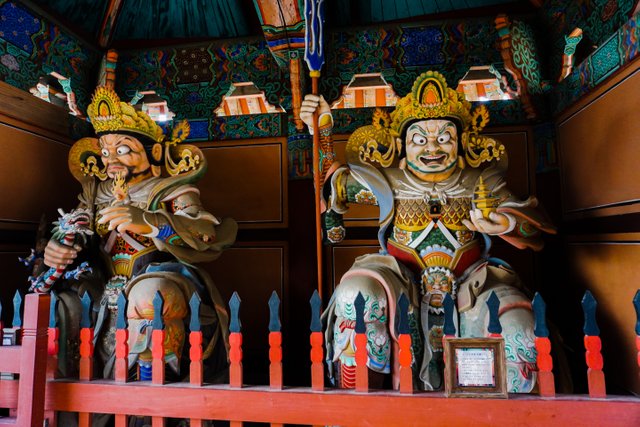 There are actually four of these guys, but these two were my favourites. I only ever see them at important Buddhist Temples.
Another reason why this temple is famous is because it was restored in the 1790s after being destroyed in the 1660s by Manchu invaders by King Jeong Jo. It was renamed Yongjusa at that time and dedicated to the memory of Crown Prince Sado, who was executed by his father, King YeongJo. I mentioned before that King JeongJo built Hwaseong Fortress and spent much of his life trying to honour and avenge his father's legacy.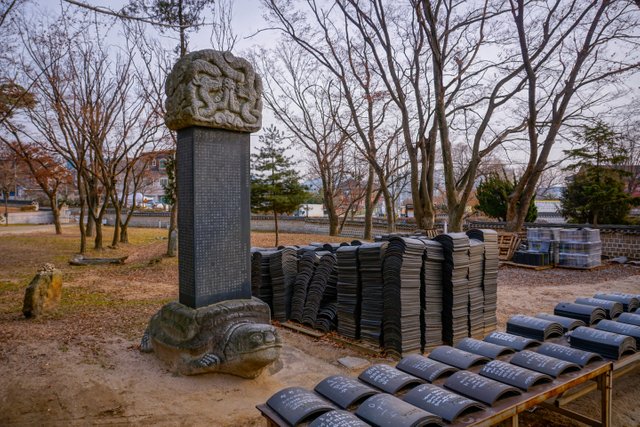 You can purchase a tile for use in the roof and write your message which will be on its underside. This is common at many temples.
Actually, another unique thing about this temple is how close it was to the royal Joseon family. They practiced Confucianism and left Buddism to the lower classes. However, by the 1790s, King Jeongjo was starting to change that because of reforms.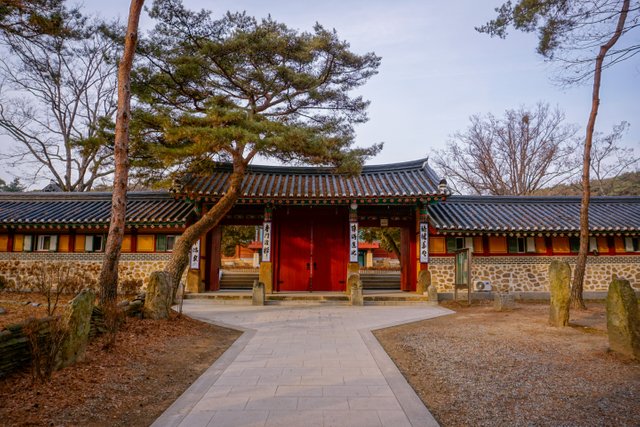 This is the main gate to the inner temple grounds. One thing you may notice is the standing stones. My guess is these are actually ancient and from the original 1200-year-old temple. They look extremely worn out and it's just not a common site at newer temples.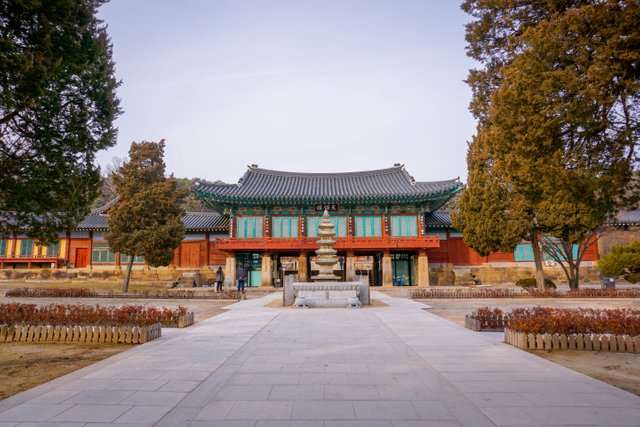 As we get inside the temple, things start to look a lot more like the modern Buddist Temple designs. Although this temple lacks giant Buddha statues, it does have small ones inside some of the buildings. I didn't really wander in though.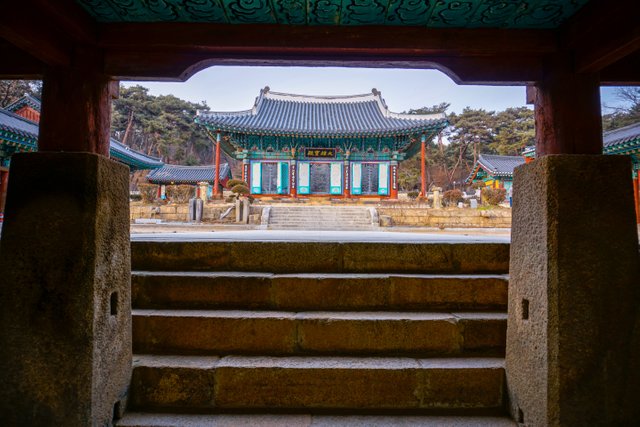 *I am pretty sure the niche in this building's ceiling was designed to avoid obstructing the roof.
Actually, the more I think about this temple, the more I realize, you can tell that it is a little odd. Having been built by the royal family, it incorporates designs that may not be so common in other Buddhist temples. This temple is around 12km from Hwaseong Fortress and Hwaseong fortress is around 30km from Seoul. Back in the day, this would have been a decent trek for a king who was probably carried around (riding horses was below them).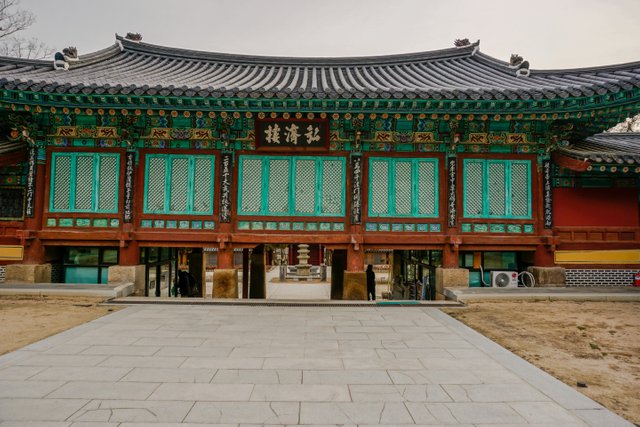 I'm guessing since this temple was frequented by the Joseon King, it had to be built for a king. He may have even spent the night here as a 24km round trip back to his country palace in Suwon would have been kind of far to travel in one day after all the ceremony.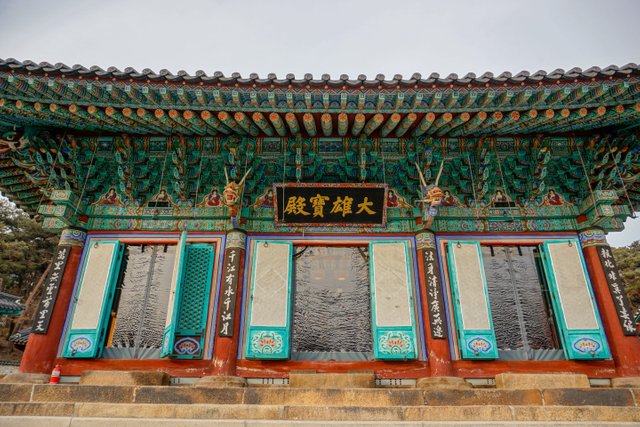 The details on the temples never cease to amaze me. Please mind the plastic screens as it is winter and this is an active temple, so they want to keep the inside somewhat warmer.
As far as I know, the 1790s era buildings survived until modern times. However, I'm sure they suffered minor damage over the ages. They were obviously repaired and repainted a lot. However, there are some original treasures in a museum next door that I didn't go into.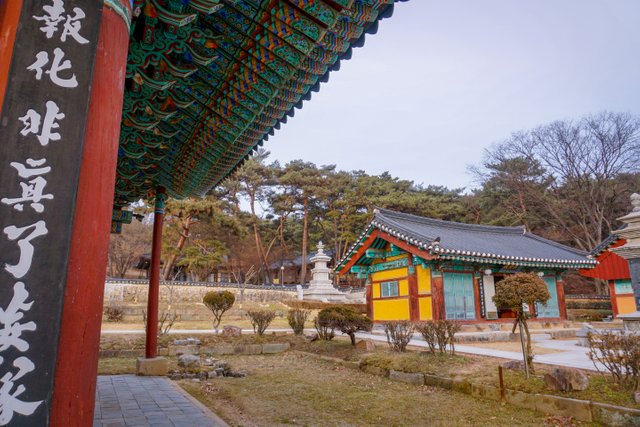 There are several other shrines and buildings in the temple. I was reading the names and minor details on the pamphlet I received at the entrance. There is also some more information on Wikipedia: https://en.wikipedia.org/wiki/Yongjusa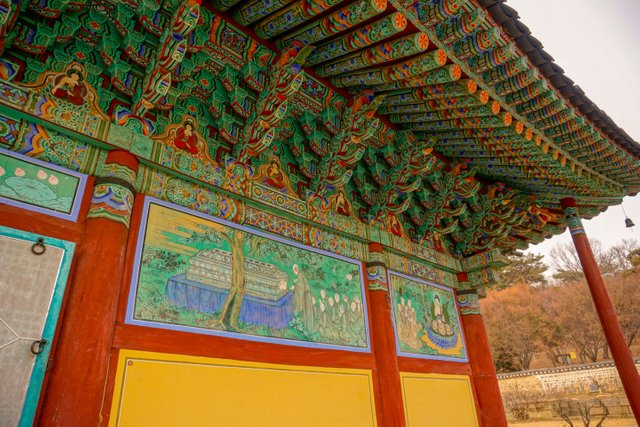 The details here are stunning. If you notice all the pictures of the budda are different which means they are handpainted.
Actually, researching this temple was confusing. All articles I came across in English had conflicting information. The local worshippers want the temple to be as important as possible. Also, some people just can't translate or convert numbers well. For example, the temple was said to be founded in 854CE (Shilla), however, it didn't become popular until 1000CE (Goryeo). Also, when it was rebuilt in 1790CE(Joseon). It's construction period spanned 3 dynasties, it's hard to keep accurate records.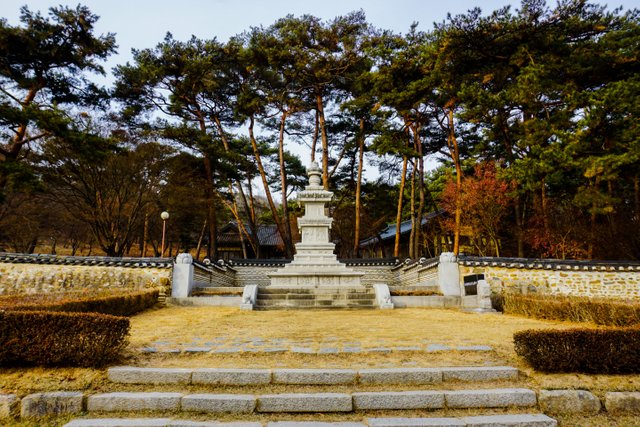 This shrine is obviously much more modern. I think it was built when an important monk died around 2005. You can tell it isn't old because of how white the stones are. Also, there are some more modern aspects of Buddhist art worked into it. The wall surrounding it is neat though and you can notice it changes brick style 4 or 5 times which tells how often it was rebuilt.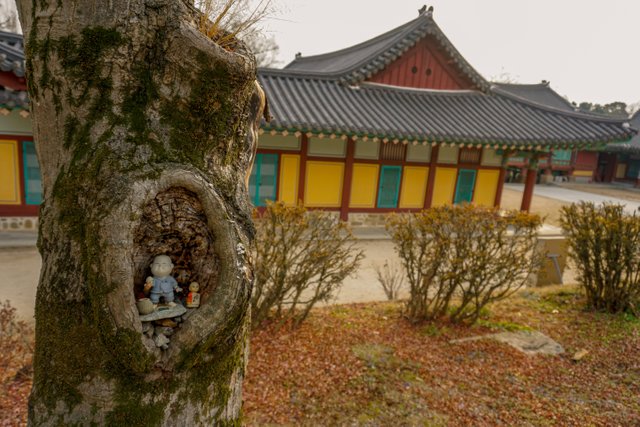 I just thought these little guys in the tree were neat.
The care and attention to detail in temples are amazing. Actually, this temple is used by a lot of people and isn't just a tourist temple like some of the others. There is a head office across the street from here and facilities for people who want to do Temple Stay. You can tell it is active by the Korean language website.

There is nothing special about this roof I just like it. I guess people have their names written underneath these tiles
The English website mentions Temple Stays. I noticed some of the facilities would enable this sort of activity. I've never done a temple stay. A night where I can't eat meat, have sex, drink alcohol or smoke even if I want to sound miserable. Also, people have to bow a lot and wake up at ungodly hours and chant. Even though it probably is good for the spirit and soul, it's just not my cup of tea.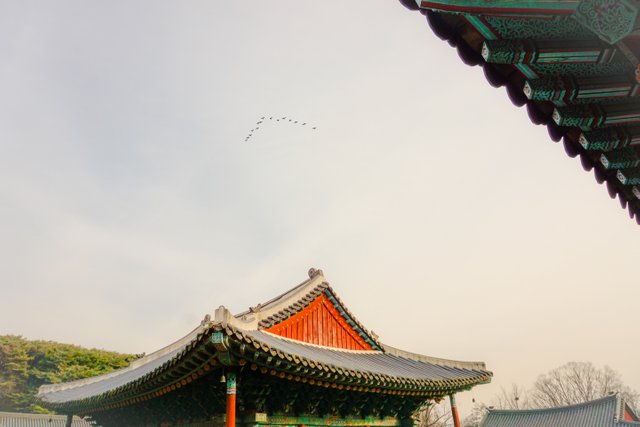 The weather has been very weird this winter and birds are flying in every direction. The river hasn't even frozen over yet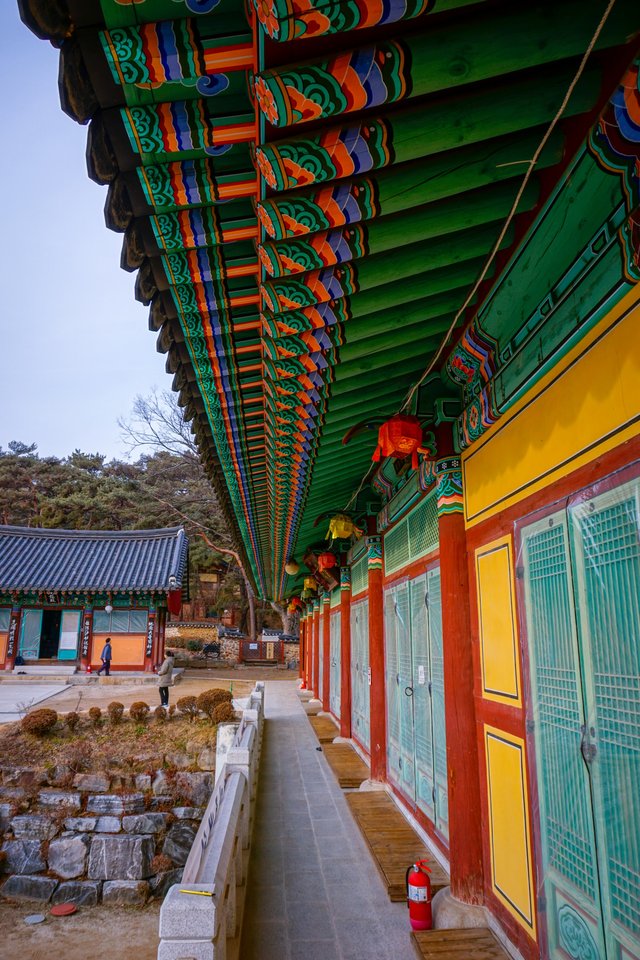 This building to the right is a modern temple facility. I imagine on a busy day there are lots of people chanting inside. I just like the long eaves.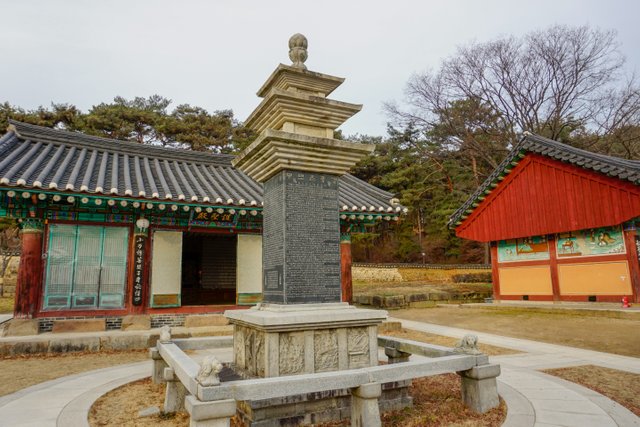 Now we are getting back to some more historical stuff. This temple is most famous for having some writing by King JeongJo offering praises of filial piety to his parents. Those used to be stored in this building I believe, but now they are in the more modern building. The king called the temple Yongjusa because he dreamed of a dragon clutching a large ball in its mouth.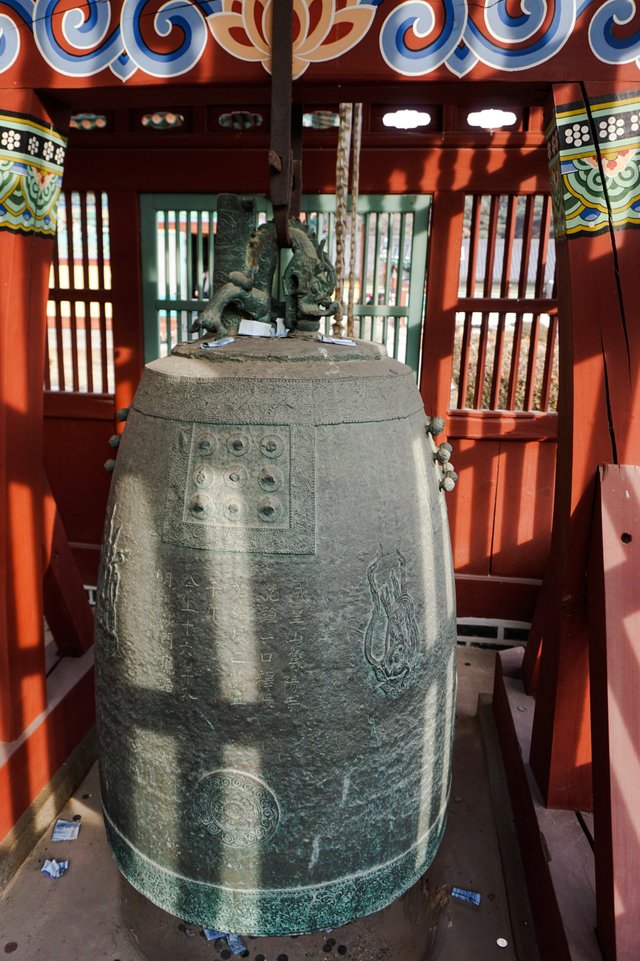 Here is the famous BeomJongGak Bell. I had to peak into the belfry to take this picture. The hanger for the bell is shaped like a dragon clutching a ball in its mouth. This bronze bell weighs 1.5 tons. However, some sources (Wikipedia) incorrectly say it weighs 15 tons.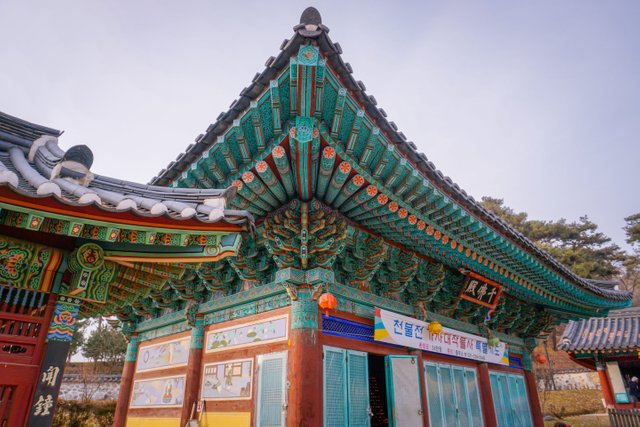 The corner looks striking, the bell is in the building to the left
I did the math it's less 0.9 cubic meters (diameter 87cm, height 144cm), A solid cubic meter of bronze weighs under 10 tons. Bells are hollow inside, the walls are only 6cm thick. I trust this source. Also, the bell was said to be built in 854 according to markings added to the bell in the 1790s. However, Shilla era bells didn't look like this, but Goryeo bells did.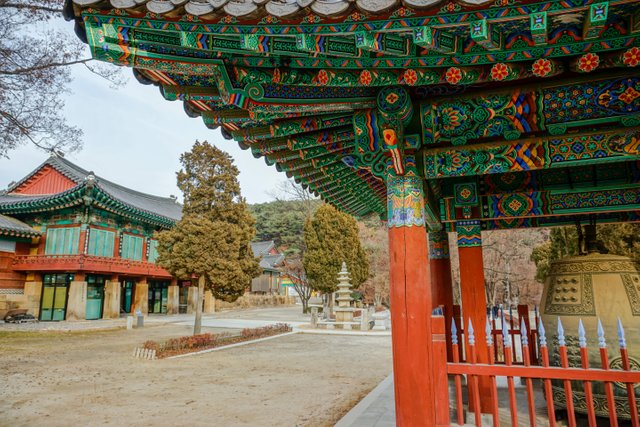 This is a much more modern reconstruction of the bell to the right. Notice how it is bronze colour and not greenish-black.
In any case, the original bell is probably 800~1000 years old, rather than the 1200 years old. It was probably restored in the 1790s. It's actually still a really old bell and considered national treasure 120 of Korea.
---
I think I will come back to this temple in the spring and visit the nearby tomb of the King and his father on the other side of the hill. I wrote about Yung-Geolleung Tombs before, here.
Tweet: https://twitter.com/abitskeptic/status/1217792426569396225
#posh #oc #yongjusa