There is a memorial for French Veterans of the Korean War in Suwon. It is dedicated to the honour of the French UN forces who gave their lives in an often overlooked struggle far away from home. They fought to uphold human rights and decency against the tyranny of some of the worst authoritarian regimes in history. Their sacrifice made while volunteering to protect the freedom and liberty of Koreans continues to deserve remembrance and respect.
I've written about the Korean War Memorial in Seoul and the UN Cemetery in Busan before and I'm quite familiar with the topic. It's something that can be difficult to avoid in Korea because it happened within living history and the scars are still very present to this day. Although the Korean war was fought from June 25, 1950, to July 27, 1953, it was a complex and ultimately inconclusive war. The Korean division and the Korean conflict persist to this day.
I promise I will get into French involvement during the Korean War, but first I will cover a few of my favourite quotes and the current status of the Korean conflict.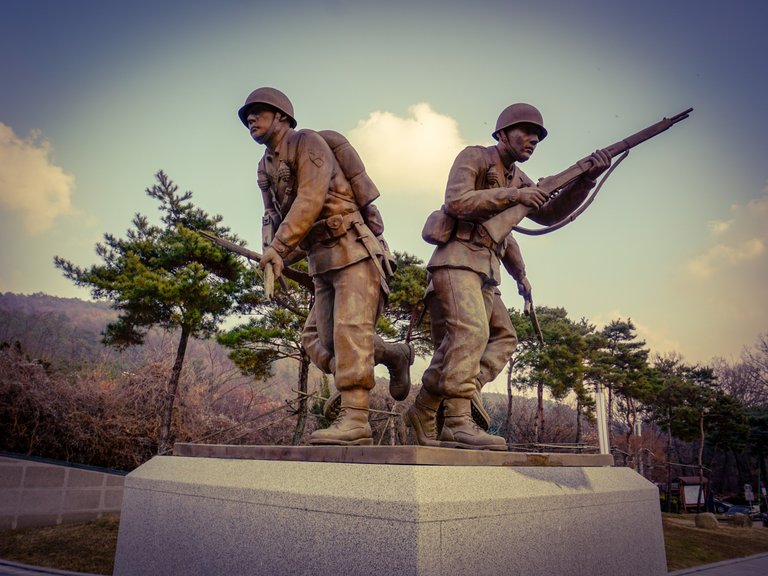 These French soldiers were depicted wearing their combat uniforms. Pretty much all combat uniforms were issued by the US Army.
Sixty-nine years ago, 1.95 million young people from 22 countries around the world rushed to the Republic of Korea when the War broke out. [...]
Now, the Republic of Korea has risen from the ruins of the War to become an economic powerhouse that ranks 6th in the world in terms of exports and boasts a per capita income exceeding US$30,000. Korea turned itself from an aid recipient to a donor country that helps people suffering from war, disease, underdevelopment and poverty.
The Republic of Korea will always remember the devotion of the 1.95 million heroes who came together under the U.N. flag. We will build a country that brings peace and prosperity to the people of the world who sacrificed their lives for freedom.
~ Moon Jae In ~ Current President of Korea ~ June 24, 2019 ~ Opening Remarks at the Blue House Luncheon for Korean War Veterans
I remember the coverage of this event in the media (and on Twitter) well as it happened just last year. It was only a few months after the failed February meeting between President Trump and Supreme Leader Kim Jeong Un in Hanoi. At that time, my spirits and dreams of true and lasting peace in Korea were pretty crushed. Despite announcements throughout 2018 to finally make peace and work towards reconciliation, North Korea had launched missiles twice in May 2019.
However, my hopes returned only a week after that luncheon on June 30, 2019, when President Trump, President Moon and Supreme Leader Kim met together at the DMZ, making history. Sadly, this didn't last as additional peace talks failed, no important meetings happened and lots of missiles have been launched including a few earlier this current week. Fortunately, things haven't really gotten worse and we didn't get our spectacular 'Christmas' present. I say it rather skeptically, but cool heads have thankfully prevailed against all odds.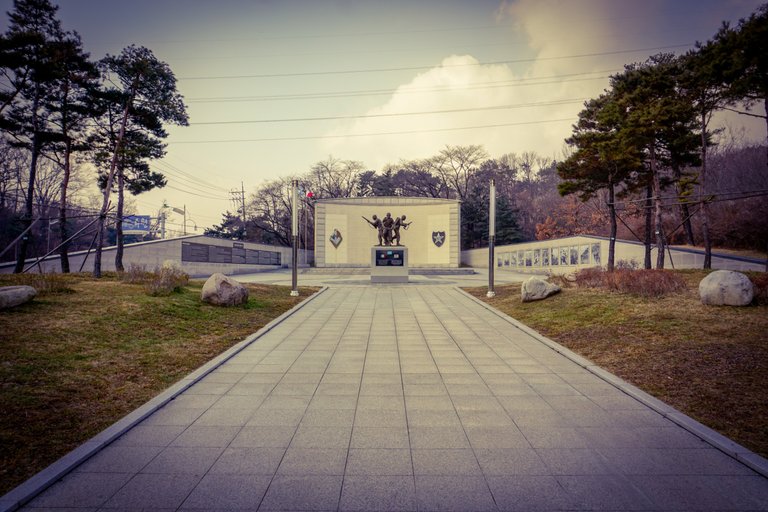 Here is a view of the French memorial (프랑스군참전기념비) from a little further away, like most smaller war memorials, it's rarely busy except on important days.
Of the nations of the world, Korea alone, up to now, is the sole one which has risked its all against communism. The magnificence of the courage and fortitude of the Korean people defies description.
They have chosen to risk death rather than slavery. Their last words to me were: "Don't scuttle the Pacific!"
I have just left your fighting sons in Korea. They have met all tests there, and I can report to you without reservation that they are splendid in every way.
~ Douglas MacArthur ~ General of the Army of the United States of America ~ April 19, 1951 ~ Farewell Address to Congress
Douglas McArthur is one of the most famous generals of the 20th century and the above quote is taken from one of my favourite speeches during the Korean war when it was at a near stalemate roughly along the DMZ. Unlike many famous military speeches, it's not a victory speech, battle cry, surrender, or even a legal defence or apology. He was retired and saying goodbye.
One of the most impactful sentences from that speech is: "I know war as few other men now living know it, and nothing to me is more revolting." To provide a little more context, he had been talking about dropping dozens of nuclear bombs in Manchuria and other targets in the far East only weeks before, but was against the nuclear bombing of Japan 6 years earlier.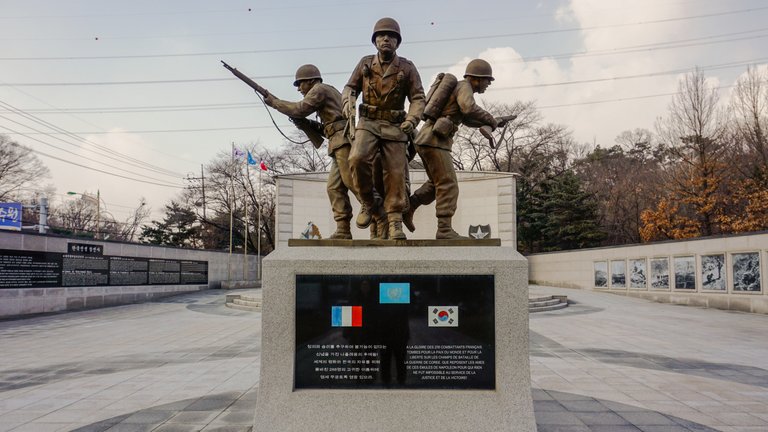 Here is the full view of the statue, you probably notice the UN, South Korea and France Flags. If you look closer you may notice the text is a little different. The French version says 270 deaths while the Korean version says 288.
Sixty years ago, at dawn on June 25, the Korean War broke out when Communist North Korea invaded the Republic of Korea. In response, 16 member countries of the United Nations, including the United States, joined with the Republic of Korea to defend freedom. Over the next three years of fighting, about 37,000 Americans lost their lives. They fought for the freedom of Koreans they did not even know, and thanks to their sacrifices, the peace and democracy of the republic were protected.
~ Lee Myung Bak ~ Former President of Korea ~ JUNE 25, 2010 ~ From South Korea, a note of thanks
Although Mr. Lee was a very controversial president (he is desperately trying to avoid an extended retirement in prison), I do think his speech on the 60th anniversary of the outbreak of the Korea War was incredibly touching and the full text linked above is definitely worth a read (as is the text of the ithers quoted). In this case, the last sentence is particularly touching. He goes on to talk about how poor Korea was and how rich they became in the meantime, From an annual GDP/capita of 40$ to OECD and G20 member (this president was obsessed with money). By any measure, this is phenomenal growth.
However, at the time and during the past 60 years, development hasn't always been easy for Korea. Korea is still divided and the struggle to get where they are today was not easy for the people enduring it.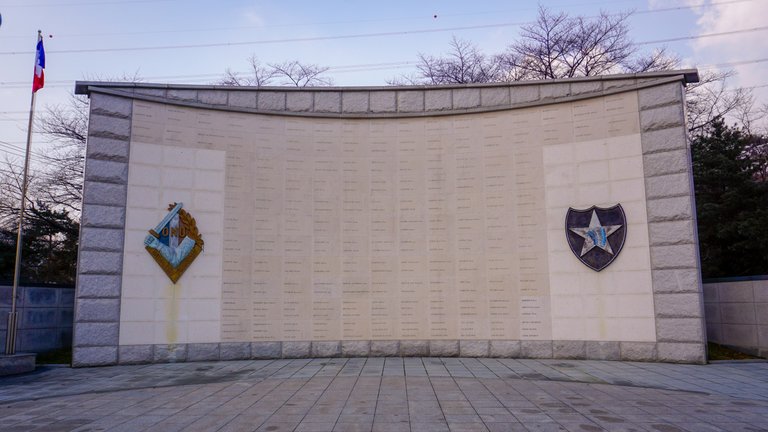 Here is the entire wall of remembrance. There are 288 names on the wall. 270 are French and 18 belong to their Korean brothers in arms who fought beside them on the battlefields.
The 70th anniversary of the outbreak of the Korean War
In about 3 months on June 25, 2020 it will be the 70th anniversary of the Korean War. 70 years ago, North Koreans invaded and tried to destroy South Korea. I really don't want to give a history lesson (this post is already getting long), so read about it on wikipedia.
However, regarding the 70th, anniversary. I don't think I'm alone when I say enough is enough, end it please. The amount of understanding and trust-building that has gone on between the two Koreas and America is enough to drive anyone mad. To say we are going in circles is an understatement. Some people may ask why is America involved? Well, not only is the history of the division of Korea really complicated (and deeply involvex Russia and Japan at times and still very much China to this day), but there is also the issue of the UN Command.
Therefore the dissolution of the unified command does not fall within the responsibility of any United Nations organ but is a matter within the competence of the Government of the United States.
The UN has said it isn't responsible for UN involvement in Korea. If you want a thoroughly confusing explanation, read the actual source.
We had our hopes of a peace treaty shattered in 2018 and 2019, despite all the superficial progress. To be honest, I don't expect a lot to happen in the next 3 months. Currently, there is a Coronavirus outbreak so face to face talks are unlikely. South Korea has an election in Mid-April and America has an election in the Fall. Hopefully, there will be another lovely and inspiring speech.
Well, since we know it's probably not going to be resolved without a miracle happening, let's get on to the French involvement.

This wall explains a little about some of the important battles the French soldiers were involved in during the Korean War.
French Involvement in the Korean War
I actually don't know much about France or it's involvement in the Korean War. I studied French while I was a student in Canada and almost minored in it at university. But I've only been in France once and that was a 90-minute layover at DeGaulle Airport (Yes it counts :P). I got most of my information for French Participation in the Korea War from reading that sign (I still know enough and I know Korean, too), from various media sources and from Wikipedia.
The French fought in several battles in Gangwando Providence, however, the Battle of the Twin Tunnels and the Battle of Chipyong-ni were the ones where French soldiers made up a significant portion of the fighters. These two (along with 1 other) are said to be turning points during the stalemate period of the Korean War (the landing of Incheon was a decisive turning point).
At the battle of the Twin Tunnels around 3000 American and French soldiers fought unknown hordes of Chinese Soldiers during a 2 month period. On a single day of particularly fierce fighting, 50 of the UN forces were either MIA or KIA and somewhere between 1600 and 3600 Chinese soldiers were lost.
After, the battle of Chipyong Ri happened which along with the 3rd Wonju Battle (France was involved in 1 and 2) is referred to as the Gettysburg of the Korean War. For those who don't know, this means the battle was tremendously fierce and there were a lot of casualties. "Casualties on the UN side of the conflict were 51 killed, 250 wounded, and 42 missing. The Chinese lost approximately 1,000 killed and 2,000 wounded."
Although I've heard some pretty awful things said about France during WW2 (I don't agree with most of it), during the Korean War they definitely fought hard and earned respect from their allies. During the early 1950s, France was a socialist country recovering from a terrible occupation during WW2. On the global front, they were losing what little of their empire remained. They were even fighting colonial wars in Algeria and Indochina (Cambodia, Vietnam and Laos).
Despite all this, it was pretty amazing that 1,017 - 1185 (sources really vary) French soldiers volunteered given the state their country was in at the time. Further, given that 270 didn't come home the death rate was alarmingly high for a modern army (the Korean War was really devastating). It goes to show the absolute courage and devotion these men had to join a cause based on standing up for what they believe is right.

Here are some pictures on the opposite side of the monument. I like this direction better because it looks towards the mountains
About the Monument
The most comprehensive source I could find on French involvement is in a PDF file available here. Fortunately, it also contains a few notes about various monuments including the one I visited in Suwon.
Other French "places of memory" [42] exist in Korea, and especially the French monument in Suwŏn, devoted to the memory of the 288 men killed in action, including the 18 missing in action, both Frenchmen and South Korean KATUSA [43] attached to the battalion. The memorial was constructed in October 1974 by the South Korean Ministry of Defense, "in tribute to and in memory of the French armies who came here as the crusaders of justice, to protect the security and freedom, made remarkable military gains, and died in the Korean War" [44]. Though the monument was restored in 2001 and developed as a memorial combining French and Korean cultures, it is deteriorating quickly, but had been renewed for the 60th anniversary of the Korean War. It is, however, used only once or twice a year for ceremonies.
Full Source: Quisefit, Laurent. (2013). The French Participation in the Korean War and the Establishment of a "Path of Memory" in South Korea. Societies. 3. 10.3390/soc3040427.
Suwon is nowhere near Gangwondo or Wonju where the French did most of their fighting, so it may seem like an odd place for a memorial. However, I did read that after French Troops arrived in Busan, they regrouped in Suwon before going into battle. Whether true or not, I would like to think it is the last place where all the French soldiers felt safely together.
In Living Memory
The reason I'm attached to this topic is that I read so much about it. I don't think I will ever be able to fully understand what went through the minds of these volunteers. After the horrors of WW2 were exposed, and fully knowing the savagery of Stalin's USSR and Mao's China, the absolute bravery that would have required someone to volunteer to fight these combined forces of evil is truly inspiring.
From time to time, I read stories about the Korean War Veterans passing away peacefully in their home counties and requesting to be buried with their fallen brothers in a foreign country. Clearly their experience impacted them so much to make these requests after decades long past.
Here is the story of Andre Belaval, a French Veteran who died in 2015 and was buried at the UN Cemetry in Busan.
And here is the story of Jean le Houx, another French Veteran who died in 2016 and was buried near another French memorial inside the DMZ.

I think I will go and visit the memorial around the 25th of June this year for the 70th anniversary. I pass by it nearly daily and it is usually empty, but hopefully never forgotten.