...this post was made for @kingscrown's contest and you can also join by clicking this link - https://steemit.com/steem/@kingscrown/win-share-of-3000-excl-contest-no-9. You still have 3-4 days to write something about EXCL or trade some EXCL on the exchanges for a chance to win. I think the prizes are really good so you should really try to make something.
---
EXCL is a shortcut for Exclusive Coin. It's a fast private coin that is still going pretty strong even after many years. You
can trade EXCL on many different exchanges and it's offered in many popular crypto wallets.
Just seeing the chart there's not much to say.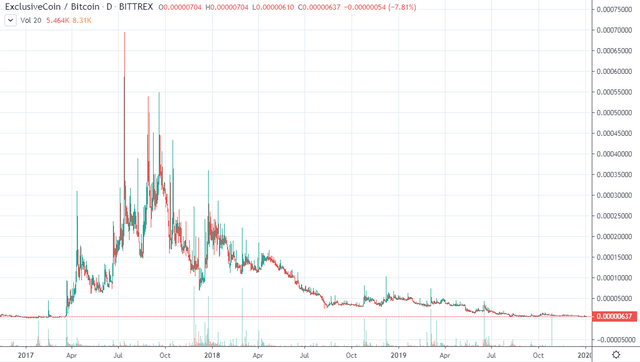 The price of EXCL is at prices before the big 2017 pump. That means there is so much potential for this coin to go up. It's kind of interesting that the market cap of EXCL is so low when the coin is working. I don't think the current market cap of about 300000$ is correct for a coin like this.

It's hard to tell why the coin is so low in price. Maybe it's because there are better privacy coins above EXCL so this coin is being pushed down just because people don't know about it.
I would say that the market cap is so low it makes sense to buy just a little bit for a chance to hit big again.
We will see!