9-26-2019
A Small Beach Stroll
Seems like it has been weeks for any nice weather for us. For the past couple of months either overcast, with occasional rain, or very smokey from the Swan Lake Fire. Today was a nice day, very few clouds in the sky, and no smoke. The fire is pretty much out now thanks to the person that started it, Mother Nature. A stray lightening way back in early June, and for the last week a lot of rain. A lot of leaves are on the ground right now, last night we had some pretty good howling banshee winds, strong enough to occasionally shake the house.
So today we went to the beach at Clam Gulch. I have shown the beach in a couple of post, but there are always new eyes on post, and these are new pictures taken today, off-loaded from the camera today, and edited today. So they are all new.
Clam Gulch Creek: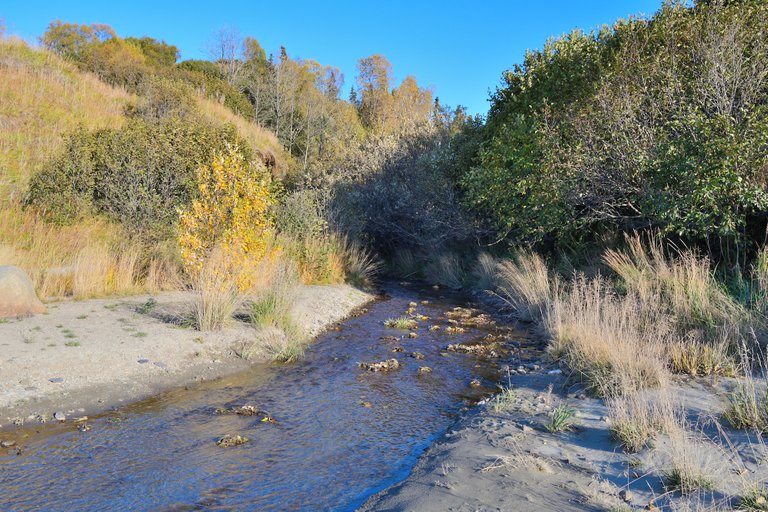 It seems that every time we come to this beach I am always attracted to this little creek outlet area. I am not sure the official name is Clam Gulch Creek, but since it runs into Clam Gulch Beach, that is what I call it. I like how the view vanishes pretty quickly when you look up the creek. A mystery, where did the creek come from, what is up the creek? is there someone up the creek with out a paddle? Just silly questions and thoughts when I look into the maw of the creek.
The Bluff Dune: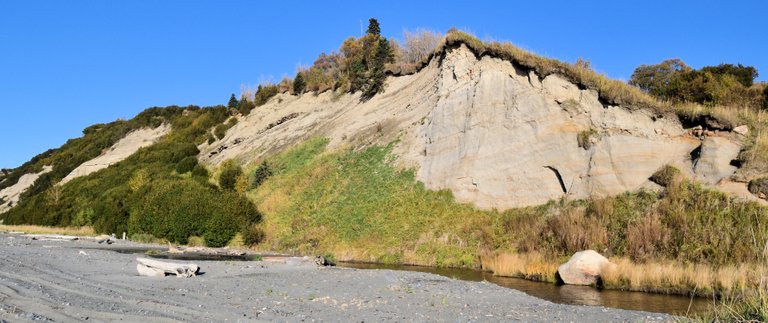 At the top of that bluff area is where the campground sits. Looking at that bluff face I am not sure I would want to be up there during an earthquake. It looks pretty crumbly to me.
The Bluff, Creek, and Road down: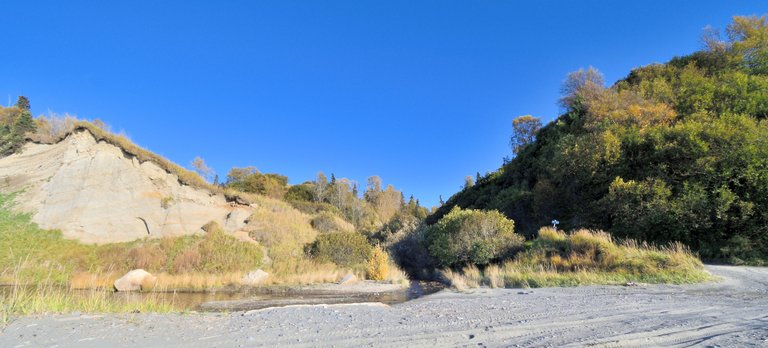 Not much of a road to access the beach, it is pretty narrow, and two vehicles passing each other would be a very tight fit on the road.
The Creek, Bluff, and some Inlet view, (my fake Pano):


A pretty nice view of the creek outlet and it running along the edge of the bluff area, and out into the inlet. The sand and gravel is pretty solid on this beach and lots of vehicles both cars and trucks like to drive on the beach to get away from the crowds. The tourist are pretty much gone, and fishing is pretty much over, so now we get our beaches and campgrounds back from the crowds.
All the pictures above were taken from my tripod and I used my hand held shutter clicker. I am glad I took the time to use my tripod, I have been meaning to use it a lot more often, and it does give a bit of freedom to the taking of pictures. You would think it would be just the opposite, more of a confinement to the picture taking and in a way that would be correct also, but with the tripod I was able to experiment with lower ISO and various speed and f-stop settings, so pretty freeing in that respect.
---
The remaining photo's being presented were all hand held shots. I wanted to get up close and personal shots, and for that especially with the landscape Lens on, it meant holding the camera and trying not to get the jitters to much when clicking.
Some Spiky dried grass: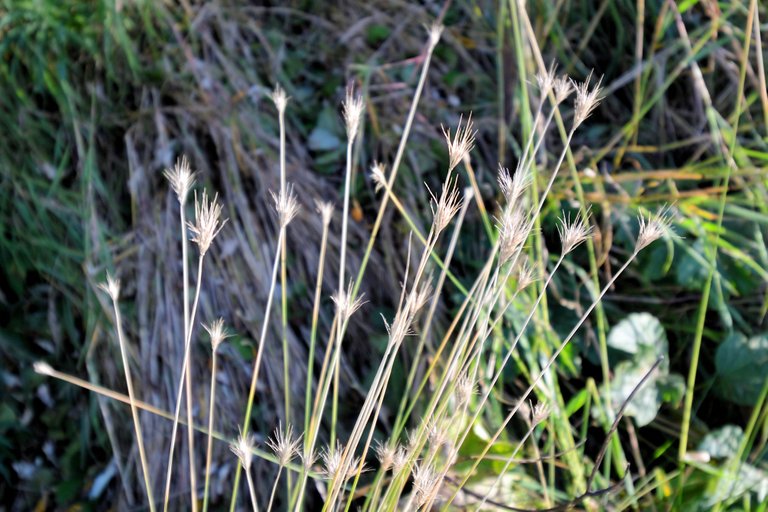 The wind was just starting to pick up a little bit, and it was not easy to get the picture in total focus, but with the crop and the camera settings, i am very happy with how well this one came out, the spikes are very spiky looking, if this was a commercial on TV I would say Even Mikey like its. (old Life Cereal commercial). The tall beach grass was just being blown to much to get a nicely focused shot.
The above were all from the Beach Area, so up into the campground for the last couple of shots.
A tiny Hitch Hiker looking for a free ride: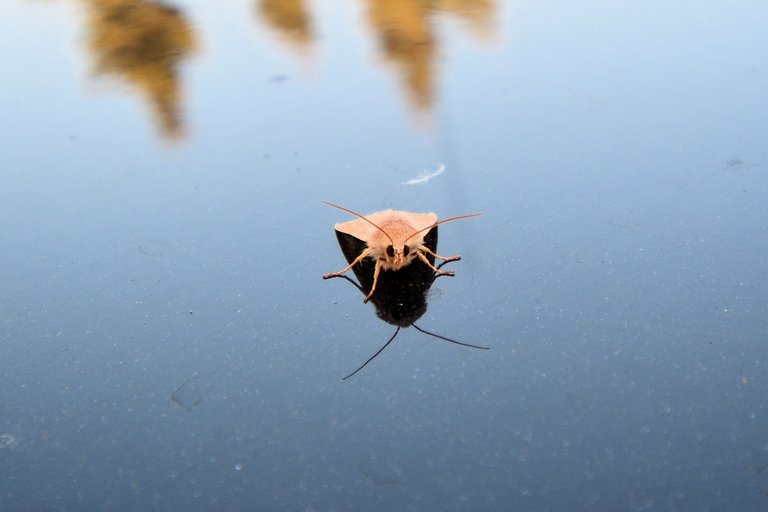 When we pulled into a parking spot, I noticed this little guy on the hood of my vehicle, since we were in the shade my wife had me back up a little bit so we could get some pictures of it in the sunlight. I have to say that for using my 10-20mm 1:4.5-5.6G lens, (my landscape lens) the little guy came out very nice looking.
Cow Parsnip, (a giant of a plant):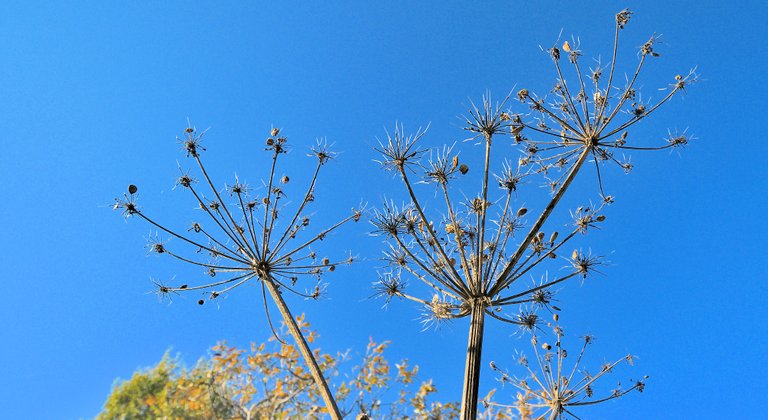 Because of the weather this summer, smoke included, I did not get to get any nice pictures of the Cow Parsnips. I like them, I think they are great looking flowers, they grow really big, I mean real big five feet or taller. They look like a giant Yarrow. I got this underside shot in the blind. My knees and hips are a pain some days, so I just held the camera below and pointed it up, and click the shutter button, I of course had to take a few this way in the hopes that at least one would be usable. My contribution to the #lookingup tag.
A day, almost two days, late, but I hope you enjoy the views.
#wednesdaywalk, in case you did not know is brought to us by @tattoodjay. Here is the Link to his post for this week.
---

---
For the photo curators, all photographs were taken by me with my Nikon D7500 Camera. The lens used today was my Landscape Lens (Nikkor: 10-20mm 1:4.5-5.6G). Various manual settings were used on all images. (no auto functions).