9-22-2019
A Photographic Trial of Fall
I am very much a beginner when it comes to photography. I have what I think is a pretty nice digital camera, a Nikon D7500, even after a year and a half I am still very much a beginner, and still learning the ins and outs of photography. I bought a tripod at the same time as my camera, but have not used it very much at all, other than for a few indoor test shots, and for my driveway panoramic photos from last winter and early spring.
I know about the bigger the f-stop number the greater depth of field, but since I am a hand hold camera shooter I rarely got up into the 18+ f-stop range. I understand from the reading I have done that f 5.6 is considered by many the best all around f-stop for everyday photography, and it works pretty good. 1250 shutter speed I learned is also one of the best speeds to shoot at to get the best quick shot with out to much camera motion blur. So those are the setting I mostly used and would pretty much just change my ISO to get to those settings.
Yesterday evening before the sun set we had some clearing from the morning rains, and the sun came out, as we were out and about so on the way home we stopped by the Kasilof River for a few pictures, and for me to experiment with using the tripod to get some fall color shots.
This first one is from the gas station of the hill across the street, my normal Hand Held shot: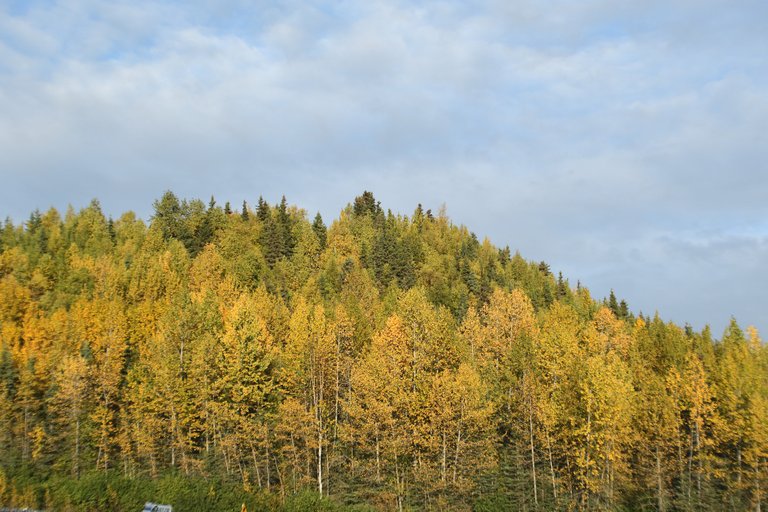 I just like the look of what I call the gas station hill. It gets a lot of color and is not a bad looking treed hill. Okay the next few are from the river.
Starting off the standard hand held shot: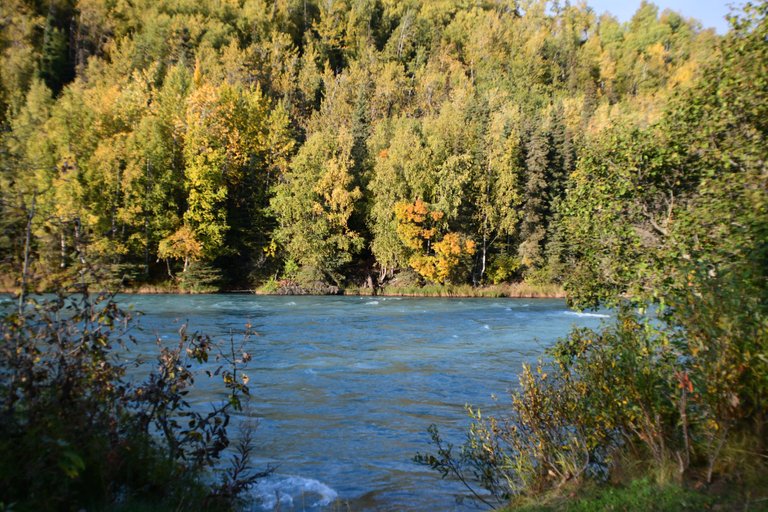 Not to awful or bad of a shot, but not as clear as I would have liked.
This one here is f-stop 22 at 1/20 of a sec at ISO 250;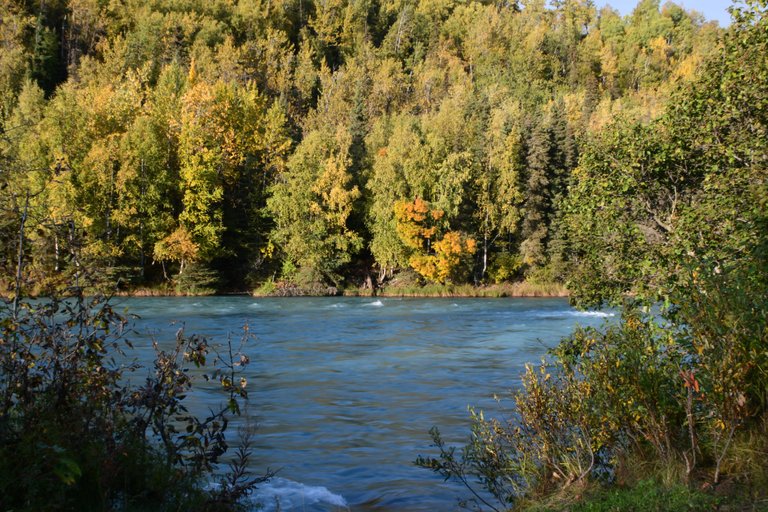 A little bit sharper than the hand held version. Difficult to tell with the on-line pictures, since I had to lower the resolution by about 8% on all images to get them below the 1.5 MB size.
Here is a slightly different view of the river area with a setting of f 22 at 1/5 of a sec at the camera ISO Lo 1.0.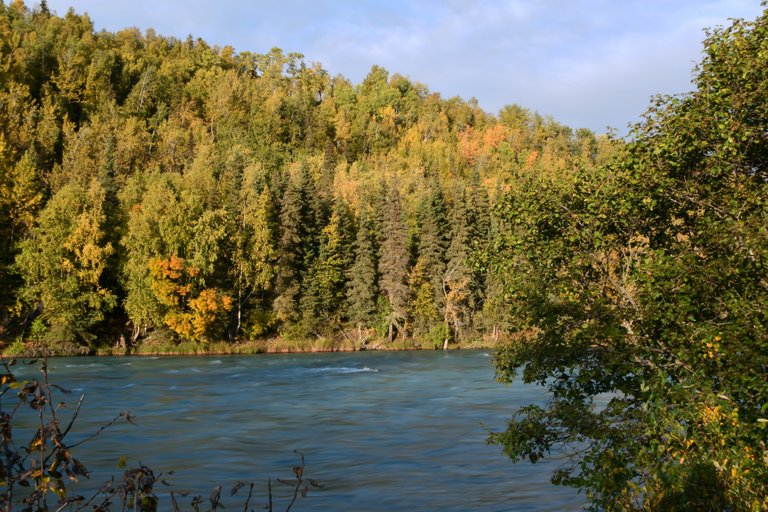 The water seems a bit more calm, the foreground tree a bit more focused, and the across the water trees just a very little bit more sharp, one issue though is the sky color at this Lo setting, it is off, so I think the f 22 at ISO 250 is better.
That pretty much concludes my experiment, I do need to use my tripod more often when doing scenery shots, and try to go with lower ISO speeds, and longer exposure speeds to get a more crisp colorful shot. There is an issue with longer speeds though and that is wind blur, if the wind is really blowing then it is back to my normal settings.