9-27-2019
The Speedy Shot
While riding as a passenger we all on occasion like to take snapshots out the window. 25 or 55 miles per hour, camera in hand we just can not resist. Today's cameras and smartphones are pretty dang good at the auto picture work. I however am almost always on the Manual setting on my camera. When I plan on doing some out the window driven shots I preset the speed to 1250, and ISO to 400. I choose the f-stop 5.6 or so. When I get home the magic of the camera software comes in very handy. I also shoot with both JPEG and NEF/RAW turned on.
So enough of the background. First drive by water is the view of Ninilchik River as seen from Orthodox Ave as we were leaving a short visit to the Russian Orthodox Church for pictures. Lots of trees and you only get a glimpsing view of the Ninilchik River, still with fall in full swing and a few fewer leaves here is the view: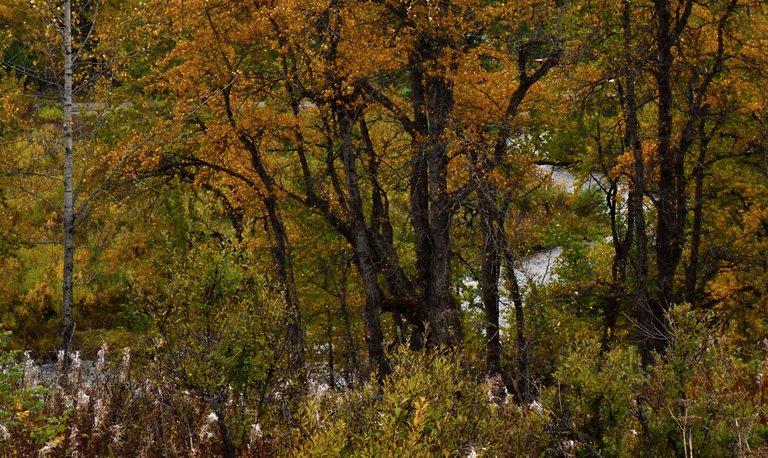 Up next is the view as we passed over the river on our southbound trip toward Homer.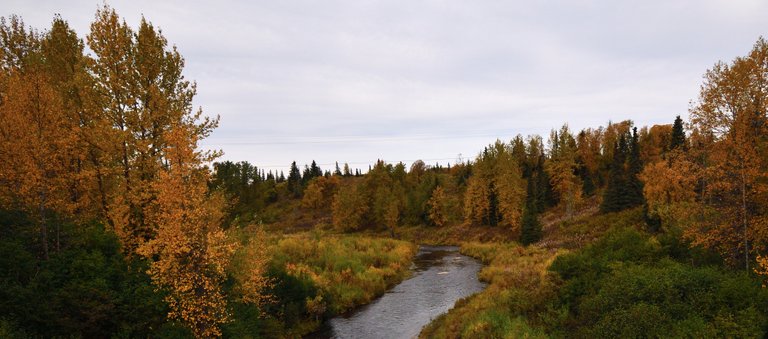 I did not want the bridge edges showing, so some serious cropping but I think the overall crop looks pretty good.
The next piece of water we drove over was Deep Creek. Only about 2 miles at most past the Ninilchik River. Big busy fishing spot in the summer. Two shots of the view one at the beginning of the bridge and one almost past the creek.
First shot:


Second Shot:



I actually was able to get three pictures of Deep Creek, and was hoping that I would be able to use my Autostitch program and do a panoramic style photo of them but it just did not work out. Still with the edits, it is almost panoramic.
Quite a bit further down the road is Anchor Point and the Anchor Point River. It has a small one lane trestle bridge. Not easy at all even as slow as you cross the bridge to get a nice shot, but I was pretty pleased with the edits, and the cropping of this one.
Anchor River:


One hard core lone surviving fisherman. There were actually two but only one made it in the picture.
---
That pretty much was my drive by water shots. After taking the pictures a bit of editing and software manipulation was called for. Four programs in all, and two computers. I start with the Camera software View i-nx from Nikon for off loading the pictures. This program also has all the NEF/RAW edit tools, so fixing the exposure and lighting and a ton of other stuff is pretty easy, a little bit slow on the laptop seeing the changes, but very simple to use.
Next is the Nikon Capture program. I use this one for fixing perspective issues and for straightening photos that need it. It is also used for the initial crop. After that I open the images in Corel Paintshop Pro for final edits and file naming. That is all done on the laptop, files are saved on an external SSD with USB connector. I then plug the drive into my desktop and use Paint.net resizing and sometimes for additional cropping or editing. I try to keep all my pictures that get uploaded to a file size of 1.5 mb or less, it makes for easier load times on less speedy connections, and does not use as much bandwidth.
---

---
All images were taken by me on 9-23-2019. It was a Monday Drive.