The news is out folks! JAHMfest dates have been set for June 26-28th. Stay tuned for more info. to come as Early Bird tickets will be available soon for purchase. JAHMfest has been in the works for some time as the team has been working extremely hard to finalize dates, events, bookings, operating costs, etc. There is a lot that goes into planning such an organized and anticipated event, but with all the anticipation, there are now at least some confirmed dates. With that, mark your calendars and begin planning your trip to Negril, Jamaica around the last weekend in June: 3 Nights, 2 Live Shows, 1 Epic Weekend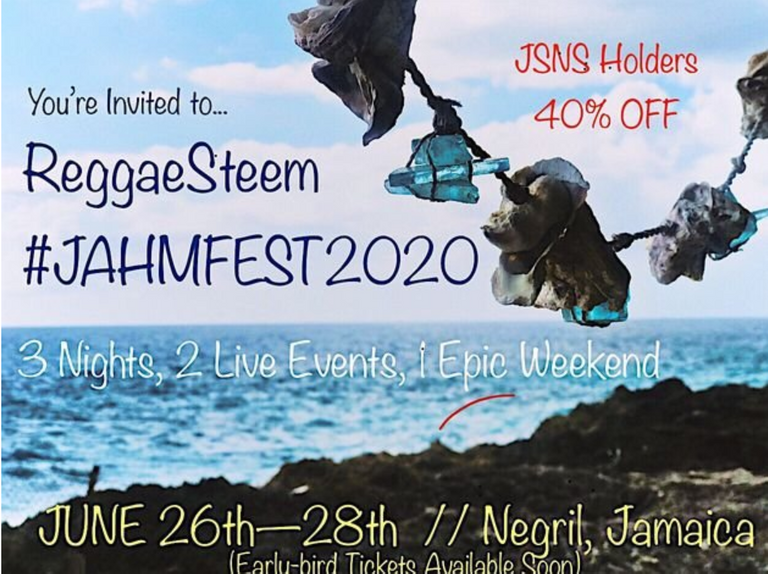 The price for tickets are justifiable as there are a lot of operating costs to factor in when planning such a large scale event. The team has run the numbers not once, twice, but three times to ensure everything has been accounted for. Prices will be available soon. Until then, keep stacking your JAHM because stake 'n stay holders are eligible for discounted rates. Staking to 100k is not an easy task, but it surely is not impossible. There are currently 3 members from ReggaeSteem that have staked to the coveted 100k (not including core team members) and there are 3 more that I know are getting mightily close. So, for all ReggaeSteemians – keep stacking that JAHM!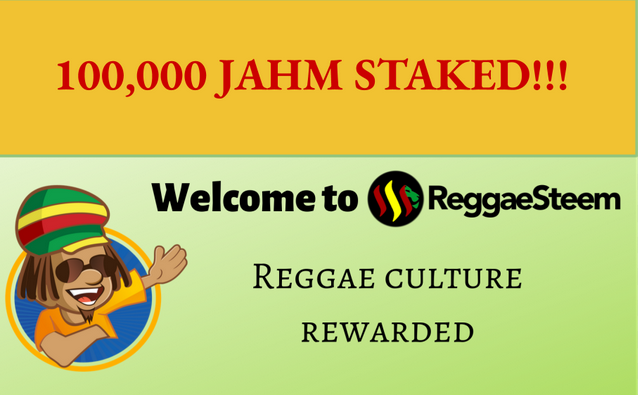 Although the event dates have been set, there is still a lot that needs to be done in order for JAHMfest to occur as planned. The team will continue working diligently to keep everyone posted with up-to-date details as they come. I have had the intentions of attending JAHMfest as soon as I heard about the event some months ago. It just sounds like an epic time and also a great way for me to learn more about ReggaeSteem/JAHM/Crypto/etc. Although the fest will be mainly ReggaeSteem and JAHM related, there will also be much discussion surrounding crypto and blockchain tech. in general. This is a great way to spread the word of crypto in a country where it is beginning to catch wind slowly but surely. The event, as planned, will be a means of hopefully reducing the trust barriers often times associated with cryptocurrencies.
The list of anticipated objectives is quite long and should be more clear cut as we get closer to the coveted event, but for now the list of ambitious goals includes but is not limited to: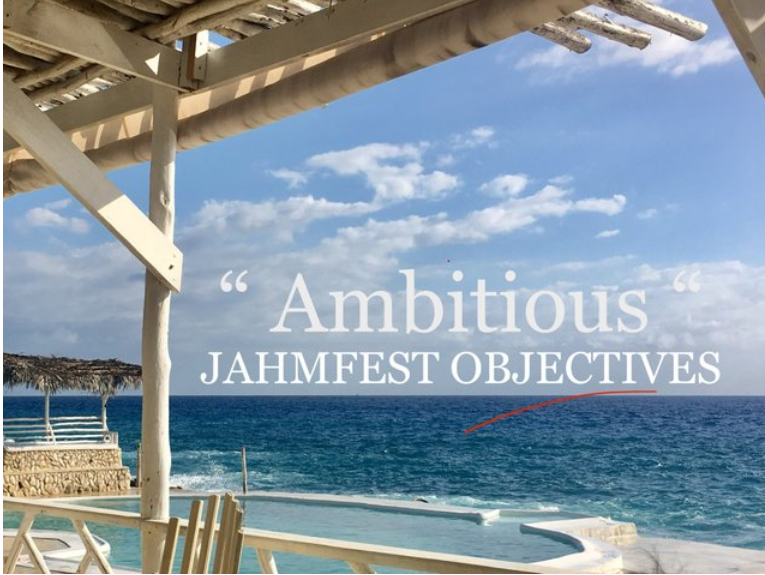 This list is fluid and is subject to change
JAHMfest – the first ReggaeSteem/Steem Caribbean Meetup
First (Independent) Crypto Meetup in Jamaica
First Tokenized Event on the STEEM Blockchain utilizing JAHM and JSNS
Will Act to Raise Blockchain Awareness in Jamaica and the Caribbean Alike
Raise Awareness of local JAHM/STEEM Merchants already and (soon) to be Accepting JAHM
Remove Apparent Trust Barriers Often Associated with Cryptocurrencies and Blockchain
Stress Blockchain as the Future and end of Traditional Corporate Business Models
Attract New Investors and Merchants from Around the Globe
Introduce Negril, Jamaica as the center of Caribbean Crypto Tourism
Connect Local Business with Blockchain Industry Participants
ReggaeSteem Onboarding Continued
Emphasize Power of STEEM
--Building/Connecting/Harnessing Communities
--Merchant Services and Benefits Thereof
--Powering Meetups (Aside from STEEMfest – 1st Tribe Meetup)
--Building Platforms Based on Web 3.0
--Shifting from E- to D-Commerce
--Shift toward DeFi
ReggaeSteem/Beachfront Crypto Branding
Branch JAHM Token Volatility, discuss use-cases, etc.
Reward JSNS Holders for 100k Stake
Provide an annual stage for STEEM Artists to showcase talents, jump start and promote music careers
Have an epic time with friends
Make life-long memories
Convert no-coiners into crypto - no-brainer's
This was the list that was shared in @donald.porter's recent post highlighting ambitious JAHMfest goals. Please also visit his post to see event host locations. Stay tuned for more to come and don't forget to ask questions!
Feedback is always welcomed!
Welcome to ReggaeSteem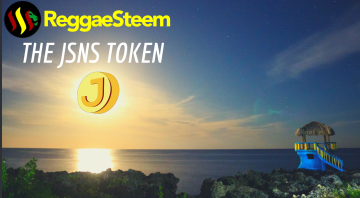 @reggaesteem's ultimate reward system. The JAHM Stake and Stay Token is explained in detail Keep Powering Up and you can JAHM your way to JAMROCK!
Come Join Us On ReggaeSteem Today!
|Web|Tribe|Telegram|Twitter|YouTube|Discord
---
Posted via ReggaeSteem | Reggae Culture Rewarded