Hello. It's me. I was wondering if after all these years on Steemit, you are actually doing THIS little thing to help your favorite STEEM Dapp? In particular the Steem interfaces like https://Steemit.com and https://Steempeak.com. Or what about your favorite tribe? Like https://Reggaesteem.io or https://Steemleo.com?
For us, blockchain enthusiasts, it was a no-brainer to immediately download and use the fast and furious browser Brave. Not only because it blocks ads and cookies and claims to be 3-6X faster than any other ordinary browser like Googlys Chrome, but because now we can earn free BAT-Tokens to look at the unwanted ads. Fuck yeah.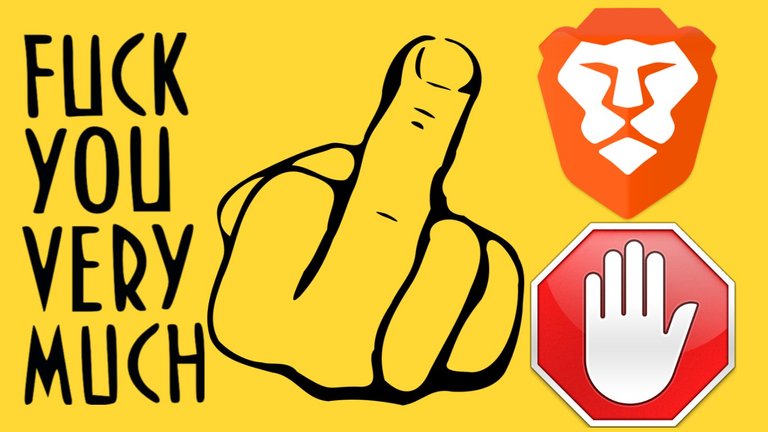 So let's assume you downloaded the Brave Browser. Amazing, now you are hot and trendy. A minute for yourself.
one minute later
After a minute of worshipping yourself, it's time to talk business. Talk about da monies. Because by blocking ads on websites you use freely on a daily basis for your own entertainment. You are now taking away advertisement income from the webmaster or blogger. Of course, you can get tipped by activating Brave Rewards on your website. But this is nothing compared to advertisement income.
Websites and bloggers still very heavily depend on ad income to cover the costs of running the site and to make cash on the side. So here is my suggestion.
If you are using the Brave browser, consider disabling Brave Shields for your favorite websites and in particular your STEEM Dapps. I don't reaaaaaly care about other websites to be honest. But this one is an easy thing to do and doesn't cost you a dime.
You don't HAVE to click on the ads. If you are not interested don't click it right? Websites also can get paid if they choose ads that pay out in CPM. This means the website owner gets X amount per 1000 impressions of an ad. So just by simply enjoying your favorite content, you are now supporting your favorite Dapp.
How to disable ads using the Brave browser?
It is as simple as eating a chocolate crisp cookie.
Go to your favorite Dapp
Click on the LION in the top right of the browser
Then click the button Shields Down or at the section 'Individual Controls' you can uncheck 'Block Ads'. Et Voila
If you are still using another browser and you have an AdBlock extension, you can basically do the same.
If by any chance you find this information entertaining or you want to support my channel, please molest the upvote button like you never did to any upvote button before, ever. + Consider subscribing to my awesome no-nonsense and zero BS channel. If you want to be sure you don't miss a single piece of shit, make sure you hit the nonexisting bell to get zero notifications.
If you are totally awesome you are going to resteem this post to all your virtual friends.. I know you want that
https://reggaesteem.io/@whatsthatcryptom
---
Posted via ReggaeSteem | Reggae Culture Rewarded