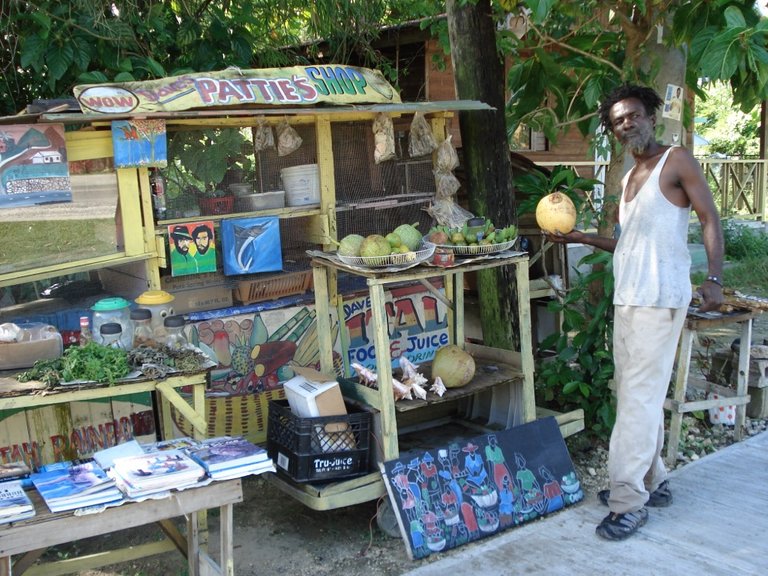 They say a picture is worth
a thousand words. This photo
is worth at least double that.
Meet Dave. This guy is the
real deal. His all-inclusive
'Seven-Eleven Store'
is set up on the ROADSIDE
on the main thoroughfare,
'Norman Manley Blvd.'
in NEGRIL, JAMAICA.
Dave staked out his little bit of real estate under the canopy of a shade tree. I'd say he didn't pay rent here.
It would be considered squatters rights. He was there first; first come, first serve. For sure he didn't carry all his wares home on a daily basis. It would be safe to say that Dave's business was also his homestead.
Not an ordinary stop and shop, but a real life endeavor. Can you dig it?
Take the time to ENLARGE this photo. Notice his signage.
It READs.....
WOW Dave's PATTIE'S SHOP
Notice the art work, reading material, herbal medicine, shells, jars,
(of who knows what -only Dave knows) fresh fruits,
Dave's ITAL fruit and juices sign
and who knows what else was hidden- it's mystical. One can only guess.
We were strolling down the sidewalk
and I just had to stop and check out the uniqueness of it all. It screamed STOP, it screamed Jamaica, it screamed check me out, it screamed s-irie.
Definitely a one of a kind, original Jamaican treasure. You talk about putting your mark on something.
Dave did, this is his livelihood.
Visit NEGRIL and check out the scene. It's cosmic and o' so colorful.
It's the CARIBBEAN.
Respect,
s-irie
Posted using Partiko iOS