In a previous post I wrote about the uniqueness of the music venues being advertised to the general public in Negril. Being the close-knit community that Negril is, it doesn't require a large advertising budget. The artists and location of the concert or music event is just visually notated on poster boards strategically placed on the beach and cliff areas.
This post represents two of those posters. One shows ALL of the upcoming events and the other focuses on the MAIN EVENT: Peter Tosh.
Reasonably priced at $20 US. Granted this was 2010, but in today's dollars given exchange rates and inflation, probably more like $25-30. Nothing is vastly overpriced in Negril. The promoters want to see a blend of Jamaicans and tourists such that the event becomes a well-mixed and diverse happening affair.
Poster #1 shows the quality of well known artists that frequent the seven-mile in Negril. Advertised as the one love reggae concert series,
Here's a list of dates and artists presented on the billboard
Tues 20 July - Gramps + Peetah Morgan
Tues 27 July - Maxi Priest
Tues 3 Aug. - Tanya
Tues 10 Aug. - Ky-mani Marley
Tues 17 Aug. - Peter Tosh
Tues 24 Aug. - Toots and the Maytals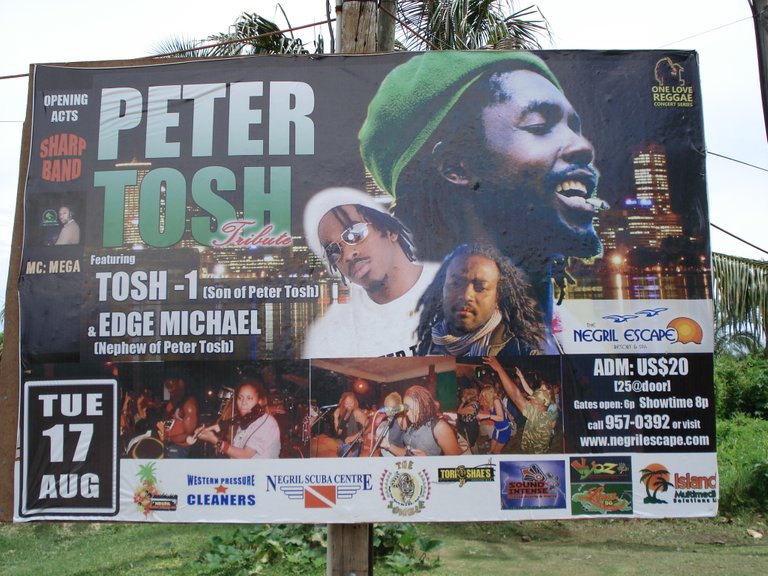 The main event while we were in Negril: Peter Tosh - The Legend!
From the poster, you can see that is says,
One love reggae concert series at @Negrilescape, summer of 2010, six days and six superstars - season pass for J$6,000
If you notice, the location of this irie 2010 event list is also now home to one of @reggaesteem's select locations - @negrilescape - IRIE!!
Respect,
S-IRIE1
---
Posted via ReggaeSteem | Reggae Culture Rewarded