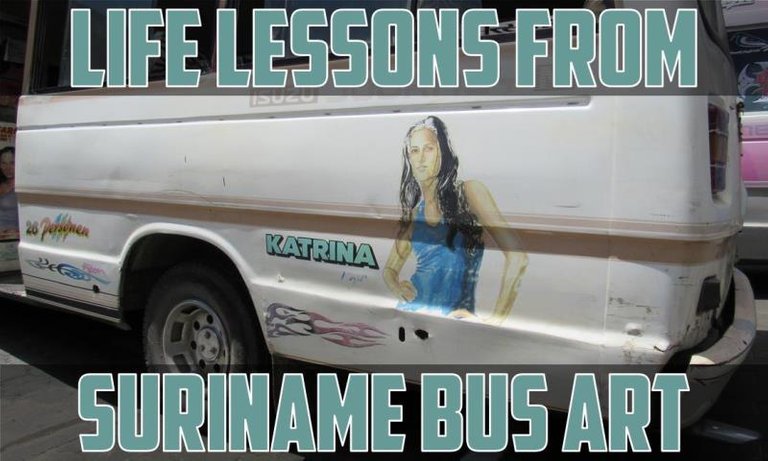 ᴋᴀᴛʀɪɴᴀ ʜᴀs sᴇᴇɴ ʙᴇᴛᴛᴇʀ ᴅᴀʏs. ᴘᴇʀʜᴀᴘs sʜᴇ's ᴀ ᴄᴇʟᴇʙ ᴏʀ ᴀɴ ᴇx-ɢɪʀʟғʀɪᴇɴᴅ. 💔

     A positive attitude is among the best medicines known to man. While we don't enjoy city life, Paramaribo is our home for now as we adjust to life in a strange new land. We dream of a quiet life in the countryside with a small house and a garden someday.
     When we feel down and out, dehydrated and exhausted from lugging the children and bags around all day and waiting in government office queues, we simply look out the bus window for some inspiration. We always find it, and spirits are lifted for a fleeting moment.

𝐒𝐮𝐫𝐢𝐧𝐚𝐦𝐞 𝐏𝐮𝐛𝐥𝐢𝐜 𝐓𝐫𝐚𝐧𝐬𝐩𝐨𝐫𝐭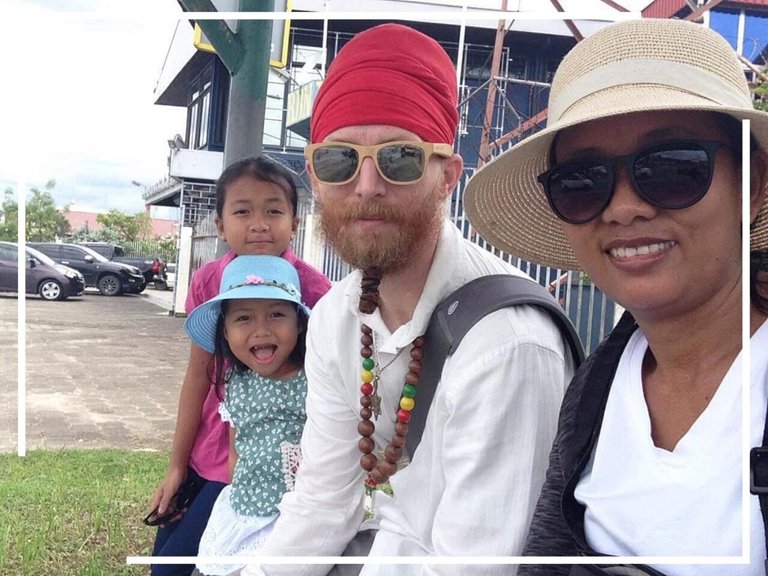 ᴀʟᴡᴀʏs ᴀᴛ ᴛʜᴇ ʙᴜs sᴛᴏᴘ. 🚏🚍
     Here in Paramaribo, Suriname, our public transportation system is not the most user-friendly system in the world, but within a country not much larger than Cuba, and whose population is barely half of Kingston's, it's an impressive feat. There are no share taxis like in Jamaica or other parts of the Caribbean. There are buses that run a series of fixed loops all over Paramaribo. Cost is $ 1.85 SRD ($0.25 ᴜsᴅ) to board.
     Suriname is one of the most multicultural countries in the world, if not the most multicultural. There is no better place to see the influence of the various ethnicities, religions and cultures on Suriname than the artwork and text adorning the public transportation here.

𝐒𝐞𝐥𝐟-𝐇𝐞𝐥𝐩 𝐅𝐫𝐨𝐦 𝐀 𝐁𝐮𝐬

     I have begun to admire many of the slogans, idioms, expressions and self-help messages displayed on the buses of Suriname. More often than not, the driver privately owns the bus. While the driver must run a set route and charge a price set by the government, drivers take the opportunity to display their favorite celebrity, singer, sports star or Bollywood actor on the back of their bus, as well as a slogan, idiom, proverb or even a bus nickname.
     These buses aren't as heavily adorned as you will find in many other countries around the world, but some of the messages are very powerful. Below are some glimpses of what you can learn about life while commuting in Suriname traffic.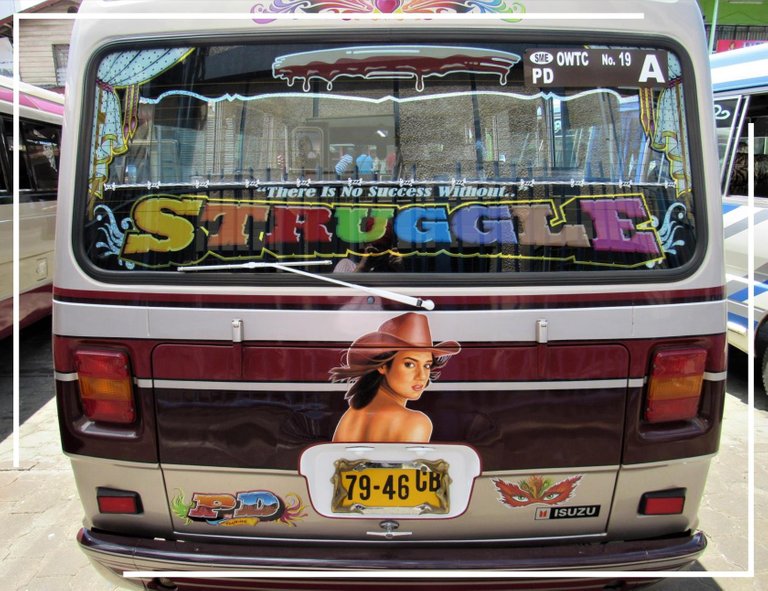 ᴛʜᴇ sᴛʀᴜɢɢʟᴇ ɪs ʀᴇᴀʟ ᴍʏ ғʀɪᴇɴᴅs, ᴇᴠᴇɴ ғᴏʀ ᴡʜɪᴛᴇ ᴛᴏᴘʟᴇss ᴄᴏᴡɢɪʀʟs. 🤠👢
---
ᴛʜᴇʀᴇ ɪs ɴᴏ sᴜᴄᴄᴇss ᴡɪᴛʜᴏᴜᴛ "𝐒𝐓𝐑𝐔𝐆𝐆𝐋𝐄"
     The message is simple here, and this is transportation for the masses, so why not simple self-help for the masses. Is that blood dripping from the top of the window? This is is also the first time I have seen sticker curtains. I don't know what the PD represents, as well as the mask, but white cowgirl's soft skin looks as though she may not much about the struggle. There is so much going on here. Getting too Suriname has certainly been a struggle for us, and it isn't over yet. Life is a struggle, but don't ever give in or let anyone draw you out.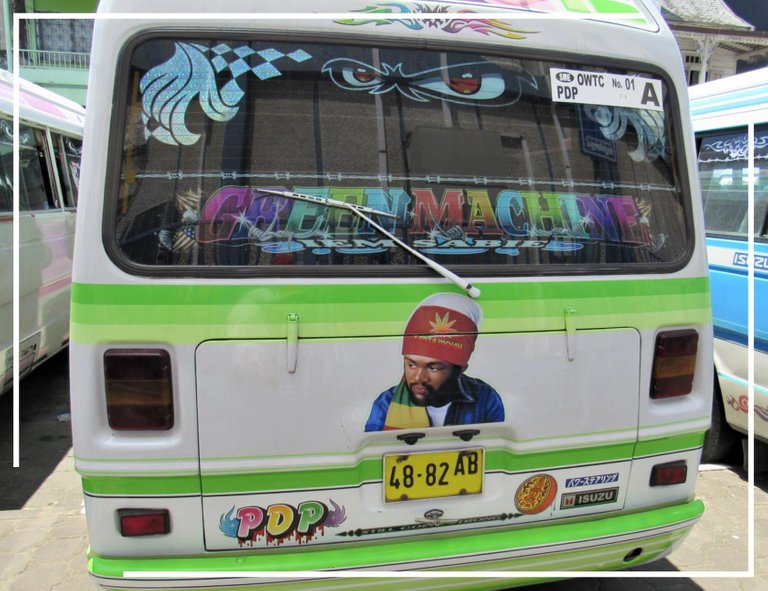 ɴᴏ sᴇʟғ-ʜᴇʟᴘ ʜᴇʀᴇ, ᴊᴜsᴛ ғᴀɴᴛᴀɴ ᴍᴏᴊᴀʜ's ᴇɴᴅᴏʀsɪɴɢ ᴛʜᴇ "ɢʀᴇᴇɴ ᴍᴀᴄʜɪɴᴇ." 💚
---
"𝐆𝐑𝐄𝐄𝐍 𝐌𝐀𝐂𝐇𝐈𝐍𝐄" ɪᴇᴍ sᴀʙɪᴇ
     Not every bus is doling out free self-help messages. Some, like this one, want to promote their own brand. More often than not, these buses are privately owned by the driver, and you can hire them after hours for private trips. Having an easy to remember bus name can go a long way. Besides, Fantan Mojah fully approves. I can't say I understand "Iem Sabie," but I know "sabi" means "to know" in Sranang. Look closer and you will see some bald eagles and American flag banners. How did those get in there?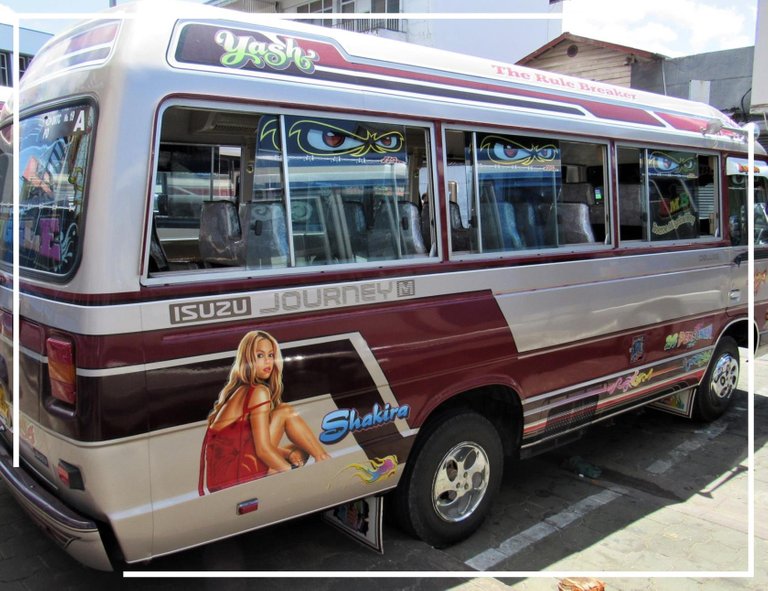 ᴘᴇᴀᴋ sʜᴀᴋɪʀᴀ ᴡᴀs 2001 ᴡʜᴇʀᴇ ɪ'ᴍ ғʀᴏᴍ, ʙᴜᴛ ᴛʜᴇ ᴛɪᴍᴇ ɪs ɴᴏᴡ ғᴏʀ ᴛʜɪs ʙᴜs. 👩‍🎤
---
"𝐒𝐡𝐚𝐤𝐢𝐫𝐚" & "𝐓𝐡𝐞 𝐑𝐮𝐥𝐞 𝐁𝐫𝐞𝐚𝐤𝐞𝐫"
     If you carefully read up top, this bus is "The Rule Breaker." I would agree with that, as putting Shakira on public transportation is definitely breaking Rule Number #1 - Only Reggae And Bollywood Star Stickers May Be Put On Public Transportation. Suriname can't help but take a little influence from its Latin neighbors. Okay, so Shakira isn't exactly imparting conscious life messages. I just wanted to show you not everybody can always have good taste.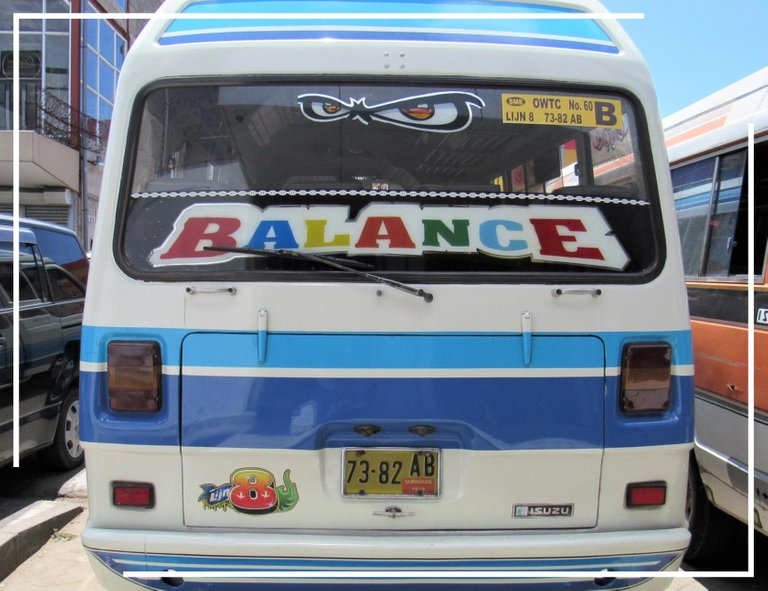 ᴀ ᴍᴀsᴄᴏᴛ ɪs ɴᴏᴛ ᴀʟᴡᴀʏs ɴᴇᴇᴅᴇᴅ, ʙᴜᴛ ʙᴀʟᴀɴᴄᴇ ɪɴ ʟɪғᴇ ɪs. 🧘🏽‍♀️⚖️☯
---
ɪɴғɪɴɪᴛᴇ 𝐁𝐀𝐋𝐀𝐍𝐂𝐄 ᴏɴ ʟɪᴊɴ ♾️
     We all need a little balance in our lives. This happens to be a bus we catch often to go downtown. No mascot is required on this bus other than a pair of eyes and BALANCE. Perhaps this is a reminder the self is not infinite. The only things impermanent are balance and infinity in this time. Would you also believe the driver of the bus is a well-rounded individual?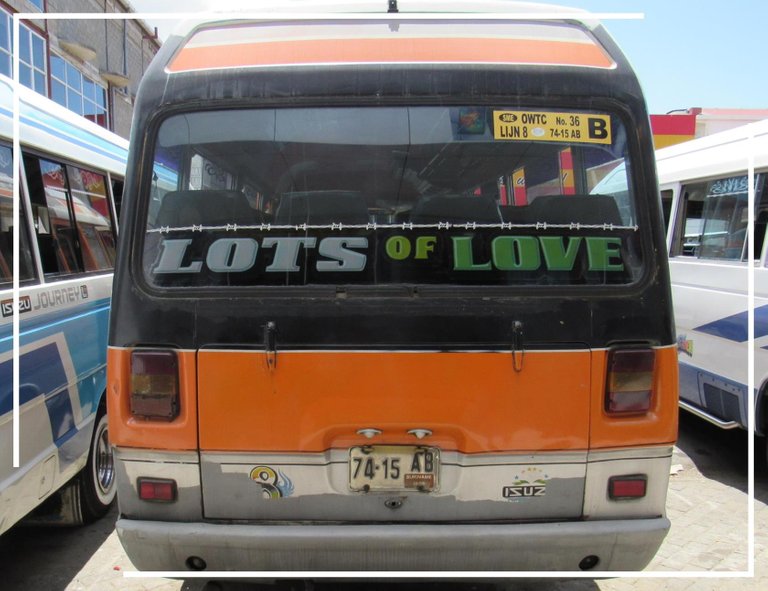 ᴡᴇ ᴄᴏᴜʟᴅ ᴀʟʟ ᴜsᴇ ᴀ ʟɪᴛᴛʟᴇ ᴍᴏʀᴇ ʟᴏᴠᴇ ɪɴ ᴏᴜʀ ʟɪᴠᴇs. 💚💛❤️
---
𝐋𝐎𝐓𝐒 ᴏғ 𝐋𝐎𝐕𝐄
     I can speak from experience, the interior of this bus needs lots of love. However, the badge up front totally makes up for the interior. You've got "We Run Things," two lions, one Akshay, two checkered flags, an endangered species, palm trees and a logo from the Palm Beach County Fire Department in the USA. It doesn't stop there, Akshay is chilling at a waterfall, and his ring says BOSS. I have so many things I need to ask, or aks, Akshay.
     The point is love, nothing more. Take time to love a little more in life, and not only commuting will become more manageable. If you can't find it in your heat, borrow some from Akshay.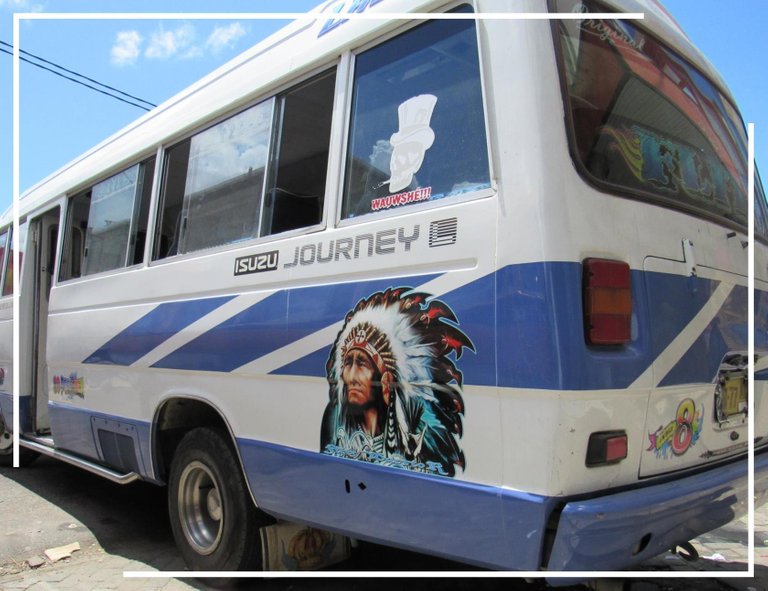 ᴀᴍᴀᴢᴏɴɪᴀɴ ᴄʜɪᴇғ ᴜɴʜᴀᴜɴᴛᴇᴅ ʙʏ "ᴡᴀᴜᴡsʜᴇ!!!" ᴛᴏᴘʜᴀᴛ sᴋᴜʟʟ. 💀
---
𝐖𝐀𝐔𝐖𝐒𝐇𝐄 ᴄʜɪᴇғ
     I've always admired this bus and finally got a chance to take a photo of its sponsor. Every time I see the chief downtown amongst the traffic and chaos, it causes me to pause a moment and think of living in nature one day. Perhaps a house, a land, transport, the dream gets big quick. But I mentioned earlier we need balance in life.
     Well I only noticed Mr. Tophat Skull when looking over photos, and thought it was in stark contrast to the chief. I google translated "wauwshe, and it came back as Swahili for "kill them." Now it's "kill them chief" I think when I see this bus. Balance is what we all need. Peaceful pensiveness and violent rhetoric, what could be more balanced?"

𝐓𝐇𝐀𝐍𝐊𝐒 𝐅𝐎𝐑 𝐑𝐄𝐀𝐃𝐈𝐍𝐆
𝐖𝐡𝐚𝐭 𝐰𝐨𝐮𝐥𝐝 𝐲𝐨𝐮𝐫 𝐒𝐮𝐫𝐢𝐧𝐚𝐦𝐞 𝐛𝐮𝐬 𝐦𝐚𝐬𝐜𝐨𝐭 𝐚𝐧𝐝 𝐦𝐨𝐭𝐢𝐯𝐚𝐭𝐢𝐨𝐧𝐚𝐥 𝐬𝐥𝐨𝐠𝐚𝐧 𝐛𝐞?
𝐏𝐥𝐞𝐚𝐬𝐞 𝐭𝐞𝐥𝐥 𝐦𝐞 𝐢𝐧 𝐭𝐡𝐞 𝐜𝐨𝐦𝐦𝐞𝐧𝐭𝐬 𝐛𝐞𝐥𝐨𝐰.
𝐈𝐟 𝐲𝐨𝐮 𝐥𝐢𝐤𝐞 𝐭𝐡𝐢𝐬 𝐩𝐨𝐬𝐭, 𝐩𝐥𝐞𝐚𝐬𝐞 𝐮𝐩𝐯𝐨𝐭𝐞 𝐚𝐧𝐝/𝐨𝐫 𝐫𝐞𝐬𝐭𝐞𝐞𝐦..

ɪ sᴜᴘᴘᴏʀᴛ ᴀɴᴅ/ᴏʀ ᴅᴇʟᴇɢᴀᴛᴇ ᴛᴏ
@joshman ✭ @canadian-coconut

@OCD

@NaturalMedicine ✭ NaturalMedicine.io

@ReggaeSteem ✭ ReggaeSteem.io

@EcoTrain

@VegansOfSteemit

@InnerBlocks ✭ TheInnerBlocks.com

@Qurator

@Curie ✭ CurieSteem.com

@C-Squared

@Curangel