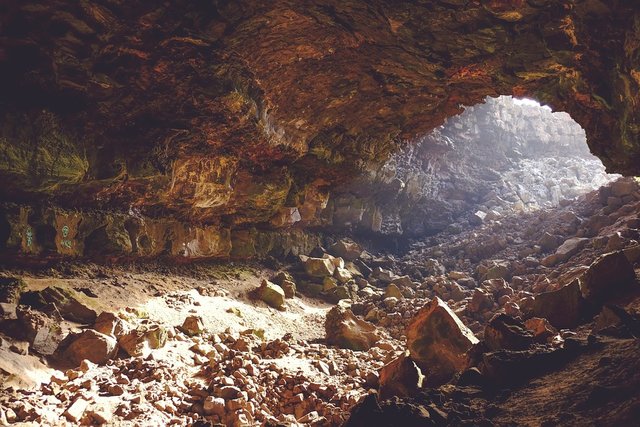 PIXABAY
From the depths of an immense cave emerge songs, laughter, shouts and unrestrained cries of a small young man, Ghuok is his name, an orphan who lives in the Green Grotto Caves, he is guarded by a family of bats that protect him when he is in danger, he likes to look for something to play with, one day he manages to hear voices that enter the cave, he hides quietly and a little worried, he begins to tremble and cry, - it's them again! Ghuok says, should I hide! He goes on to say, it's visitors he's afraid of. He remembers the moment when his parents were killed by those foreigners when he was just a child.
Suddenly Ghuok runs out into the cave passages, stirring up the local bats, everything gets dark, he starts screaming to scare away those who have entered his environment, the stunned visitors gather to clear up what is happening, Ghuok goes back through the tunnels to scare the visitors away. Sapphire, a beautiful young woman who was standing next to the visitors, loses her concentration because of the fear she felt, slips and falls noisily into the lake that lies inside the cave.
Ghuok realizes what has happened and sees how that visitor is desperate in the water, he throws himself into the water to take her and leave her in a safe place, Sapphire, he cannot understand what has happened, a strange force had dragged her to the shore for her salvation, he could not see anything near her, she got up and ran madly to where the others were, on the way she could see a shadow between the walls:
-who is there?! Sapphire asks, is it you who saved me? she continued to ask.
-Don't hurt me!
The shadow disappeared and she continued on her way, she runs and runs but begins to lose her mind until she faints, the visitors had already left the place due to the dark situation they experienced, Ghuok returns again to where Sapphire is, he carries her in his arms until he takes her to one of the exits of the cave, Sapphire manages to open his eyes a little, being able to see a young man with dark skin in the glare of the light, Oval face and straight nose that was moving away from her, contrary to what she had seen, she went out looking for the others until she found them, the visitors when seeing her, were surprised, they thought she was dead after the fall, she told them in detail how she could have left unharmed from there and that it was a young man with dark skin and oval face who helped her inside the cave, he had a kind of tape where he could read the word "Ghuok". The other visitors could not believe the Sapphire, however, one of them commented,
-These characteristics are only compatible with a kind of ethnic group that lived on the island, the Arawak, but they were killed and banished dozens of years ago, and the word Ghuok means "little torch".
Sapphire, after hearing these words, responded by saying, -I understand, he was not alive, so I could not see him, only my faith could have distinguished him, -We must all know now that in the Green Grotto Caves lies the soul of those who still want to protect their territory.

This is an Invitation to join #ccc for Guaranteed 👍 Daily Income 💵 and Payout 💸 for Newbies (2.0) 🐟 🐜 🐛 in #ccc 👣 and Follow 👣 the Honor Code 🏅 - the Creed (Conditions and Limits Inside)com/ccc/@freedomshift/guaranteed-daily-income-and-payout-for-newbies-2-0-in-ccc-and-follow-the-honor-code-the-creed-conditions-and-limits-inside)
AND
the latest update <<< please click to read.
I hope you enjoyed it, if you have any recommendations, please can leave it through a comment
This has been all for the moment.

---
Posted via ReggaeSteem | Reggae Culture Rewarded
---
Sponsored ( Powered by dclick )
Just by tipping others and writing articles. It's Fr...